First public test of earthquake alert system rolls out at L.A. school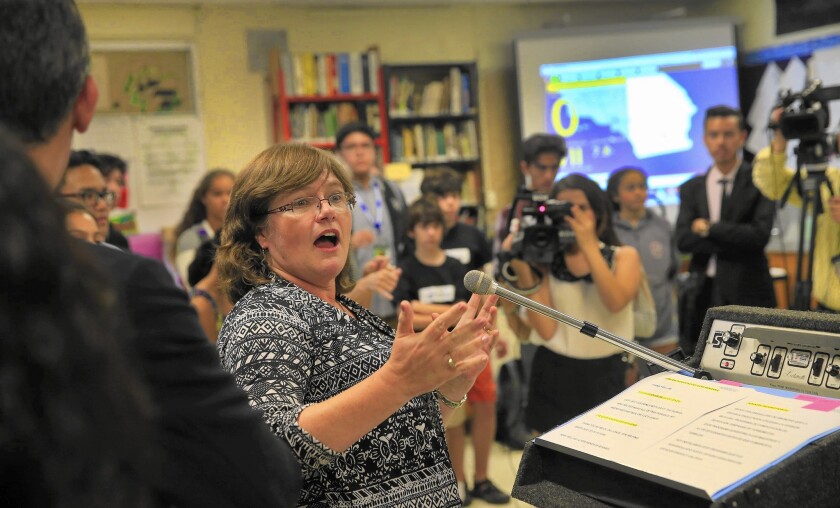 In a major sign that California's earthquake early warning system is moving forward, officials announced Friday that Eagle Rock High School will provide the first classrooms to test the program developed by the U.S. Geological Survey and a team of scientists.
This marks the first time officials have tried the system with the general public. Until recently, only academics, select government agencies and a few private firms have received the alerts.
"This is really about helping us understand what works, what doesn't," USGS seismologist Lucy Jones said Friday to a classroom filled with excited students, school board members and city officials. "By putting it in with ordinary people — with not geeks, not Caltech — we can start seeing … how people hear the information, how they process it, how they make decisions."
Scientists now have enough ground sensors in the Los Angeles and San Francisco areas to broaden their pilot programs. They emphasized that the system, known as ShakeAlert, is far from perfected, but said expanded access will help identify problems and fine-tune its usability.
Early warnings were successfully generated last year when several moderate earthquakes hit Southern California. Scientists testing the system in San Francisco got eight seconds of warning before shaking arrived from the 6.0 Napa earthquake in August 2014. The system is already being used by the BART commuter rail system in the Bay Area to slow down trains before a quake hits, reducing the risk of derailment.
Now, 10 science classrooms at Eagle Rock High School have been hooked up to the system. Alerts have been programmed to go off on a teacher's computer even during small earthquakes, said Jill Barnes, emergency services coordinator for the Los Angeles Unified School District. Students will be able to study the data and practice responding to the alerts by taking cover under their desks.
Officials will learn from the way students and staff react to the alerts. Different emergency procedures, such as knowing what to do if an earthquake hits during recess or in the cafeteria, will be developed and taught to students. Social scientists will help experiment with various interfaces and sounds to see what works best with a general audience.
The early warning system operates on a simple principle: The shaking from an earthquake travels at about the speed of sound — slower than the speed of light. That means it would take more than a minute for the shaking from, say, a 7.8 earthquake that starts at the Salton Sea to actually hit Los Angeles 150 miles away.
Seismic sensors stationed at the Salton Sea would detect the first shaking waves in as little as 5 seconds, and blast a warning throughout Southern California. In this scenario, Palm Springs would have 20 seconds of warning; San Bernardino, 45 seconds; and the Los Angeles area, more than a minute.
In its fully envisioned form, the warning system could help automatically shut off sensitive equipment at private companies and alert workers at construction sites to move from dangerous locations before the shaking begins. Even a few seconds' notice to duck under a sturdy desk could be a matter of surviving a building's collapse, officials said.
"In the future, it may mean you'll have enough time to pull over to the side of the road, or step back from getting in an elevator, or stop medical surgery that's underway.... The applications truly are endless," Los Angeles Mayor Eric Garcetti said. "No Angeleno should die in an earthquake because of inaction."
One private firm, Seismic Warning Systems, has already begun selling its own early warning tools to certain cities and businesses in California. School districts in the Coachella Valley have been working with this private system since 2009, said Scott Nebenzahl, a vice president of the company.
The ShakeAlert system envisioned by the USGS would be free to the public. The USGS, which developed the system with Caltech, UC Berkeley and other state and local partners, has been sharing the prototype with companies that have been inventing smartphone apps and machines that trigger automatic safety options, such as opening a heavy fire station door or prompting an elevator to open at the next possible floor.
In Northern California, school superintendents in the Redwood Empire have been testing the system and mapping out how students and staff would respond when the alerts go off. Once a procedure has been established, schools will begin live-testing the system in classrooms, said Jennifer Strauss of the Berkeley Seismological Laboratory.
At L.A. Unified, the goal is to roll out early warnings to the rest of Eagle Rock High and other schools using the loudspeaker system.
"Once we have gotten some good feedback from Eagle Rock, and once we look at funding options, and the options that are available to us in terms of how we can roll something out in a larger way, then we can put something in place in more schools and hopefully district-wide," Barnes said.
For now, the alerts will be a useful, impromptu way of teaching students about primary and secondary seismic waves, said Eagle Rock science teacher Sara Ramos.
In Ramos' classroom Friday, Jones fielded questions from students. When will this system become permanent? one asked.
"You're going to always have it here at school," Jones explained. "We hope to get it to everybody through a computer interface, through broadcast on TV, through, eventually, a smartphone app as soon as we have the funding in place to make sure we don't screw up."
Scientists need about $16.1 million a year to complete and maintain the system. President Obama earlier this year proposed $5 million in the federal budget, and officials have also been seeking state funding.
Once full funding is achieved, the system could be running within two years, Jones said.
rosanna.xia@latimes.com
Twitter: @RosannaXia
---
The stories shaping California
Get up to speed with our Essential California newsletter, sent six days a week.
You may occasionally receive promotional content from the Los Angeles Times.