These are the classes you get when you give college students control
The students enlist faculty sponsors to oversee the curriculums they concoct. (Jan. 3, 2017)
Reporting from Berkeley —
For much of each week, UC Berkeley senior Caelle McKaveney studies chemical signaling in spiders, nucleotide coding patterns and other serious science.
But Monday evenings were different last semester. She was able to nerd out in a non-textbook way in a class designed by students for fellow students who shared a childhood obsession: Harry Potter.
In a class called "UC Hogwarts: The Wizarding World of Harry Potter," McKaveney could leave the muggle world of the nation's top public research university behind and bond with fellow Potter geeks over Hermione's feminism and the metaphorical links between werewolves and those afflicted with HIV/AIDS. She let loose and channeled her inner Snape during a class skit, allowing her long hair to cover her face and dropping her voice to the deep tones of the brooding master of the dark arts.
"Berkeley is definitely a highly academic environment, and it's easy to get sucked into the academic struggles of grades and being successful," said McKaveney of San Diego, who is majoring in integrative biology. "The Harry Potter class turned out to be a really nice break."
Harry Potter may not be a lure for everyone. But courses created by Berkeley students cover a dizzying array of other topics — nearly 200 across 60 departments, taken by as many as 4,000 students each semester.
The courses in DeCal — short for Democratic Education at Cal — aren't graded, so there is little stress. But they count for one or two credits. And they have their roots in Berkeley's landmark free speech movement from five decades ago, when students pressed for and won greater academic rights.
DeCal marked the nation's first experiment with classes created and led by students, who enlist faculty sponsors to oversee the curriculums they concoct. Similar programs have been launched at more than a dozen other universities, including UCLA, Stanford, Tufts and Rice.
At Berkeley, students can debate political strategy as seen in "Game of Thrones" or discuss relationships through the lens of "Modern Family." They can learn the art of lion dancing and the secrets of a Rubik's Cube. They can stoke their social activism with courses on human trafficking and mass incarceration. They can indulge research interests in stem cells, surgery, human genetics and 3-D bioprinting. Or they can explore spirituality through Koran recitation, Sufi meditation and the study of Christian thought.
"Intro to Baking" offers an irresistible opportunity to "invite that cute classmate over to have cupcakes." The "Aliens" class seeks to reconcile science with UFO sightings and conspiracy theories.
"No topic is too crazy if there is a set of guiding questions or a line of inquiry," said Elizabeth Keithley, a DeCal advisor and program director at the school's Student Learning Center.
DeCal has survived some embarrassing close calls. In 2002, allegations that students in a class on male sexuality had an orgy and visited a strip club got the class suspended and nearly ended the program.
Last September, an executive dean suspended a DeCal class on Palestine after pro-Israel groups complained it was anti-Semitic. The class was reinstated after some faculty members and students said shutting it down was a violation of academic freedom.
By and large, however, the program has thrived.
It's a chance for students to seek out unfamiliar experiences. Cody Dean Jr. is a conservative Christian and libertarian from Orange County who wanted to engage with quintessential Berkeley liberals. A DeCal class on "Game of Thrones" — the HBO megahit about political power struggles in the mythical Seven Kingdoms — was a "cool vehicle" by which to do so, he said. He found allies among people he might not otherwise have met when he suggested that Robb Stark — the doomed scion of Winterfell — might have defeated the Lannisters if he had aligned himself with one of the Baratheon brothers.
Huy Ha and Alexis Tran wanted to share their Vietnamese heritage in their class on Asian lion dancing. Hailey Buck, a freshman from Mission Viejo, was eager to learn. In class, she held aloft a lion's head made of colorful paper, pompoms and fake fur, and danced to the beat of cymbals and drums.
"I love dance of all cultures," said Buck, a theater major. She said she was intrigued by the form's creative differences from jazz dancing, and its coordinated leaps, swoops and bends provided plenty of exercise.
Those who come up with classes often spend months creating a curriculum, planning activities and finding a faculty sponsor. The personal payoff, many say, makes the investment well worth it.
Growing up in Los Angeles County, Matthew Aaron Plinck survived poverty and homelessness, a broken home, gangs, crime and drugs. He was kicked out of high school but earned his GED at 25.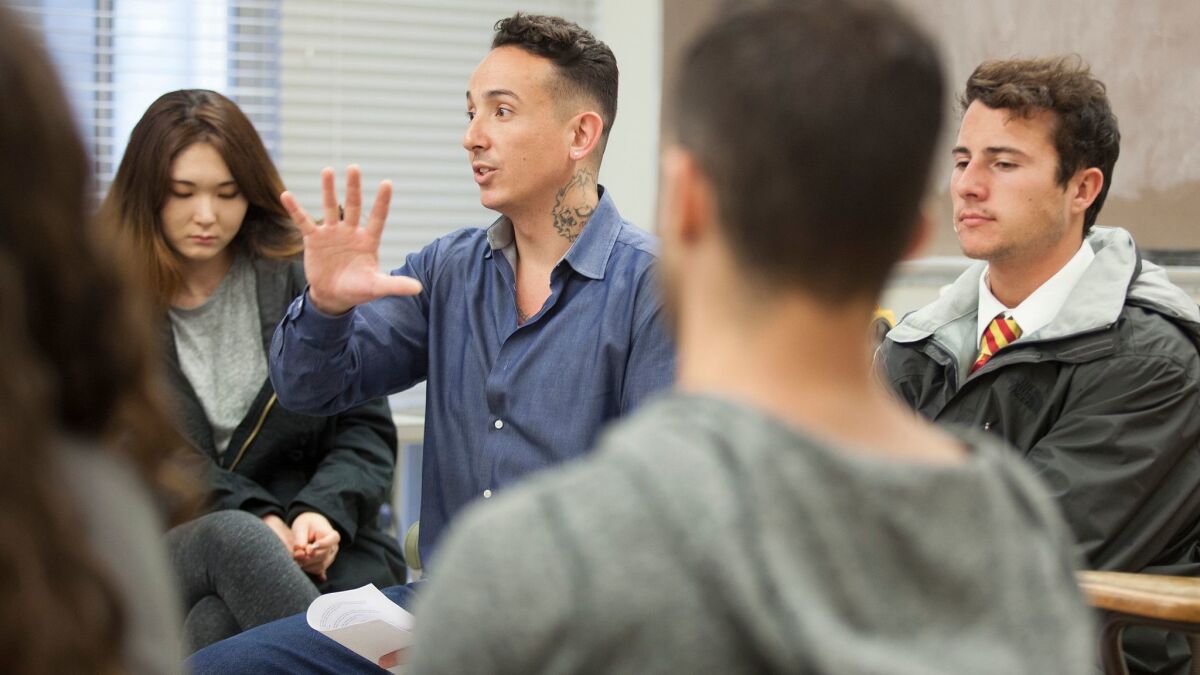 Along the way, Plinck learned how to improve himself using science, psychology and philosophy. He decided to share the knowledge in a course he called "Cognitive Karate" — and said he hoped the class would help students grow "one cognitive karate chop at a time."
"I was so excited by the class because it offered me leadership experience and helped me believe in myself," said Plinck, who recently graduated with honors in psychology. "Most of all, I hope students better their lives."
Erin Kaya combined a love of art and medicine in her offering: "Art Anatomy." She opened a recent class with a brief presentation on the nervous system, including a fun fact about a chicken that survived a beheading because the ax left its brain stem intact. Then students went to work on creative anatomical drawings.
Some said the class — which drew 200 inquiries for 30 spots — gave them a chance to work out emotions through art. Freshman Alina Bieschke said her charcoal drawing of cartilage — in a muscular man rowing through rapids — helped ease her anxiety as she navigated the early days of college.
Dano Nissen is obsessed with the 1998 film "The Big Lebowski." So he made it the focus of a DeCal class, with readings — per his course description — to include "some Eastern thing (Taoism)," philosopher Bertrand Russell and crime writer James Ellroy. Ultimately the class will provide students with a theory of everything.
"And if you think this is a giant waste of taxpayers' money to fund a class about a stoner movie, yeah, well, you know, that's just, like, your opinion, man," Nissen wrote.
Twitter: @teresawatanabe
ALSO
UC freshman applications shatter records, with gains among all racial groups
How will California's newest laws affect you?
California schools chief urges districts to declare themselves 'safe havens'
The stories shaping California
Get up to speed with our Essential California newsletter, sent six days a week.
You may occasionally receive promotional content from the Los Angeles Times.