California's public universities on the way to getting a big longed-for boost in funding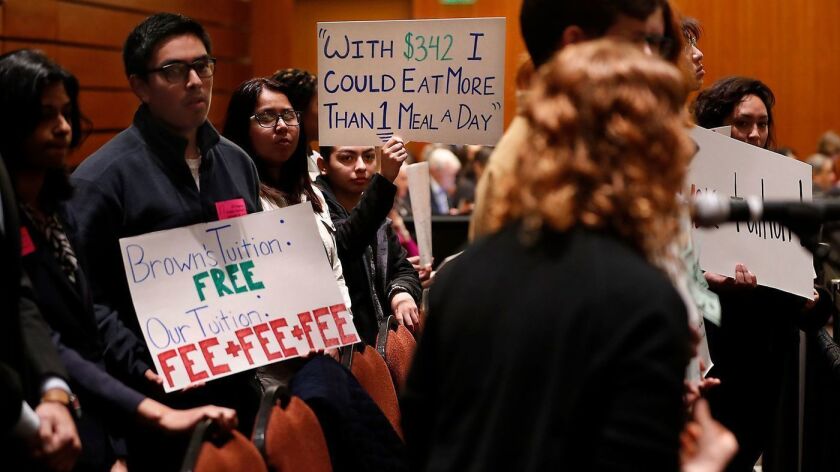 Reporting from San Francisco —
The University of California and California State University systems are poised to get major funding boosts that will help them enroll thousands of additional state students and eliminate the need for tuition increases in the coming school year.
A key Assembly budget panel on Wednesday approved $117.5 million in new funds for the UC. A Senate panel approved a similar sum last week.
The same committees recently approved even more funding for the Cal State system.
The actions raise hopes that Gov. Jerry Brown will agree to the additional outlay during budget negotiations. But Brown, asked earlier this month if he was open to a bipartisan call for more funding for UC and CSU, said legislators had asked for billions of dollars in additional spending and "I can tell you all the people who want things won't be getting what they'd like to have."
For each of the public university systems, Brown has proposed a general fund increase of $92.1 million and a one-time infusion of $100 million to upgrade and maintain aging facilities.
News of an impending deal quickly circulated Wednesday morning at the UC Board of Regents meeting in San Francisco, prompting shout-outs of appreciation to supportive legislators and UC advocates who launched a unified lobbying push for more money.
"This puts us on a more stable course, and I hope it's the start of a renewed partnership with the state Legislature," board Chairman George Kieffer said.
The money approved for UC would eliminate the need for a tuition increase and help the system enroll 2,500 more California students this fall and an additional 2,500 in 2019.
Legislators also approved $12.5 million to help ease campus overcrowding. UC has enrolled 90,000 more students since 2000 with the same level of state funding, leading to widespread complaints about students sitting on classroom floors and squeezing into dorms converted from doubles to triples and quads.
The Senate panel approved more money for campus overcrowding and less for enrollment growth. Those differences will need to be resolved in conference committee.
UC would receive $22.5 million in one-time funds for research into opioids, firearm violence, the health effects of sugar and valley fever, a lung infection caused by fungus in soil. The Assembly panel also approved one-time infusions of $5 million for campus efforts to fight hunger and $2 million to expand equal opportunity employment practices.
"UC and its students have made a convincing case this year that funding beyond the governor's proposal is needed to meet increasing costs, address overcrowding on some campuses, support additional enrollment growth for the 2018-19 academic year, and address infrastructure needs," said the staff recommendation of the Assembly Budget Subcommittee on Education Finance.
Assemblyman Kevin McCarty (D-Sacramento), who heads the budget subcommittee, said the state's booming economy enabled legislators to "do what we like to do, which is properly fund higher education in California." The state has amassed a $9-billion budget surplus this year.
"Overall, it's a huge win for our students in California and for the UC system, the flagship research university in the state," McCarty said.
Subcommittee members said they would continue to press UC to open its doors ever wider to California students and continue to cut administrative spending.
At the regents meeting, UC President Janet Napolitano praised the 2,500 students, faculty, regents, chancellors, alumni and staff behind an unprecedented lobbying effort for more funds. They contacted state legislators more than 5,600 times this year, she said. Last year, 700 advocates made 2,500 contacts, said Kieran Flaherty, UC's state government relations chief.
"We are pleased and grateful that our state legislators recognize how crucial it is to adequately fund the university," Napolitano said.
Varsha Sarveshwar, a junior at UC Berkeley, said her student government office coordinated at least 15 trips to Sacramento — with as many as 25 students each time — to attend committee hearings and buttonhole legislators. Overall, students made more than 1,000 phone calls to key legislators and collected more than 6,000 stories of peers who would suffer without more funding, according to Rise, a statewide student organization.
Sarveshwar said she still managed to maintain a 4.0 grade point average — in part by pulling six or seven all-nighters in the last weeks of classes.
"Since January, thousands of University of California students have called upon the Assembly to reinvest in our education. Today, we won," she said. "We are incredibly heartened."
Kieffer said Assemblyman Jose Medina (D-Riverside), who heads the Assembly Higher Education Committee, played a key role.
Both Assembly and Senate education finance panels also approved a major funding increase for Cal State University. The $215.7 million in extra funding the two panels approved for Cal State would help its 23 campuses enroll an additional 11,000 students. Cal State turned away 32,000 eligible students last year because it could not accommodate them.
The panels asked that at least $50 million of the extra Cal State funding be used to hire more tenure-track faculty to help boost graduation rates. The Assembly panel also approved one-time funding of $5 million to ease hunger on Cal State campuses and $14 million for "rapid rehousing" pilot projects at three campuses, offering needy students rental support and short-term case management.
Other items approved include $5 million to support the CSU Long Beach Shark Lab's research on sharks and beach safety and $2 million for equal employment opportunity practices.
teresa.watanabe@latimes.com
Twitter: @teresawatanabe
---
UPDATES:
7 p.m.: This article was updated with additional details about UC and Cal State funding and comments from legislators.
This article was originally published at 2:45 p.m.
---
Must-read stories from the L.A. Times
Get the day's top news with our Today's Headlines newsletter, sent every weekday morning.
You may occasionally receive promotional content from the Los Angeles Times.