USC law school seeks to smooth the way for first-generation students
The students nodded in agreement when a speaker talked about feeling "like a fraud in class." Later, they talked about worrying about passing their classes or fleeting thoughts about even dropping out of school.
Such fears are common for many first-year college students, and many campuses have introduced courses or workshops to help them adjust.
But the students expressing their doubts and insecurities are not undergraduates taking their first round of college exams. They attend USC's Gould School of Law, which only accepts a quarter of all applicants, and the median incoming GPA is 3.76. And even if a student does poorly, dropouts are almost unheard of — only one person left school last year for academic reasons, according to statistics — and 85% of alumni passed the California bar exam on their first try.
Follow the Times' education initiative to inform parents, educators and students across California >>
In other words, no matter how bad things get, a USC law school student will most likely become an attorney.
Yet for a small group of USC law students who are the first in their family to attend college, the experience is still nerve-racking. Some said they were afraid to approach professors for advice or speak up in class because they worried they didn't know as much as their classmates, most of whom have parents with advanced degrees or are lawyers themselves.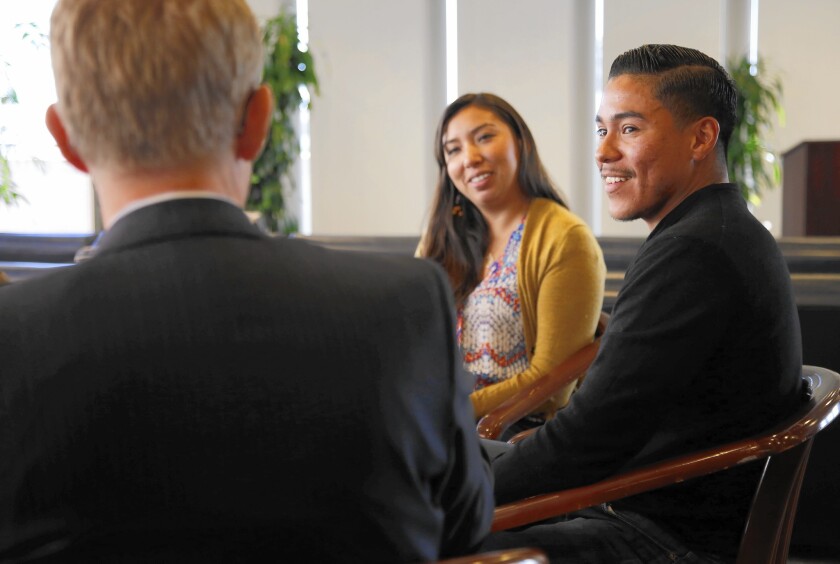 To try to help such students, USC has started a program aimed at first-generation law students. Other schools, including Yale and Columbia universities have similar initiatives, which are meant to boost confidence more than just academic performance.
"Law school is a mysterious place to people who have never been there. Our goal isn't to tell them how to study for this exam better," said Andrew Guzman, the dean of the Gould school. "It's to make it clear that they belong."
Join the conversation on Facebook >>
About 40 USC students participated in this semester's program, which has included talks to encourage students to have a "healthy sense of entitlement" or pushed them to interact with professors more or even how to order during lunch interviews. "Order is parallel to what they're ordering," said Camille Rich, an associate provost who works with the group, at a recent meeting. "If they get pasta, you get pasta."
Confidence was an issue for Jenicia Martinez even as an undergraduate. She was the valedictorian at Hawthorne High School in 2006 and enrolled at Stanford University, only to quickly drop out.
------------
FOR THE RECORD
Dec. 28, 1:10 p.m.: This article gives the name of a USC law student as Jenicia Martinez. Her name is Jenecia Martinez.
------------
Martinez is the first member of her family to attend college — her mother cleans homes and offices and her father has worked in hotels — and she felt homesick and alone in Palo Alto.
"It's a hard transition for students, and I just didn't get through that critical time," she said.
When she returned to Los Angeles, Martinez worked several jobs before enrolling at USC. After she graduated, she decided to attend the law school, partially because she plans to live and work in Los Angeles.
But the transition still hasn't been easy, Martinez said, especially because her family doesn't understand academic life and pushes her to get a lucrative job, even though she wants to pursue a career in public interest law.
"They want me to be happy," she said. "To them, having a high-paying job is part of being happy."
During a recent meeting, other students talked about how their parents also didn't understand how difficult law school could be. Rich suggested having an information session for families.
"If they could understand school, it would make my life so much easier, said Andres Cantero, a third-year student.
Cantero works several jobs while attending classes and living with his parents in Tustin, contributing $500 most months to the household budget.
Still, he said, his parents don't know why he has to attend social events with attorneys or law school functions. "They're of the mind set that I'm still in high school, if I'm not in a classroom then it's not important," Cantero said. "But building a career takes more than that."
USC administrators are hoping to expand the program, but current participants said their confidence has increased just by interacting with peers who are going through similar struggles.
"I thought I was the only person who felt that way," Martinez said.
Twitter: @byjsong
ALSO
UC system divests $30 million in prison holdings amid student pressure
How L.A. school board members would react to another bomb threat
When a master class with ballerina Misty Copeland becomes a San Pedro homecoming
---
For reporting and exclusive analysis from bureau chief John Myers, get our California Politics newsletter.
You may occasionally receive promotional content from the Los Angeles Times.