L.A. schools are getting ready for El Niño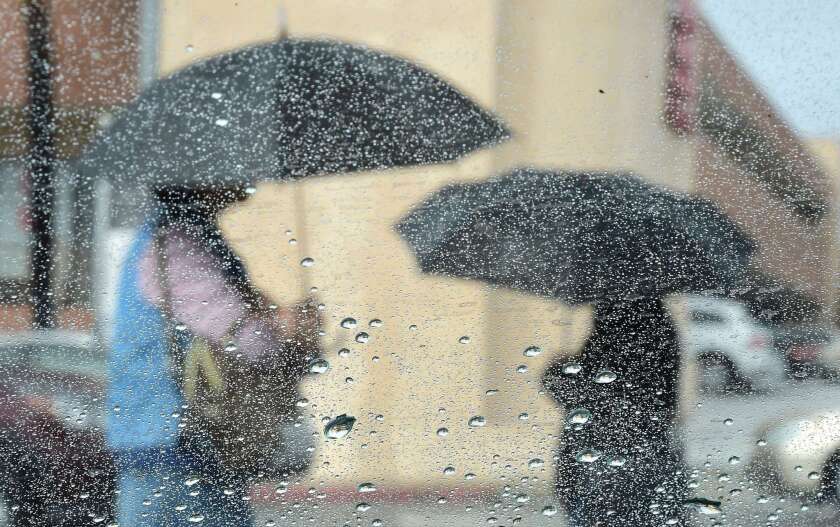 Los Angeles schools are getting roofing repairs and stocking up on sandbags in anticipation of heavy El Niño rains this year.
The district, whose budget is $7.08 billion this school year, is spending $6.1 million on roofing replacement projects at 10 schools. They are supposed to be completed between April and May of next year.
The district chose these schools because their roofs had the worst combinations of old age and bad conditions, according to an ongoing facilities survey of LAUSD schools, said Roger Finstad, the district's director of maintenance and operations.
The district had 414 open maintenance calls concerning roofing as of Tuesday morning at 4:30 a.m. That's a small share of the district's more than 13,500 buildings, Finstad pointed out. Those reports come from schools that call to make complaints, as well as the facilities survey.
The roof problems include rain damage and leaking after storms in September and October, clogged gutters and water bubbles under roofing material.
The Times' new education initiative to inform parents, educators and students across California >>
L.A. Unified is also rewriting its emergency operations plan to send to schools. The guide tells schools how to deal with weather hazards, said Jill Barnes, the district's emergency services coordinator.
Custodial staffs at each school have checklists of the supplies and activities they need to complete to make sure their schools are prepared. That means reporting roof leaks or other damages that could be worsened in a storm, and cleaning out roofs, gutters, downspouts and drains to make sure there isn't a build-up of leaves and dirt.
Each of the district's seven geographic field offices also has supplies including sandbags, plastic sheeting, rain gear and shovels to send to schools if necessary. They're already sending out sandbags to the schools that have had flooding in the past.
LAUSD's major concerns are roofing and blocked storm drains, Finstad said. The most damage during the last major El Niño in 1997-98 came in the form of damaged ceilings and falling roof tiles. LAUSD officials could not provide an exact dollar amount needed to complete the repairs, but said it was less than $300,000.
Toward the end of August, when news reports began surfacing that El Niño was almost certainly going to affect Southern California, the district began its preparations, Finstad said. For much of the summer, the district had been dealing with heat waves and complaints about air conditioning in schools.
"I knew that as soon as we could possibly do it, we had to switch gears and go into El Niño preparation mode," Finstad said.
Another concern: Power outages caused when rain downs power lines, a problem that affected some schools during a storm in September. The district owns 55 generators spread throughout the area that it can send to schools that need them, plus a contract to rent more generators if necessary. Thirteen of those generators are capable of powering at least one classroom building, while the other 42 are for smaller individual tools or equipment.
Schools should also prewrite a Blackboard Connect message and ensure they would be able to send it from a cellphone if necessary to inform parents of the school's condition when the power is out, according to the district's checklist. That's what Fernangeles Elementary School principal Anna Martinez had to do in September.
Parents can help, too, Barnes said. They should make sure their child's emergency contact information is up to date, and dress children appropriately for the rain.
Reach Sonali Kohli on Twitter @Sonali_Kohli or by email at Sonali.Kohli@latimes.com.
ALSO
One possible El Niño effect: Rains unearthing more skeletal human remains
California's bullet train cost estimate grows to $71 billion, report shows
Heavy snows in Sierra Nevada raise hopes of relief from drought
---
For reporting and exclusive analysis from bureau chief John Myers, get our California Politics newsletter.
You may occasionally receive promotional content from the Los Angeles Times.