These students have no air conditioning during L.A.'s heat wave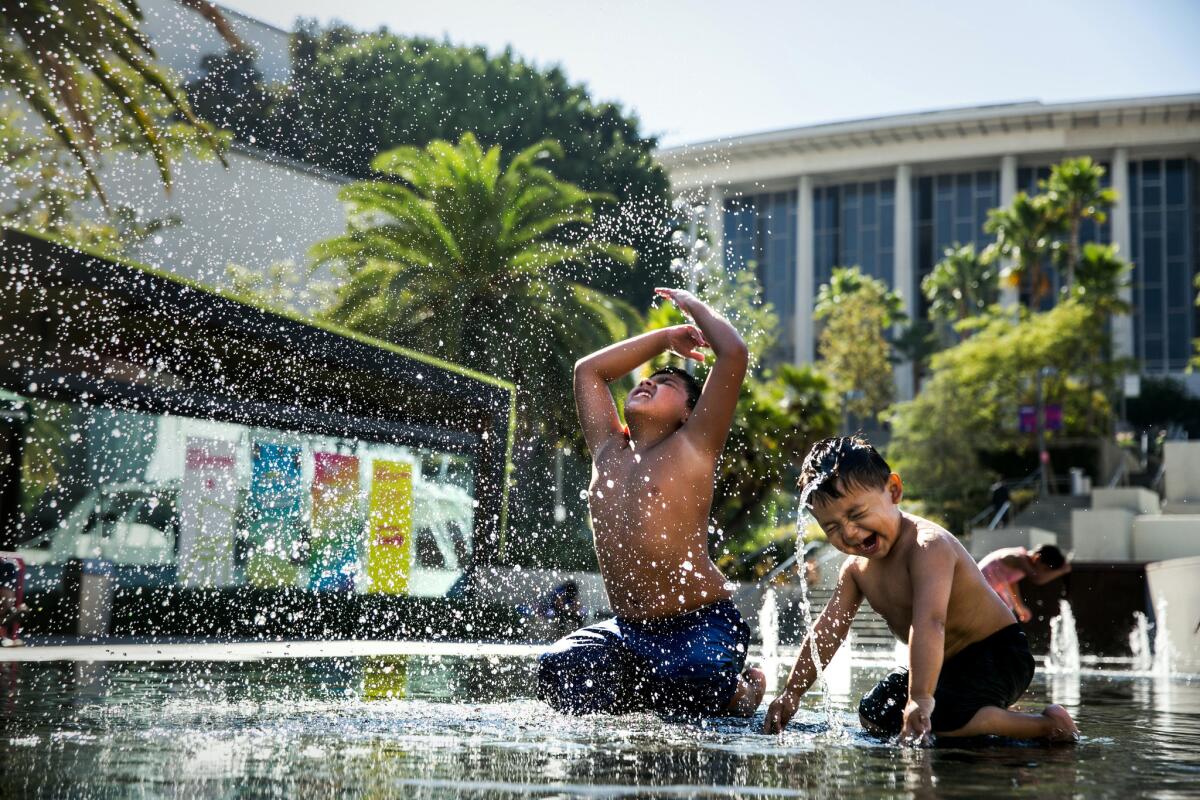 It was 84 degrees in Julie LaConde's eighth-grade classroom Wednesday morning.
By 9 a.m., she had already sent two students to the nurse because of the heat. LaConde is an English teacher at Thomas Alva Edison Middle School in South L.A., and the air conditioning wasn't working in her classroom.
That's particularly problematic this week as Southern California faces a heat wave — with temperatures hitting 97 degrees outside the school. The district put out a heat advisory Tuesday, warning schools of the hot weather in effect until Thursday and telling schools to consider moving students to cooler classes or rooms if temperatures in their classroom exceed 91 degrees.
The heat affects the students' education, she said. When the weather is nice, she can get them to focus. But in a crowded, 90-degree classroom, students found it hard to finish a writing assignment in class.
"They're tired, they put their heads down ... they can't focus," she said. "They were miserable."
L.A. Unified received 346 calls Tuesday about problems with air conditioning, according to Mark Cho, the district's deputy director of facilities, maintenance and operations. Of about 2,600 backlogged calls, 146 were resolved as of Wednesday morning, according to L.A. Unified spokeswoman Elvia Perez.
------------
FOR THE RECORD
Sept. 10, 6:59 p.m.: An earlier version of this article said that 146 of 346 calls received on Tuesday had been resolved. As this version notes, 146 of all backlogged calls about air conditioning had been resolved.
------------
The district responds to these calls in order of urgency and the number of students affected, Cho said. Edison is operating on a 30-year-old heating, ventilation and air conditioning system that is often breaking down and its age makes it hard to find replacement parts.
The district has spent more than $300 million in recent years replacing similar systems in other schools. Last year, the district approved about $9.3 million to revamp Edison's heating and air-conditioning systems. But that's a yearlong construction process that's still in the design phase; the project won't be done until July 2017, Cho said.
Until then, the Band-Aid fixes will continue. The compressor was replaced Sept. 3 at Edison, so the air conditioning should be working. But ducts are old, so it's hard to control the flow of air to classrooms even if the unit is working, Cho said.
Technicians would go to Edison again Wednesday and put portable units in rooms where the air-conditioning isn't working if necessary, he said Wednesday morning.
"That's the best ... we can do now," Cho said.
Other districts are taking note of the heat as well — Long Beach Unified schools will have shortened days Thursday and Friday, and students in the classes without air conditioning will cycle through cooler buildings and classrooms. All Long Beach schools have some air conditioning, but only about 40% of the schools are fully air conditioned, Long Beach Unified spokesman Chris Eftychiou said via email.
In LaConde's classroom, a small strip of white paper taped to the ceiling vent fluttered back and forth at 3 p.m. on Tuesday, but there was no cool air coming out of it. To prove it, she has an electronic thermometer in the class.
That thermometer belongs to fellow teacher Michael Fono. He brought it in last year, when he also taught in the part of the school that swelters whenever the city gets heat waves such as this one.
Now he teaches in one of the temporary bungalow structures in the school, each of which is equipped with its own air-conditioning and heating unit.
Interested in the stories shaping California? Sign up for the free Essential California newsletter >>
On Tuesday, the thermometer said it was 83.5 degrees at 3 p.m., about two hours after the school day ended. Imagine what it was like earlier, at peak heat with 36 middle school students, LaConde said.
"My kids were melting," she said.
They weren't the only ones — LaConde said via text that she left school for the day at noon Wednesday and went to the doctor complaining of heat exhaustion symptoms. She said via text that the doctor told her to stay home for the rest of the week.
"It shouldn't have to come to this," she wrote. "Sick kids, sick teacher."
Reach Sonali Kohli on Twitter @sonali_kohli or by email at sonali.kohli@latimes.com.
MORE FROM EDUCATION
Cal State data breach hits nearly 80,000 students
LAUSD won a lawsuit — but lost the moral high ground
New California tests present sobering picture of student achievement
Sign up for Essential California for news, features and recommendations from the L.A. Times and beyond in your inbox six days a week.
You may occasionally receive promotional content from the Los Angeles Times.