How to build a school in three weeks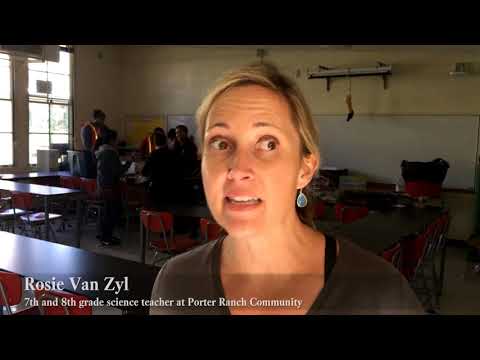 A massive gas leak in Porter Ranch has caused about 1,100 students to be relocated from Porter Ranch Community School to Northridge Middle School, which is about eight miles away.
The front of Northridge Middle School was quiet Thursday morning — the asphalt was still wet with rain, and there was no one in front of the main auditorium or school entrance, a beige building with green accents.
The south end of campus was a different story.
About 75 maintenance and operations workers hustled across an area that used to be open asphalt space. In an informal uniform of jeans, black sweatshirts and highlighter-yellow vests, they were making a new school in the backyard of an old one. It was a six-month job, and they had three weeks.
"It's kind of a model of people working together for a purpose and for emergencies in other parts of the country," said Scott Schmerelson, the L.A. Unified School District board member for the area.
Re-creating a school is a better word than "making," perhaps. A massive gas leak near their home school has caused about 1,100 students to be relocated from Porter Ranch Community School to Northridge Middle, eight miles from their home school. And between 730 and 750 students from Castlebay Lane Elementary in Porter Ranch are expected to move to Sunny Brae Elementary in Winnetka.
There are 35 new brown portable buildings, which the district calls bungalows — 32 classrooms for kindergarten through fifth-graders from Porter Ranch, plus two bathrooms and an office bungalow. It has its own entrance and drop-off area.
Robert Doyon is the school district's construction superintendent for the relocation project. He has been at Northridge or Sunny Brae from 5 a.m. until about 7:30 p.m. every day since Dec. 18, except Christmas.
Angelita Khazei, the north area regional facilities director, is also at the sites every day. Khazei's daughter visited from New York for the holidays, but missed spending New Year's Day with her mom.
Doyon and Khazei often meet in what they call the war room, a science classroom at Northridge Middle that's now strewn with blueprints of what the sites should look like, whiteboards covered in multicolored timelines of what needs to happen at the two schools, and two boxes of doughnuts in the back.
Employees were spread across the site Thursday morning, each with a task: one drove by in a forklift, carrying chain-link fencing. Some were stationed at individual bungalows, wiping down open doors or visible from outside through the windows they were cleaning.
Outside the older kids' classrooms, painters were laying down blue chalk outlines around 10:30 a.m., trying to get the precise lines done as quickly as possible in case the rain came back. Earlier in the day they had used propane torches to dry the ground quickly after days of rain. By 11:30 a.m., those lines were covered in white paint, drying on what had become a sunny day.
The classrooms for the younger students have been re-created as closely as possible to the home classrooms, down to the room numbers.
"We want them to feel at home, or as close to at home as I can get them," Doyon said.
A safety-vest-clad man exited Classroom 13, a second-grade class, toting two ladders. Inside the room, each desk had been moved and placed in the same position that it was in at the old school: the students' names were still taped to the desks.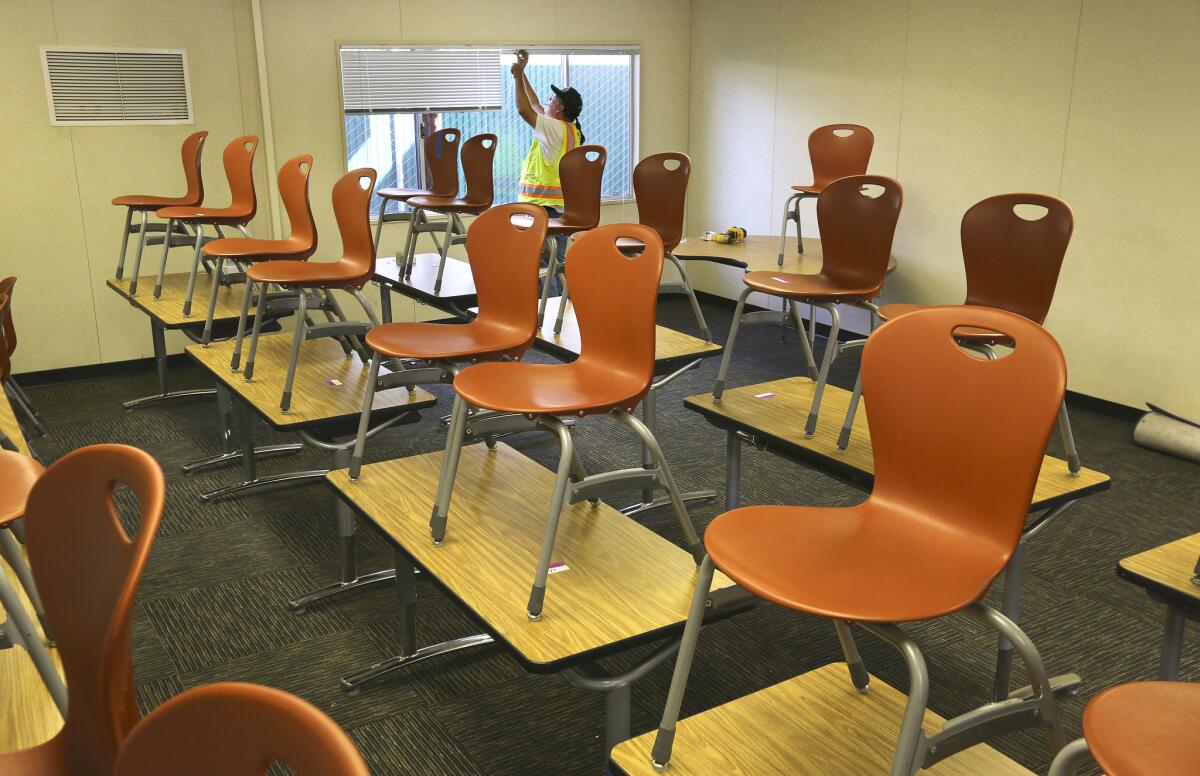 The unpacking wasn't done yet, though. There was a blue rack stacked with hula hoops and net bags stuffed with basketballs, soccer balls, footballs, really all balls you can think of elementary children to play with, plus a sign warning people not to touch the PE materials.
The middle school students will be more integrated with the rest of the school — they'll occupy 12 previously empty classrooms on the main campus. One of those will belong to Rosie Van Zyl, a seventh- and eighth-grade science teacher at Porter Ranch.
She's used to a state-of-the-art lab room, with gleaming floors, sinks lining the walls, gas lines and a chemical storage unit.
On Thursday around 10:45 a.m., she walked into her new classroom at Northridge. It is smaller and has none of those amenities.
"It feels like I'm going to be left without stuff," Van Zyl said, standing among the boxes she and her students packed on the last day of school. "We'll make it work."
Four district employees helped figure out how to fit all the desks and chairs — the same ones that comfortably fit 42 students in her old classroom — into the formation she needs for group work, in the smaller room.
The students return Tuesday, and new classrooms will involve frustrations for the first few weeks, Van Zyl said, like losing class time to teach students where things go and reaching for items that aren't there.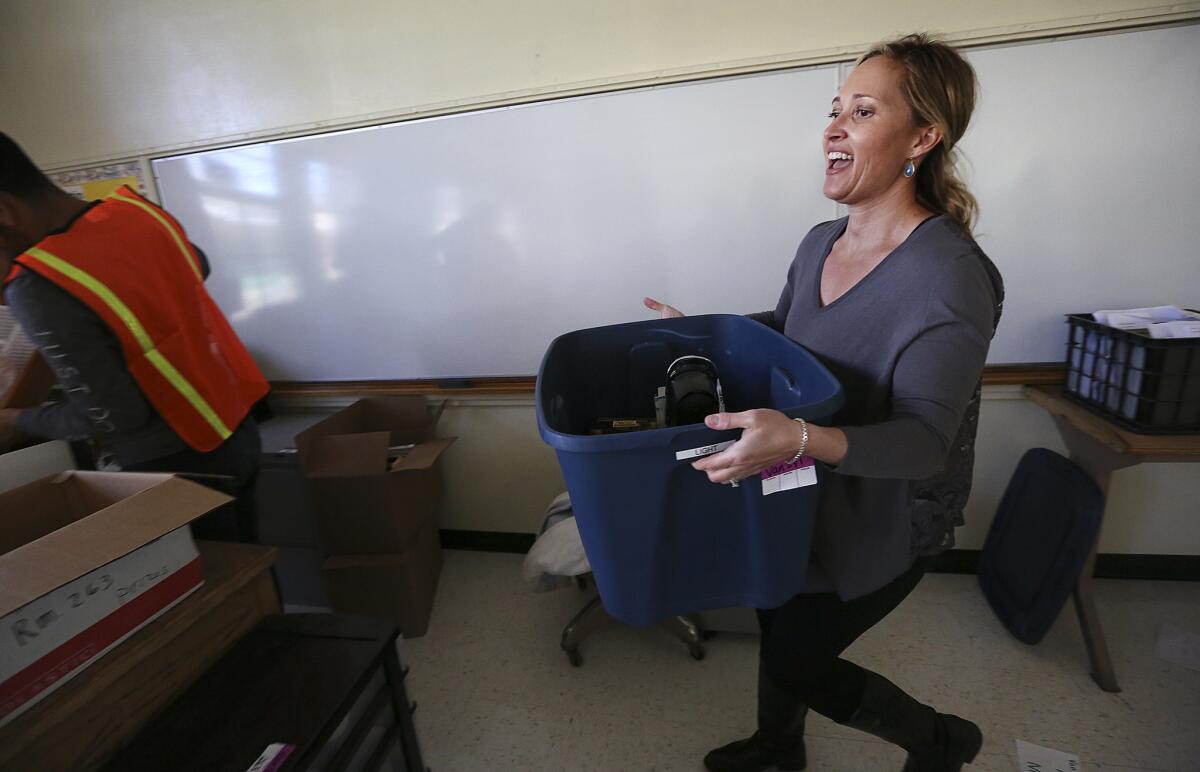 At the front of the class Thursday morning, Van Zyl peeled the tape off one box, then opened the four-way fold in another, then turned to the table behind her and peeked into a third.
"I don't know where to start," she said, surrounded by cardboard.
With the number of boxes slowly dwindling, Van Zyl eased into her new room. She took off her white puffy jacket to keep unpacking and found a clay pot among the supplies.
"My plant survived," she said, smiling as she cupped the clay pot in her hands. It held the plant that all Porter Ranch teachers had received when the school opened three years ago.
Staff reporters Joy Resmovits and Howard Blume contributed to this report.
Reach Sonali Kohli on Twitter @Sonali_Kohli or by email at Sonali.Kohli@latimes.com
ALSO
Brown's budget helps schools and the poor -- and saves a lot for a rainy day
NFL wants a team or two in L.A., and owners head to Houston for a vote
3 teens from China will go to prison for a San Gabriel Valley attack on a classmate
Sign up for Essential California for news, features and recommendations from the L.A. Times and beyond in your inbox six days a week.
You may occasionally receive promotional content from the Los Angeles Times.