Great Read: A shadow hangs over Mexico's 'magical city' of Ocotlan
An entertainer sings and dances in a La Puente backyard during a festival reminiscent of those held in Ocotlan, Mexico.
(Allen J. Schaben / Los Angeles Times)
People socialize while entertainers perform in a La Puente backyard. Many of those at the fiesta were from Ocotlan in Mexico's Jalisco state -- a "magical city" that is now under the shadow of drug war violence.
(Allen J. Schaben / Los Angeles Times)
Father Sergio de Jesus Reyes Chiquito, right, blesses Jose Lozano after a fiesta Mass in a La Puente backyard.
(Allen J. Schaben / Los Angeles Times)
Jose Angel sings Mexican songs during the La Puente celebration.
(Allen J. Schaben / Los Angeles Times)
A collection is taken as Father Sergio de Jesus Reyes de Jesus Reyes Chiquito leads Mass.
(Allen J. Schaben / Los Angeles Times)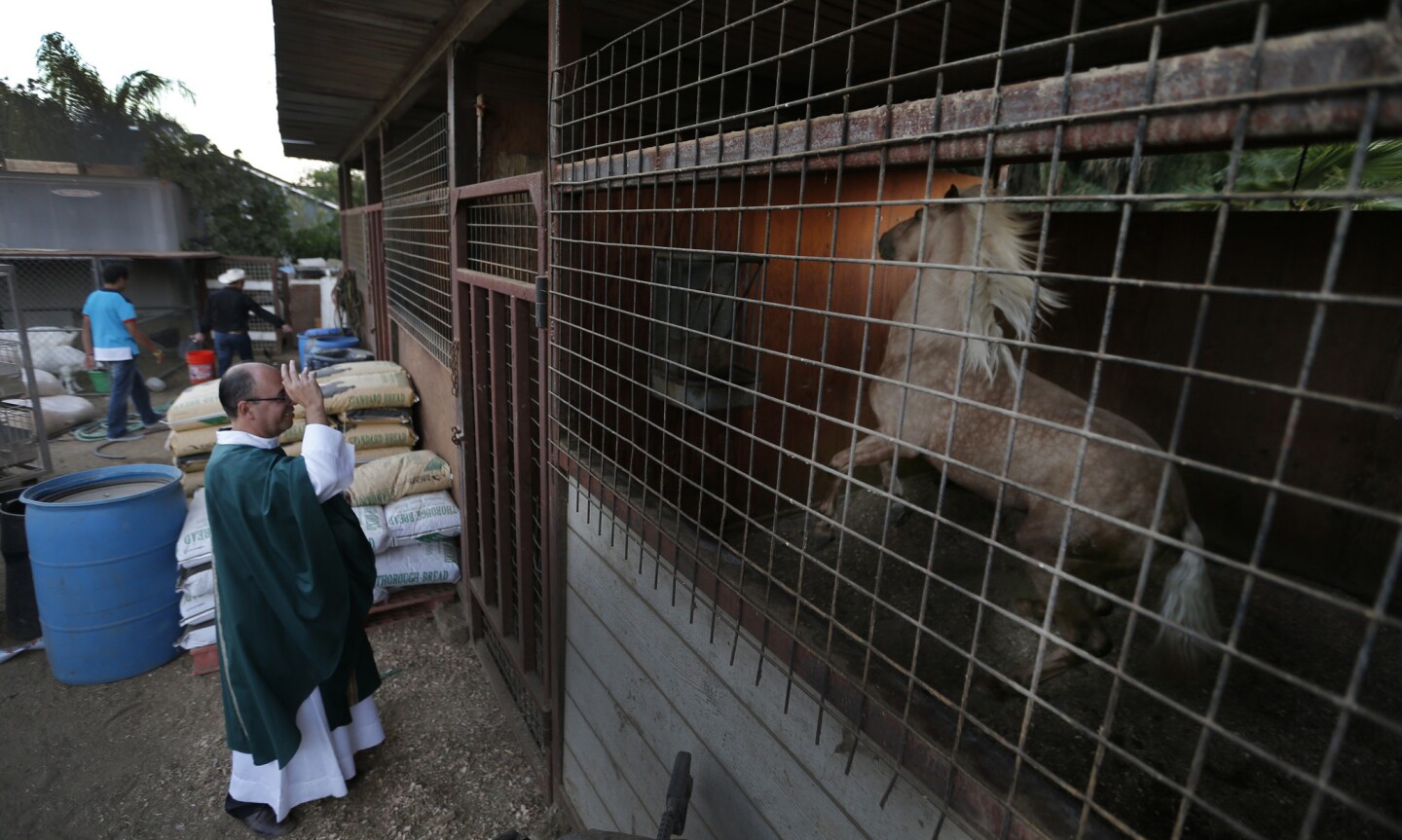 Father Sergio de Jesus Reyes de Jesus Reyes Chiquito blesses a horse after the fiesta Mass. "God never leaves us," he told those who gathered to hear him. "God is always with us."
(Allen J. Schaben / Los Angeles Times)
A man holds a Catholic scapula as a reminder of his committment to Christian life, during a fiesta Mass in La Puente.
(Allen J. Schaben / Los Angeles Times)
The children paid no heed to the priest from Jalisco as he celebrated a fiesta Mass in the backyard of a La Puente ranch, or to their parents urging them to sit still for themisa, or even to the rooster crowing nearby.
They were too busy studying the animals they didn't see in Los Angeles every day: a small herd of goats, a single black pig — and a troupe of dancing horses.
The mothers and fathers didn't share their children's sense of awe. If anything, the horses and the smell of manure that hung heavy in the air made them nostalgic.
NEWSLETTER: Get the day's top headlines from Times Editor Davan Maharaj >>
It reminded them of Ocotlan.
How many of you are from Ocotlan? the priest asked. Almost every hand went up.
Most people have never heard of Ocotlan, a city more than 1,500 miles away in Mexico's Jalisco state. But drive L.A.'s freeways and streets, and you might spot a not-unusual sight: a car or truck sporting a sticker bearing its name. The T in the middle is elongated in the shape of a cross, with Jesus Christ's crucified silhouette.
Although violence is creeping into Ocotlan in the Mexican state of Jalisco, Southern California residents with ties back home keep their traditions alive through celebrations.
On this Saturday night, the priest told the familiar story of how the fiesta came to be. After an earthquake devastated Ocotlan in the fall of 1847, he said, the townspeople attended a Mass outside a ruined church. And that's where they saw a vision of Jesus on a cross — known to Ocotlenses as el Señor de la Misericordia.
For more than 100 years each fall, celebrations have been held on both sides of the border. In Ocotlan, thousands pack the small city near the shores of Lake Chapala, coming from all over the country to see the performers and the fireworks lighting the sky, to hear the church bells ringing.
In the La Puente backyard, there was no church, and fireworks weren't allowed. Plans for a live streaming broadcast of the fiesta back in Ocotlan fell victim to technical difficulties.
None of that stopped the crowd from conjuring memories of home.
"It'll never leave your heart," said Antonio Rangel, who left Ocotlan for California 30 years ago. "Ocotlan is a magical city."
But today a shadow hangs over Ocotlan, and the people in Southern California who love it.
::
For generations, Mexico has sent its sons and daughters north, and no Mexican state has done that more than Jalisco, which gave the world mariachi music, birria and tequila. Jalisco gave birth to so many things associated with Mexican culture that the state's motto is "Jalisco is Mexico."
Jalisco is probably "the state that has the most people in the U.S. right now," said Andrew Selee, executive vice president of the Woodrow Wilson Center, a policy think tank in Washington.
"It's almost the birthplace of the migration trends to the States."
For years, Jalisco had offered a relative reprieve from the gruesome drug violence convulsing much of Mexico.
Then, in 2012, 18 human heads were found near Chapala. In April, gunmen ambushed a police convoy, and the next month an army helicopter was shot down with a rocket-propelled grenade. A confrontation in May between federal forces and suspected drug cartel members on a ranch in the neighboring state of Michoacan left 42 dead. Most, it turned out, were believed to have been from Ocotlan.
For people in Ocotlan, and those in places like the San Gabriel Valley who have roots there, it was a reminder of how much had changed, giving a somber undertone to the yearly ritual of celebrating their connection to a land they loved.
"When all this started in Michoacan, most of the people said, 'Thank God it's not in Jalisco,'" said Patricia Castillo, an organizer of the La Puente celebration. "Two, three years later, it started in Jalisco and everyone said, 'At least it's not in Ocotlan.'"
::
Sergio de Jesus Reyes Chiquito, the priest, preached of the Jalisco everyone in the crowd knew well.
Ocotlan is framed by hills thick and green with trees and bushes during the rainy season, with little arroyos wending down the canyons, pooling in ponds. The priest knew things were not what they once were there, but he kept the Mass light, joked about not being stingy on donations. He tried to instill a sense of hope in the congregants.
"God never leaves us," he told those gathered in the backyard on folding metal seats. "God is always with us."
But sometimes it didn't seem that way to the people in Ocotlan and their relatives in the U.S., who often make yearly trips there.
Once, people would stay out until past midnight, more afraid of waking up their parents than anything else. Now there's a 10 p.m. curfew residents follow for their own safety. Ocotlenses living in Southern California say they worry about being kidnapped or killed when they visit, or having that fate befall a family member.
Sergio Medina, a former boxer from Ocotlan who lives in Sacramento, said his heart is still in Ocotlan. But as with many Mexicans in the United States, Medina's family has been touched by the violence south of the border. Last year, two of his cousins — a father and son — were shot dead in the crossfire of drug traffickers fighting in the streets of his native city.
"You get scared for your family. I thought one day it might come to Jalisco," he said of the violence that has infected Mexico. "And it did."
When Castillo visited in July, she saw homes pockmarked with bullet holes. Everything is fine, her mother reassured her.
"Mami, this is normal to you?" She pleaded with her to come to the U.S.
"Everyone is living through this," her mother told her. "This is where we're staying."
::
In Mexico it's a precarious proposition to count on the government for the public good, so the people at the fiesta were helping to raise money to build an orphanage for street children in Ocotlan.
"We're trying to rescue these kids on the street so they can have a better opportunity and they won't have to get into drugs because they're lacking something," said Miguel Botello, 28, who came from Ocotlan in 2009. "But it's not enough. Today is simply one day. We have to continue fighting to give them a better opportunity."
Everywhere at the fiesta, there were signs of people's connection to the city and Jalisco.
One man wore a T-shirt with the words "Hecho en Ocotlan, Jal" (Made in Ocotlan, Jalisco), while another boasted of the "Ocotlan" tattoo on his chest. People hoisted clay jugs filled with tequila and Squirt soda.
Men and women danced across a dirt floor underneath the dim sky as legendary Mexican singer Vicente Fernandez's familiar baritone boomed from the speakers.
"Me voy por Ocotlan ... Hay que bonito es Jalisco."
"I'm heading to Ocotlan," say the lyrics to the song "El Jalicience." "How beautiful is Jalisco."
The children were wowed by horses kicking up dirt in the backyard, their riders making the animals appear to dance to the music.
"Esta bailando el caballo!" one little girl shouted, pointing to a horse a few feet in front of her, its tail swaying as it moved to the beat of drums and horns.
A group of men stopped dancing to pose for a photo, Castillo capturing the moment as the men cheered the most famous of Mexican cheers, the "Chiquitibum," typically heard at Mexican sporting events.
"Chiquitibum a la bim bom ba, chiquitiboom a la bim bom ba, a la bio, a la bao, a la bim bom ba, Ocotlan, Ocotlan, Rah rah rah," the men cheered, replacing "Mexico" with Ocotlan.
Castillo, reminded of home, smiled as the cheer wound down and the music kicked up again. Sometimes, she said, she gets so homesick she visits Plaza Mexico, a shopping center in Lynwood built as an architectural paean to the motherland.
Twice a year she visits her parents and siblings back home, spending a week or two and celebrating Christmas in Mexico. She takes her son and daughter with her, hoping to instill the cultural values she was raised with.
But those visits are no longer so carefree. She likens the problems facing her hometown and state to the mud puddles her daughter played in after the rains in Ocotlan.
"It's like you're in the mud and you don't want to get dirty," she said. "Sooner or later you're going to get dirty."
Twitter: @brittny_mejia
Hoy: Léa esta historia en español
MORE GREAT READS
Team of sleuths stalks cancer in L.A. County
Nuclear accord paves way for importing Persian rugs into U.S. again
Dreaming of a happy ending: Bedtime stories capture the longing of deported parents and their children
---
The stories shaping California
Get up to speed with our Essential California newsletter, sent six days a week.
You may occasionally receive promotional content from the Los Angeles Times.