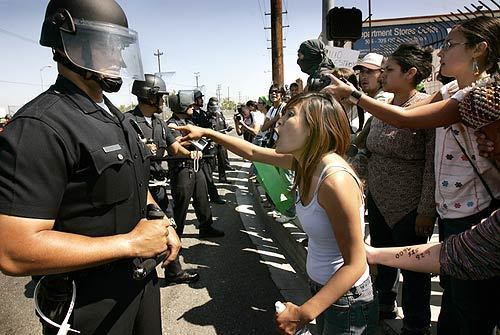 9 Images
'Urban Farm' Uprooted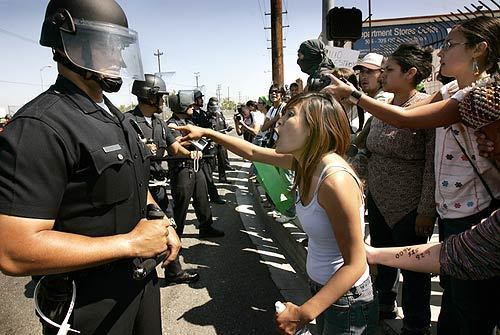 Los Angeles Police Department officers keep protesters out of a South Los Angeles' urban farm.
(Al Seib / LAT)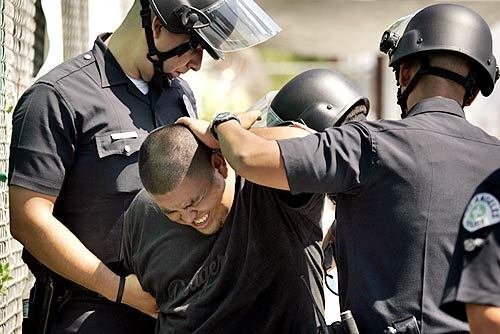 LAPD officers arrest protesters outside the 14-acre South Los Angeles farm, located near 41st and Alameda streets.
(Al Seib / LAT)
LAPD officers arrest Sarah Coffey, left, one of the supporters of the protesters who were encamped within the site. The city failed to reach a deal with the landowner, Ralph Horowitz, that could have preserved the farm.
(Al Seib / LAT)
About 20 supporters sat or laid down in the middle of Alameda and 41streets, unable to gain access to the farm because police had secured the perimeter in the early morning hours. Eventually, members of the group rushed towards the farm entrance. LAPD officers, caught by surprise, rushed the group. Several fell supporters to the pavement. Officers wielded batons and pushed other supporters and media away using force, and then began making arrests.
(Al Seib / LAT)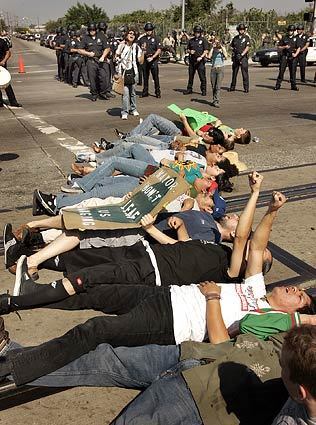 RESOLUTE:
Protesters lie down on Alameda Street as LAPD officers look on. Many streets in the vicinity were blocked, snarling traffic in one of the area's busiest commercial districts.
(Al Seib / LAT)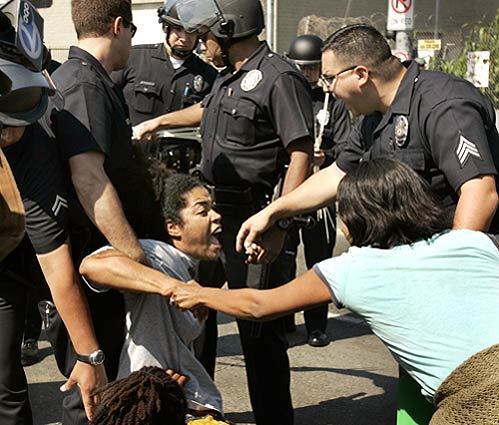 RAW EMOTION:
Officers arrest a supporter of the community garden on land that had been seized from the owner through eminent domain and then eventually resold to him. The dispute drew celebrities, including Daryl Hannah, who was taken from a tree Tuesday.
(Al Seib / LAT)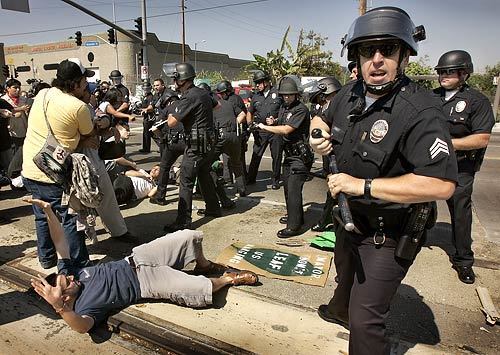 LAPD officers overwhelmed supporters protesting outside the farm, while sheriff's deputies evicted farmers and protesters inside the farm site. Seven people were arrested for allegedly violating a court eviction order and obstructing sheriff's deputies enforcing the order.
(Al Seib / LAT)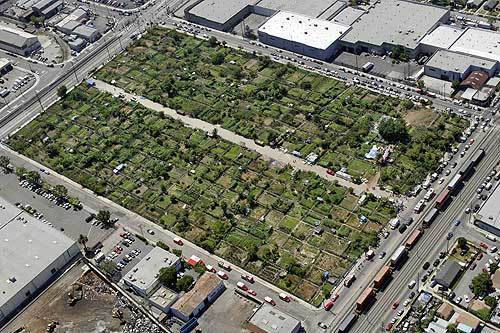 OASIS:
The farm site — and the story of how, after the '92 riots, gardeners made it flourish — became a symbol of hope to many.
(Javier Manzano / LAT)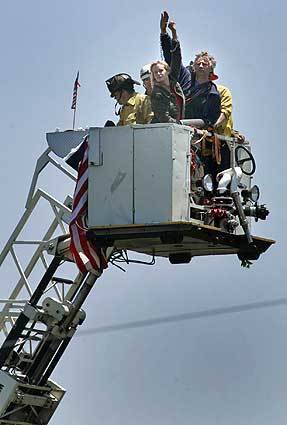 MOVIN' ON:
Actress Daryl Hannah and activist John Quigley are removed from a tree on the disputed South L.A. farm plot.
(Lawrence K. Ho / LAT)