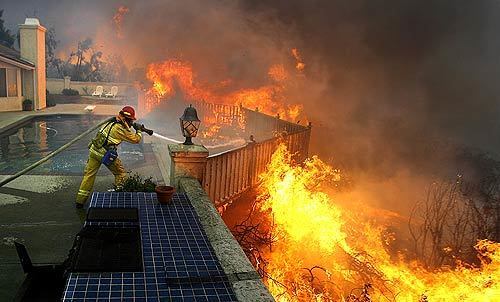 10 Images
Best of 2007: California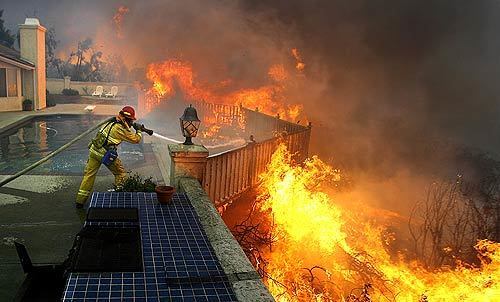 Santa Clara firefighter Jason Falarski battles to save a house in Poway in October. Falarski said of this moment: "The main thing going through my mind is, 'I don't want to lose this house.' "
(Wally Skalij / Los Angeles Times)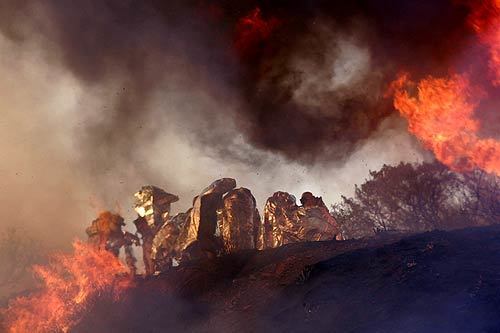 Twelve firefighters trapped by flames atop a ridge off Santiago Canyon Road in Orange County scramble into aluminum fire shelters. The firefighters were examined at the scene by paramedics but refused to go to the hospital.
(Karen Tapia-Andersen / Los Angeles Times)
LAPD gang officers try to control the scene of a double shooting in Nickerson Gardens, a notoriously gang-infested area. Donta Bolden, 15, and Ryant Alexander, 36, were gunned down. Alexander, who survived, is a gang member. Donta, who died, was not.
(Rick Loomis / Los Angeles Times)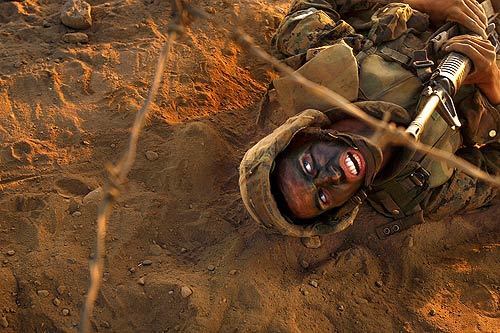 Daryl Crookston pulls himself under a maze of barbed wire as he battles one of the many obstacles presented during the Crucible, a 72-hour endurance test for Marine recruits at Camp Pendleton.
(Rick Loomis / Los Angeles Times)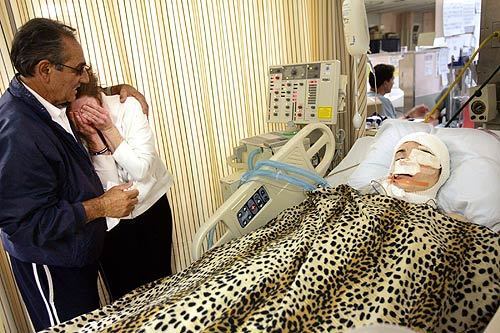 Sam Palumbo comforts his wife, Diana, as they visit daugher Sami in the recovery room after surgery. Most of the left frontal lobe of the teen's brain was lost in an auto accident in March of 2005 and she has endured six operations over the last two years.
(Anne Cusack / Los Angeles Times)
A view of the busy 110 freeway slicing through downtown Los Angeles.
(Wally Skalij / Los Angeles Times)
An 11-month-old grizzly cub comes to the bars for feeding during a training session at the San Diego Zoo. The bear and his brother were taken from their marauding mother near Moose Creek, Idaho, and given a permanent home at the zoo.
(Don Bartletti / Los Angeles Times)
A crew prepares to tow the carcass of a blue whale -- the third in two weeks found lifeless and drifting off the Southern California coast.
(Stephen Osman / Los Angeles Times)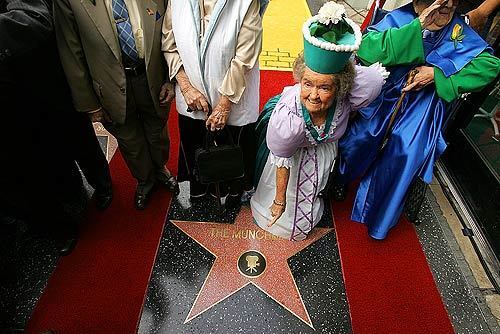 Margaret Pellegrini points to the star on Hollywood Boulevard's Walk of Fame that honored her and six other surviving Munchkins from the 1939 movie classic "The Wizard of Oz."
(Gary Friedman / Los Angeles Times)
A dazzling double rainbow in Ventura follows rainfall during an out-of-season winter storm.
(Stephen Osman / Los Angeles Times)