10 Images
Best of 2007: Real Estate
John Gochá hangs out of an open stained-glass window at his 1904 mansion in the Country Club Park area of Los Angeles. He and his co-owner slashed their annual property tax bill from $20,000 to $10,000 by taking advantage of a 1972 state law that provides a tax break for owners of historic-landmark homes who agree to use the savings to keep them in tip-top shape.
(Richard Hartog / Los Angeles Times)
Alvin and Debbie Clavon, with sons Adam, 5, Jordan, 8, and Alvin III, 9 (foreground), had hoped that President Bush's plan to slow the mortgage meltdown would offer some relief. The plan would give lenders broad latitude to fix troubled loans, but it's too late to help the Clavons. The adjustable sub-prime mortgage on their home in L.A.'s Hyde Park area has already reset twice, rising from $1,450 a month to $2,300.
(Los Angeles Times)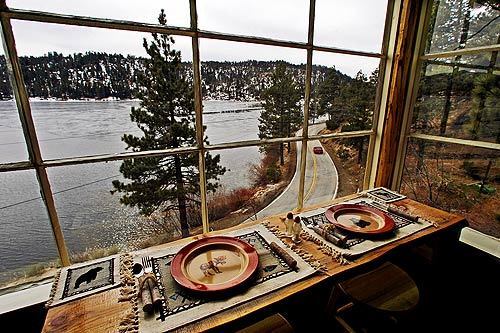 The dining room of a 1,000-square-foot home in Fawnskin offers a view of Big Bear Lake. The home on North Shore Drive, built in 1932, was on the market for $439,000 in February, but that was just for the structure. It sits on land leased from the government.
(Irfan Khan / Los Angeles Times)
Neil Ablitt is shown in the roof patio of his pint-sized palace in downtown Santa Barbara in January, not long after he and his wife moved into their newly built home. They spent $1 million to build the four-story home on a 20-foot-by-20-foot lot down an alley from a popular nightclub on State Street. Each floor has just one room -- in ascending order: bedroom, kitchen, living room -- all atop the ground-level garage. The rooms total 699 square feet of living space.
(Brian Vander Brug / Los Angeles Times)
Hedy Maar, with daughters Leylah, left, and Sarah, thought owning a home in overpriced Southern California was out of reach for her and her husband, Christopher -- until they heard about city and state programs that help low- and moderate-income first-time home buyers. The creative financing available through those programs enabled the Maars to buy a $479,950 home in Granada Hills this year with only $10,000 down.
(Michael Robinson Chavez / Los Angeles Times)
In June, Bob and Jane Baker tour a five-bedroom home listed for $1.69 million in Sherman Oaks. The agent welcomed them, dog Digby and all. For most of the year, it has been a buyers' market. Sellers found that they had to hold open houses, offer concessions and, most important, price their homes right.
(Anne Cusack / Los Angeles Times)
Nanci Sutton is among a growing number of boomers and Gen-Xers nationwide who are becoming hobby farmers. Five years ago, she and husband Ken sold their Glendora home and bought a 7 1/2 -acre ranch in Apple Valley to raise llamas. Their menagerie now includes 25 llamas, five goats and three peacocks. Sutton said it's not a moneymaker. "The animals are therapy for me," she says.
(Irfan Khan / Los Angeles Times)
Workers install tiles on the roof of a home in a Lennar Homes development in Valencia in June. Prices ranged from the high $500,000s to the low $700,000s, and builders were offering incentives to compete for buyers.
(Myung J. Chun / Los Angeles Times)
Rebecca Knowlton stands at the spider-web-covered door of the Corona house she had been trying to sell for two years as of October. She has been frustrated by the weak real estate market, in which discounted new homes and foreclosures have sunk the sales of existing homes. Knowlton, who lives in Austin, Texas, bought the house for her parents in 2000. " We decided to sell at the wrong moment," she said.
(Irfan Khan / Los Angeles Times)
Dave Gross of Ventura stands in the foyer of the 9,000-square foot home he's having built in Camarillo. A new online program called Procore enables him to use his laptop to monitor progress wherever he might be. He likes special features, including automatic reminders that gently nudge architects, designers, contractors or others in the network until they reply to requests.
(Mel Melcon / Los Angeles Times)