Review: Ammo in Los Angeles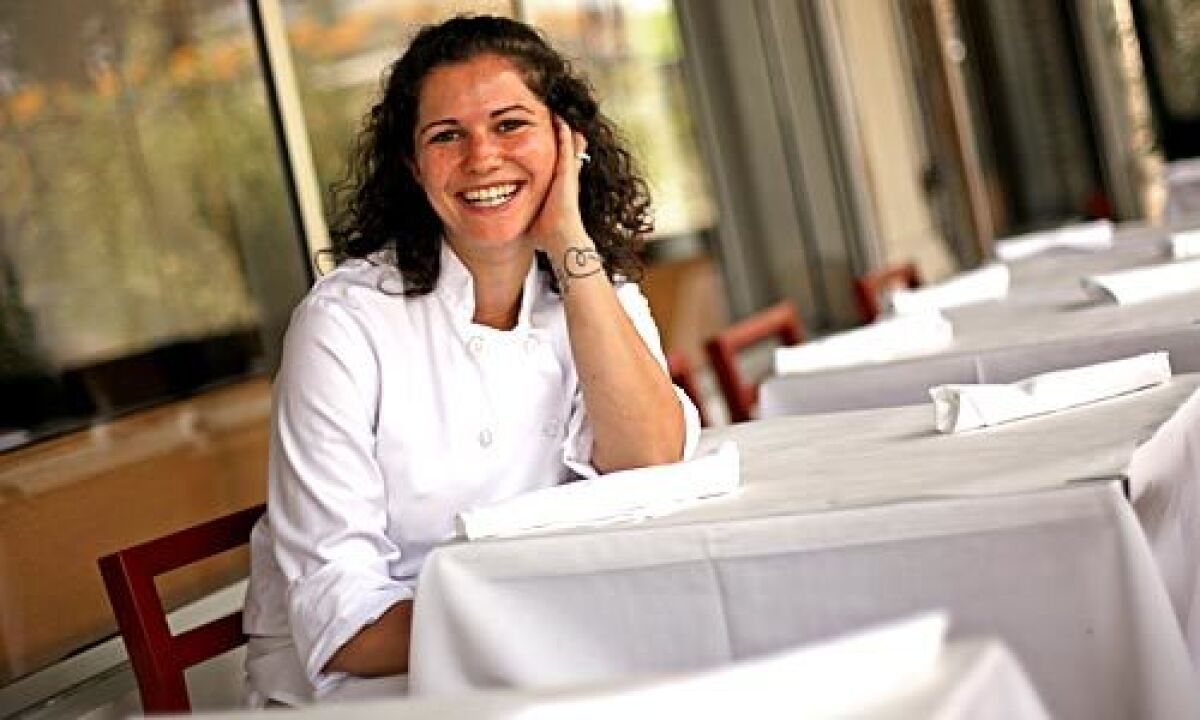 Times Restaurant Critic
As chefs have come and gone at Ammo, the relaxing ambience at times has been more of a draw than the food. But under new chef Julia Wolfson, the kitchen is turning out beautiful seasonal cooking. Wolfson, an Orange County native, has been working most recently in New York under Eric Ripert (Le Bernardin), Dan Barber (Blue Hill) and earlier with Rocco DiSpirito ( Union Pacific). For the last few months, she's been putting her own stamp on the menu originally laid down by owner Amy Sweeney.
Ammo, on Highland Avenue in Los Angeles, doesn't exactly advertise itself. The only sign is a faded name stenciled on the awning out front. Founded by caterer Sweeney as a small takeout shop in 1997 and later expanded, this soulful restaurant flies well under the radar, which is precisely why it's such a haven of civility.
Busy at lunch with an industry crowd from nearby post-production facilities scarfing down burgers and salads, the place at night takes on a sultry, slightly louche look with discreet lighting and interesting-looking diners huddled in leisurely conversation at tables and some very private booths.
Scene? Not a bit. In fact a major rock star can dine in peace, virtually unnoticed.
Wolfson's menu reads like a California dream,perfectlyseasonal, fresh and inspiring -- the closest thing to Chez Panisse cafe fare in these parts.
A corn soup offered as a special one night tastes like the essence of sweet corn -- a little grainy, not over refined -- larded with bits of crisp pancetta and garnished with a swirl of crème fraîche.
Wolfson is a genie with salads. Her salt-roasted baby beets glisten like jewels in a salad with wisps of frisée, dabs of snowy fromage blanc (a fresh white cheese), fresh toasted walnuts and fat lardons of Niman Ranch bacon.
I love the salad of delicious summer beans -- Blue Lake, Romano and haricot vert -- with charred baby octopus in a snappy shallot dressing. Now there's a luscious heirloom tomato and white corn salad embellished with shreds of rich duck confit and pickled red onions. Sometimes she substitutes radishes for the tomato.
This chef rarely falls into the trap of too many ingredients. Her wild arugula salad, for example, is dressed up with shaved baby artichokes, toasted pistachios and shavings of Parmigiano-Reggiano.
She'll go for three or four strongly contrasting flavors, not 20. Pickled sour cherries and charred grapefruit add some pucker to a starter of braised pork belly. The pork has a wonderful texture, crisp at the edges, fleshy and moist inside.
Pick a pizza
FROM Ammo's wood-burning oven, she turns out some very respectable thin-crust pizzas, although occasionally the crust is a touch underbaked. You can't go wrong with the one topped with prosciutto di San Daniele (a little sweeter than the ham from Parma) and handfuls of arugula. The classic pizza of fresh, milky mozzarella, tomatoes and basil is a good bet too.
I loved the pizza of baby artichokes with teardrop cherry tomatoes, both red and yellow, some barely bigger than a pea. But the next time I ordered it the artichokes had the vinegary tang of the kind sold in jars. Maybe they'd run out of the fresh ones. Who knows?
Pizzas come from a category of the menu dubbed "middles." That would also include pastas, such as the ricotta and mint ravioli -- three very plump, round ravioli stuffed with ricotta and topped with a lamb ragù lifted with a dusting of lemon zest. But a little less salt, please.
Inch-wide pappardelle noodles tossed with wonderfully bitter dandelion greens, sweet onion and pancetta also make a satisfying pasta dish.
All through the meal I find myself stopping to listen to the music, a playlist put together by longtime manager Benedikt "Benny" Bohm. He's a warm and relaxed presence in the dining room, the glue that holds everything together.
He also put together the wine list, and it's a beauty. The dozen wines by the glass are worth trying. He's got 10 -- 10! -- half bottles, including Tablas Creek Vineyard Esprit de Beaucastel Blanc, a Central Coast version of a Châteaneuf-du-Pape blanc.
Not many lists offer a Cremant de Bourgogne rosé (a sparkling wine from Burgundy) or not one but three Grüner Veltliners from Austria.
He's got a Moscato Giallo from Alto Adige (Italy), a Viognier from Lodi and a Domaine Tempier Bandol rosé for a very good price. The list of Côtes du Rhône varietals is especially long and enticing. And for beer drinkers, he's got Goesser from Austria along with Chimay Ale Red Label from Belgium.
Pan-roasted duck breast with bulgur, peaches and kumquat in a honey gastrique makes a terrific main course to go with one of those Rhône-style reds. The flavor of duck breast is deeper and more seductive than any others I've had recently.
A new dish, braised pork shoulder with celery root slaw and a light, savory tomato-pork jus with a pickled okra salad, makes a nice supper. Wood-oven roasted halibut comes out tall and fluffy, very plain really, to eat with shaved baby artichokes, steamed cockles and lots of lemon and capers.
Roast leg of lamb, though, is served so rare that it doesn't taste much like lamb. The burger is not a stunner either, mostly because the beef doesn't have much flavor. Hanger steak is a good bet, served with black-green cavolo nero (Italian black kale) and new potatoes.
The kitchen seemed to be on a roll my first couple of visits, but on my last, the cooking was so different -- salads overdressed, meat undercooked and everything just not as polished -- that I'm thinking maybe I'd been unlucky enough to come in on a night when the chef was off. When a restaurant is open seven nights a week, obviously that's going to happen sooner or later, so it's worth a call before you go.
Desserts fall into the homey category. Don't miss the free-form rustic peach tart with the edges of buttery short crust folded over to hold in the juices. This is a great year for stone fruit, and these peaches are beauties.
Chocolate torte is a moist, fine-textured cake so dark it's almost black, served with a loose, salted caramel sauce that tastes of butter and fleur de sel. Cherries poached in wine with fresh thyme make a fabulous dessert one night ladled over vanilla bean ice cream. Ice cream sundae with chocolate and caramel sauces misses, though: The ice cream is too soft, already melting when it gets to the table.
So. How lucky that this talented young chef has fetched up at Ammo where she's reinvigorating this intelligent and soulful restaurant with her graceful cooking.
Ammo Rating: ** 1/2Location: 1155 N. Highland Ave., Los Angeles, (323) 871-2666; www.ammocafe.comAmbience: Relaxed and understated restaurant with seasonal California cooking, an interesting crowd and an eclectic music track.Service: Comfortable and relaxed, yet professional.Price: Dinner first courses, $9 to $16; pasta and pizza, $15 to $19; main courses, $18 to $29; desserts, $8 to $12.Best dishes: Sweet corn soup with pancetta; grilled baby octopus with summer bean salad; braised pork belly with pickled cherries; salt-roasted baby beets with fromage blanc; prosciutto and arugula pizza; braised pork shoulder; pan-roasted duck breast with peaches; wood-oven roasted halibut with summer succotash; rustic peach tart; warm, bitter chocolate torte with fleur de sel caramel.Wine list: Wide ranging and beguiling with many labels from small producers. Corkage fee, $15.Best table: One of the booths toward the back.Details: Open for lunch from 11:30 a.m. to 3 p.m. Monday through Friday, for brunch from 10 a.m. to 3 p.m. Saturday and Sunday, and for dinner from 5:30 to 10 p.m. Sunday through Thursday and until 11 p.m. Friday and Saturday. Full bar. Valet parking,Rating is based on food, service and ambience, with price taken into account in relation to quality. ****: Outstanding on every level. ***: Excellent. **: Very good. *: Good. No star: Poor to satisfactory.
The stories shaping California
Get up to speed with our Essential California newsletter, sent six days a week.
You may occasionally receive promotional content from the Los Angeles Times.