The 21st century parlor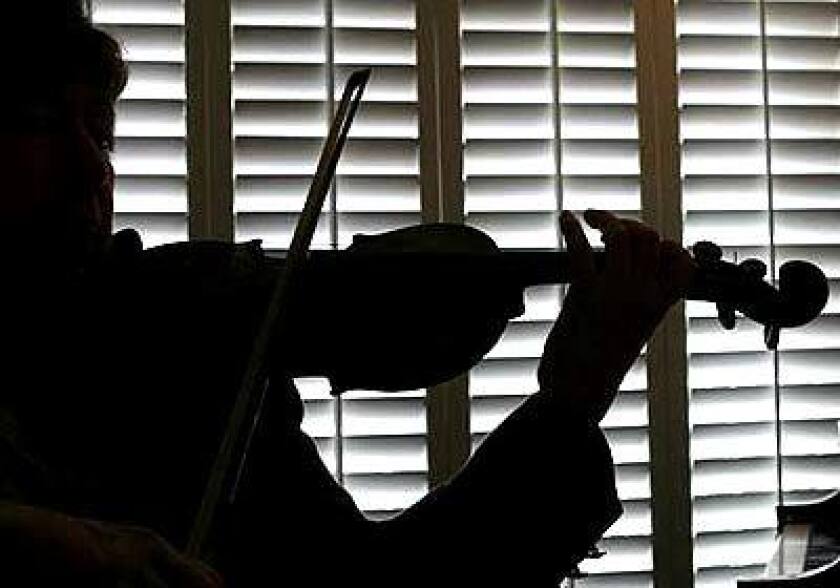 Special to The Times
When pianist Jim Sage, who teaches music at Flintridge Sacred Heart Academy, was looking to buy a small Highland Park bungalow, the most important feature was the house's capacity to meet the needs of an inanimate object — his piano.

"I bought my house around its ability to house my instrument," says Sage. First on his shopping list: hardwood floors, which allow sounds to resonate in a way that wall-to-wall carpeting or most other floor surfaces do not. His concert grand is parked prominently in the corner of his living-dining room, surrounded by a strategically angled dining room table and a small couch and chairs.

A century ago, the piano room — or parlor — was the original home entertainment center. That's where guests were received and the family gathered to share what we now call "live" music. Then there was no other kind. Television and honking home stereos would render the parlor obsolete long before computer games and iPods.

Piano sales are a fraction of what they were when Teddy Roosevelt was president. In 1909, 364,500 were sold, but by 1999, fewer than 102,000 new pianos were brought home. Still, there are people for whom music is the defining characteristic of their house, and its rooms must serve their musical needs. Their rehearsal and performance spaces range from converted bedrooms and dining rooms to expansive living rooms large enough to seat 50 people or more for private concerts.

"You have to design around instruments," says Susan Cohen, an interior designer in Santa Monica who has created display towers for guitars, and basements with carpet-upholstered walls to absorb the sounds of amplifiers and drum kits. "A baby grand piano is 5 feet by 5 feet. You need a big area for that."

And yet if a room is large enough, a grand piano doesn't even have to be the focal point, Cohen says. "It can be an accessory with a separate seating area. You can create a small music vignette where people can pick up instruments."

Original floor plans dating from the early 20th century frequently have spaces designated as "music rooms." A nook off the living room might be dedicated to music, sewing or billiards, says Jane Powell, a Bay Area author of several books on historic Arts and Crafts homes. "And sometimes part of the living room is raised 6 inches higher, which makes a natural stage."

The living room in the latest Oakland bungalow that Powell is restoring is nearly 20 by 40 feet. "One of the ideas I've had for this house is to have concerts here."

Concerts at home

Fritzie Culick, who teaches piano and owns Old Town Music in Pasadena, knew the first time she walked into the living room of her 1926 Mission Revival house in Altadena that she would have concerts there. "I told the real estate agent we had to have it," Culick recalls of that moment more than 30 years ago. "I didn't even know what the price was."

What convinced her was the 40-by-24-foot space with two-story ceiling that looks bigger than some small theaters. The rest of the house, designed by noted architect William Woollett, is moderately sized, making the music room stand out more.

A black Yamaha grand stretches across the far wall, and couches and chairs form a conventional conversation area at the near end. Culick is always rearranging the furniture and bringing in as many as 30 extra folding chairs for what she calls "play parties," or recitals, as well as informal concerts. "Sometimes the room is filled up with instruments," she says. "It makes a nice little auditorium."

On the side walls hang framed sketches from original musical scores, including one from the Pulitzer Prize-winning "Duplicates: A Concerto for Two Pianos and Orchestra" by Mel Powell, late dean of CalArts Valencia music school. The Southwest Chamber Music ensemble rehearses here, and performances sponsored by the Friends of Music from Cal State L.A. also are held here.

The Brentwood living room of a 1927 Spanish Revival owned by violinist Diana Steiner is often used for chamber music concerts. The 17-by-23-foot space has the requisite hardwood floors, a 10-foot ceiling and French doors that open to an enclosed redwood deck, which provides extra seating in summer.

"Working musicians don't have mansions," says Steiner, who debuted as a soloist at age 9 with the New York Philharmonic and has performed with many major American orchestras. "But we've had 35 to 40 people here. We bring in folding chairs, dining room chairs and we have couches. We try to make it as comfortable as possible."

Adapting the space

When homes aren't as grand, residents still manage to carve out dedicated musical space. Becky Iott, a feng shui consultant in South Pasadena, and Raymond Egan, a pianist and composer, turned one of two bedrooms in their small house into Egan's studio and music room. They both work at home.

"Our work and personal lives are integrated in one structure," Iott says. "I think of it as old-fashioned, like living above the store. For us it's worked out pretty well.

"Live music is so different from recorded music, truly different, that wherever that can happen in a house, it enlivens the space," says Iott. "Musical instruments suggest beautiful sound, even if they're not being played."

And even if a piano is squeezed into a small space, she believes, it doesn't necessarily violate the clutter-be-gone aesthetic of feng shui. "I would make a distinction between close and cluttered," she says.

A case in point: the two Steinway grands that fill the Pasadena dining room of Cherry Rhodes and Ladd Thomas, who both teach organ at USC Thornton School of Music. "It's not bad," says Rhodes. "It doesn't look stuffed. Obviously it's not a grand music room."

The couple take their meals in a breakfast nook off the kitchen.

"We can't have huge parties, but that's OK, because I'm too busy making music," says Rhodes, who will play Josef Jongen's "Symphonie Concertante" in April with the Los Angeles Philharmonic.

Each brought a Steinway to the marriage, and their dining room arrangement allows them to play together. They also have a 10 1/2 -foot-high pipe organ in the living room of the 1,700-square-foot home they purchased on Avenue 64 in 1977.

"It was in storage until we found the right house where we could put it," Rhodes says. "We had to have a ceiling high enough, and you don't want an organ on an outside wall because the temperature fluctuations get it out of tune."

While they don't have big dinner parties, Rhodes and Thomas do have people over to listen to them perform. "We bring in portable chairs and place them between the two rooms and pull them around the pianos. We've had as many as 15 or 20 people."

When cellist Julie Newton needed a teaching studio in her La Cañada Flintridge home, she converted the guest bedroom, which has an outside door to allow students to enter and exit without disturbing her family. The room is just large enough for two people to be seated playing cellos, along with a couch and an upright piano.

To accommodate more than two musicians, Newton last year also turned the dining room into a performance space. "I haven't missed the dining room table," she says.

"The cello's kind of a big instrument," Newton says. "And when you have four full-size cellos, four music stands, cases and four 14-year-old boys with room to bow …. "

Evidently you need a good-size dining room. But even those with limited space can find a way to accommodate an instrument.

When lounge singer and pianist Geoffrey Tozer moved into his studio apartment in Hancock Park, he wanted his customized red Wurlitzer console piano at the center of things. He placed it smack in the middle of the room, where he often plays it standing up. Tozer practices with a homemade baffle to muffle the sound for his neighbors, but says, "It's an old building and the walls are thick. Plus, I practice during the day and don't push it."

Just the right room

A space for live classical music was so important to attorney Steve Schneider that he and his wife bought their Woodland Hills home south of Ventura Boulevard last year because it had a 900-square-foot room in which he could play his 1912 Mason & Hamlin grand piano, for himself — and for others.

"It serves a dual purpose," says Schneider. "It's my music room where I play for pleasure and where other parts of the house won't be disturbed. But it can also be used as a performance space. We've had 30 people in there, and the acoustics are great."

The contemporary house, built in 1987, climbs a hillside on four levels. The music room is on the second level. "You can hear the music wafting up into the rest of the house," Schneider says. "It's kind of pleasant."

Schneider, 59, studied piano extensively at an early age but put it aside for his law career. Ten years ago he attended a chamber music camp and learned to play all over again. In his new home, he has hosted benefits for nonprofit arts organizations and often plays the music of Beethoven, Mozart and Gershwin in chamber ensembles for friends and invited guests.

"I do as much with music as a person can who doesn't earn his living by it," he says.

Schneider's music room is the consummation of a passion that was neglected for nearly 30 years in deference to the practical demands of providing for his family — a sacrifice familiar to many. He owned a piano but rarely touched it, which suggests a final thought about the emotional significance of a music room. According to author Terah Kathryn Collins, founder of the Western School of Feng Shui in San Diego, a piano not played may not be good to have around.

"Musical instruments are powerful because music is powerful. But it depends on whether it's being used and loved, anchoring good times, or is it not being used, creating feelings of unhappiness and regret."

In other words, the lessons abandoned, the discipline not mastered, the passion untended can create a field of negative energy. But one could say the piano is more patient than its owners, forever transmitting the promise of possibility and merely awaiting the eventual arrival of an artist, an audience — and the perfect space.
---
Sean Mitchell is a regular contributor to The Times.
---
The stories shaping California
Get up to speed with our Essential California newsletter, sent six days a week.
You may occasionally receive promotional content from the Los Angeles Times.