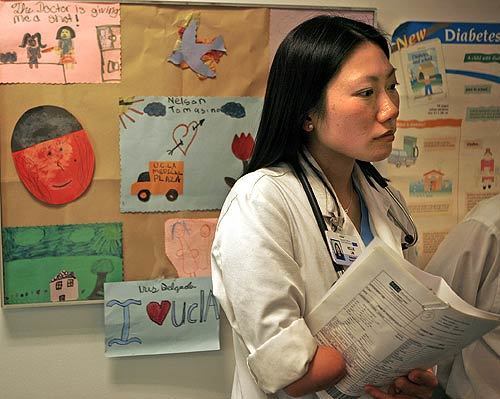 7 Images
Achieving Her Dream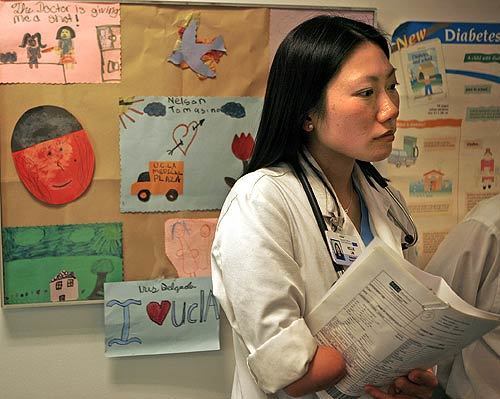 Kellie Lim, who never let becoming a triple amputee when she was 8 keep her from achieving her dream of being a doctor, recently finished a pediatrics rotation at UCLA's medical center. She will graduate Friday from the David Geffen School of Medicine at UCLA.
(Mark Boster / LAT)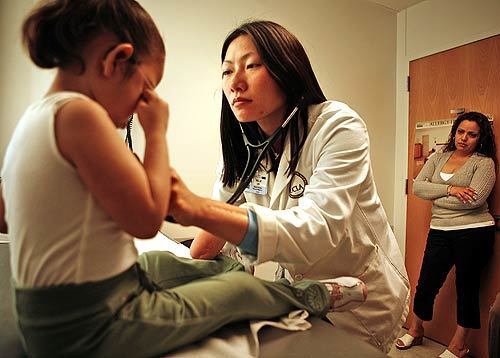 Kellie Lim checks a young patient during rounds at the UCLA Medical Center. When Lim was 8, a raging infection of bacterial meningitis forced the amputation of both legs below the knee, her right hand and forearm, and three fingertips on her remaining hand. .
(Mark Boster / LAT)
Lim examines Jordan Edwards. She wears prosthetic legs but rarely uses her artificial arm. Lim says her drive to overcome her handicaps was inspired partly by her mother, who took good care of her family even after going blind in her 20s.
(Mark Boster / LAT)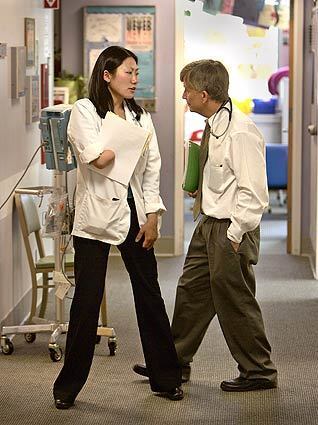 Lim discusses a case with her supervisor, Dr. Robert Roberts, in the pediatric unit at the UCLA Medical Center. She says she gets her greatest joy from helping sick children.
(Mark Boster / LAT)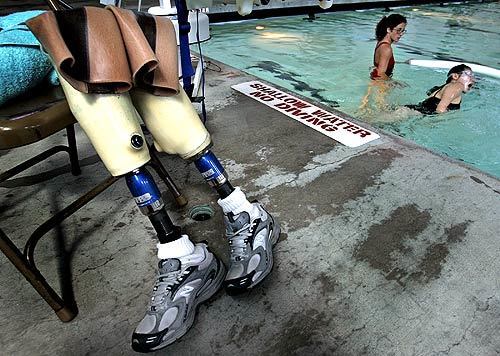 Recently, despite a past fear of water, Kellie Lim, right, started taking swimming lessons. She also has tried riding horseback and tandem skydiving.
(Mark Boster / LAT)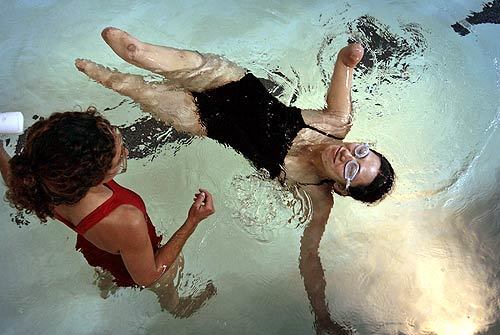 Lim initially was supported in the water by a float, but then the instructor removed it and taught her a dolphin-like way to propel herself through the water. It was hard work, but the swimmer was smiling.
(Mark Boster / LAT)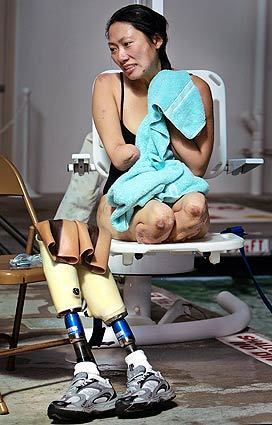 Lim takes a break after a swim. Her sister, Nellie Lim, a Michigan lawyer, recalls the family philosophy: "It wouldn't do you any good to sit and cry about it. We just went on and kept doing what we had to do like any other family."
(Mark Boster / LAT)