STREET SCENE:
Shops and restaurants draw pedestrians to prosperous Larchmont Village.
(Mark Boster / LAT)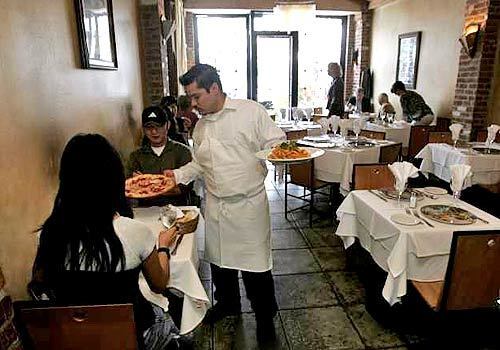 STILL OPEN:
La Luna was supposed to have closed March 31, but its lawyer says it will continue to serve Larchmont
(Mark Boster / LAT)
'THE EUROPEAN LOOK':
Chef and co-owner Robertino Giovannelli opened La Luna opened in 1990. The features that drew him to the neighborhood are gone now, he said.
(Mark Boster / LAT)
SHOP TALK:
Barber Jerry Cottone cuts Andy Romanoff's hair in his Larchmont Village Barber Shop.
(Mark Boster / LAT)
PEDESTRIAN FRIENDLY:
Larchmont Village provides a European-like charm and ambience with many small businesses and restaurants lining Larchmont Boulevard.
(Mark Boster / LAT)