Soccer fans pack L.A. venue to cheer on U.S. against Portugal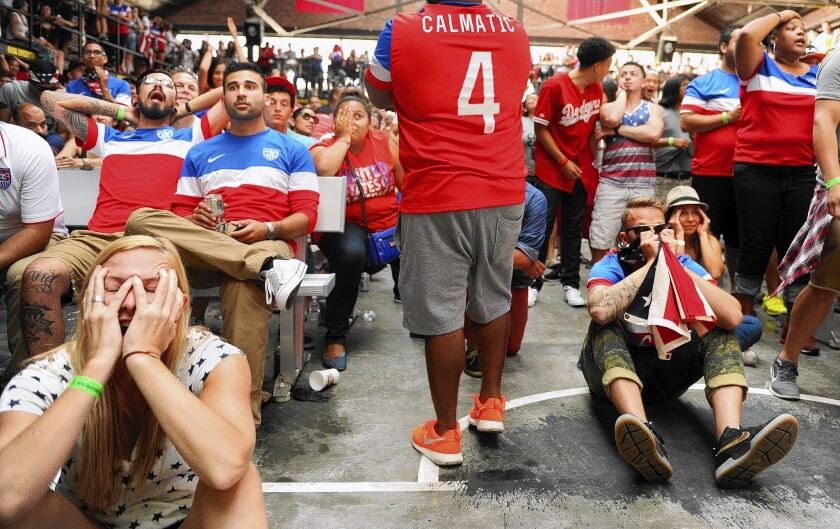 Waving U.S. flags and wearing team jerseys, hundreds of soccer fans packed into a downtown Los Angeles warehouse Sunday to watch the U.S. national team face off against Portugal in a pivotal World Cup match in Manaus, Brazil.
"The victory would be strong," said James Umgelter, 47, who came to the festivities draped in a "Betsy Ross" U.S. flag. "I hope we play better than we did against Ghana."
The L.A. Galaxy soccer club sponsored the televised viewing party at the Lot 613 facility in the Arts District. Organizers said about 700 people bought tickets for the event, which was one of several hosted by Major League Soccer clubs across the country.
"I think they're growing more and more," Galaxy spokesman Brendan Hannan said of the viewing parties. "It's a meaningful game and people want to come out and watch soccer with their friends."
As the game started at 3 p.m., fans sang the National Anthem and chanted "USA!" They booed the Portuguese soccer players.
But four minutes into Sunday's game, the U.S. team made a costly error that allowed Portugal to score the first goal.
Fans continued to cheer — hoping for a comeback.
"My brain is telling me not to be hopeful, but my heart says I should be," said Jovani Diaz, 34. "They have to make some changes for them to come back."
Twenty minutes into the second half, the U.S. scored, tying the game 1-1. Then Clint Dempsey scored to give the U.S. a 2-1 lead, prompting an explosion of cheering, chanting and clapping.
But with just seconds to go, Portugal scored a second goal, ending the game in a 2-2 tie.
Among the few Portuguese fans in the room, Thanya Andrade, 25, of Los Angeles, and her sisters, Cynthia, 25 and Sujeidy, 35, jumped up and down with joy.
"I'm super excited," Thanya said. "I was scared, but I was hopeful for our team, for our people."
"I almost cried," said Cynthia, her twin.
"But we did it," Thanya said. "We weren't eliminated."
Orland Ramos, 36, who drove in from Pasadena with his wife, Claudia, to watch the game, said afterward: "I'm happy and sad."
"We had 45 seconds to win," Ramos said. "But that's how the World Cup is."
The U.S. team is scheduled to play Germany on Thursday.
Earlier in the day, hundreds of South Korean soccer fans gathered on the lawn of Wilshire Park Place in Koreatown to watch their team face off against Algeria. They watched the game on a Jumbotron and another monitor set up on the roof of an adjacent six-story bank building.
Throughout the game, they cheered "dae han min guk" (Korea) and "pil seung Korea" (Victory Korea).
A sea of red shirts — their team's traditional color — flooded the neighborhood where vendors in tents sold T-shirts and fusion tacos and handed out sun visors and red towels.
The fans came early to claim their places in the shade of the tall pine trees and to watch traditional music by players from La Nori-Madang, dressed in white with red vests, yellow sashes and red, green and yellow hats.
They sang the Korean and American national anthems and were energized by drummers, dance groups and hip-hop performers.
Daniel Yum, 21, a junior at UC Berkeley, joined his friend Gabriel Franco, 20, a student at UC Irvine.
"It's fun to be here with my friends" Yum said. "The World Cup represents the unity of nations. It's the one thing we all have in common. It gives us a chance to compete in a beautiful way. Even if we lose, we gain from it."
But with the score 3-0 at halftime in favor of Algeria, the crowd began to thin, with many tossing their red plastic thunder sticks into the trash.
Algeria went on to victory, 4-2.
Twitter: @LATvivest
Twitter: @tcurwen
---
Life is stressful. Our weekly mental wellness newsletter can help.
You may occasionally receive promotional content from the Los Angeles Times.