DWP changes lenient sick day policy after demands from City Hall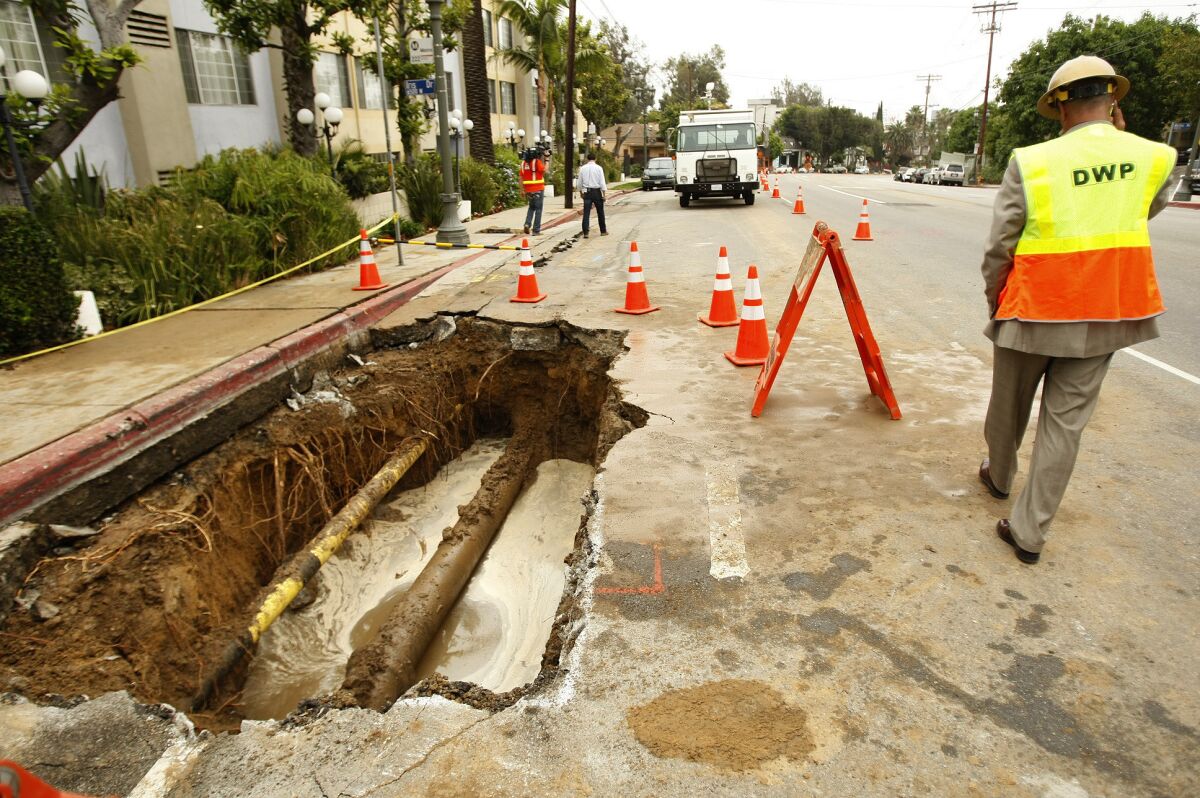 Responding to public criticism of an unusually generous sick pay policy, Los Angeles' Department of Water and Power said Wednesday it will immediately begin requiring employees to provide a doctor's note for absences of three or more days.
The rule change comes less than a week after The Times reported on a 32-year-old policy that has allowed thousands of DWP employees to take far more fully paid sick days than allowed by the agency's 10-day-a-year cap.
Since 2010, the department has paid employees more than $35.5 million for 103,802 extra sick days, the equivalent of 415 years of lost productivity, according to a Times examination of data obtained under the California Public Records Act.
"The revelations from last week were simply outrageous" and prompted City Hall leaders to demand action, said Yusef Robb, spokesman for Mayor Eric Garcetti. Requiring a doctor's note was the quickest fix available, Robb said. Garcetti is still reviewing whether he can make more substantial changes to the policy by executive order, or whether that would require union consent, Robb said.
Under the union contract, the first two days an employee calls in sick are subtracted from his or her allotment of sick days. But the employee can take the next eight consecutive work days off, at full pay, without further depleting the sick day supply. No doctor's note has been required for those additional days, DWP officials acknowledged last week. Those days were considered to be "on the house," according to one DWP manager who wasn't authorized to speak to the media and declined to be named.
If an employee suffers a relapse of the same illness within 21 days of returning to work, he or she can take an unlimited number of days off without having them subtracted from the sick day supply. Relapses were supposed to be verified with a doctor's note, said DWP spokesman Joe Ramallo.
However, the DWP reviewed personnel files of 150 employees who took the most extra days off in 2012 and found 67 — fewer than half — "who appear to have bona fide chronic illnesses, who have doctor's notes," General Manager Ron Nichols said in an interview last week.
Ten percent of the department's roughly 10,000 employees took at least 10 extra days off last year, The Times found. More than 220 took an extra 20 working days off, or about a month, the data show.
The records show one senior accountant averaged 49 extra sick days each year from 2010 to 2012. A security guard averaged 43 extra days. A customer service representative averaged 38 extra days. That did not include regular sick days, paid vacation days, holidays or other "personal" days paid by the department.
On Wednesday, Garcetti said: "I was elected to reform DWP, and that's what I'm going to do. This is a good step to curb this abuse, but I will continue to look for ways to make DWP operate more efficiently."
The new DWP policy requiring a doctor's note for three or more days off due to illness matches the policy covering employees at other city agencies. The note will have to include the doctor's name and phone number, the date of the examination and the date of the employee's expected return to work.
Brian D'Arcy, who heads the DWP's largest employee union, did not respond to a request for comment Wednesday.
jack.dolan@latimes.com
---
Life is stressful. Our weekly mental wellness newsletter can help.
You may occasionally receive promotional content from the Los Angeles Times.