It's time to turn domestic abuse chatter into conversation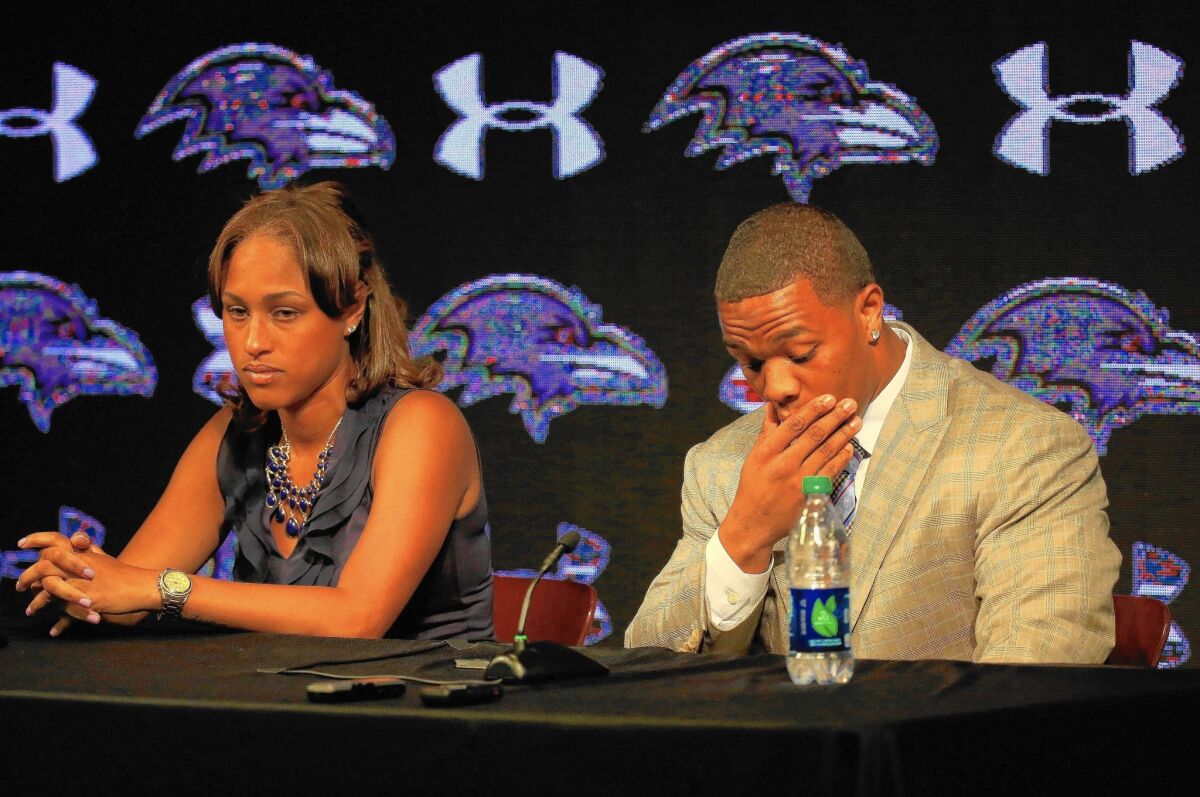 I heard the announcers in Thursday's National Football League game declare this the worst week in the history of the 94-year-old league. I can't help but think that's hyperbole.
But I suspect this has been the worst week in the life of 26-year-old Janay Palmer Rice, the unwitting new national symbol of domestic violence. She's been publicly humiliated, mocked and pitied. Her football-star husband lost his career and the $10 million left on his contract.
From her perspective, that's the media's fault for airing video of her then-fiance knocking her out in an elevator after they'd celebrated Valentine's Day at an Atlantic City casino.
"THIS IS OUR LIFE! What don't you all get," she wrote this week on her Instagram account. "If your intentions were to hurt us, embarrass us, make us feel alone, take all happiness away, you've succeeded on so many levels. Just know we will continue to grow & show the world what real love is!"
The videos showed the world what real love is not.
Ravens running back Ray Rice punched her so hard, she collapsed in a heap on the elevator floor. When the doors opened, he dragged her out and dropped her unconscious, face down in the hall.
The graphic footage stunned the country and embarrassed the NFL, which was forced into toughening its sanctions for players charged with domestic violence. Rice was initially suspended for just two games — the same penalty a player gets for smoking a joint.
The shock over the video and its fallout have shown that for all the progress made in combating domestic abuse, we can't even talk about the subject without stumbling over stereotypes or coming off as clueless.
"If you in a relationship and a woman hit you first and attacking YOU. . .Then you obviously ain't beatin HER," wrote Indiana Pacers player Paul George in a tweet that drew public outrage and an immediate scolding from his NBA bosses.
In San Francisco — where the 49ers have declined to discipline a player arrested last month for "inflicting injury" on his pregnant fiancee — the team's radio announcer was suspended for two games and will undergo sensitivity training for labeling Janay "pathetic" because she married Ray after he was indicted for assaulting her.
And television network CBS abruptly scrapped plans to have Rihanna, a former victim of very public domestic violence, perform before millions at Thursday's game. That unintentionally punished the singer for Rice's criminal abuse.
The Ravens have been beyond tone-deaf, trying to protect their player's image by wringing an apology from his victim: "Janay Rice says she deeply regrets the role that she played the night of the incident," the team tweeted after a news conference last spring.
That news conference included a line from Rice that was either uncommonly stupid or inconceivably cruel:
"I won't call myself a failure. Failure is not getting knocked down. It's not getting up," he said.
I guess that makes Rice's wife a failure. She was not able to get up when the man she loves knocked her down.
::
I don't think it's our place to judge Janay Rice for standing by her man.
But I also don't think asking why she stays amounts to blaming the victim. It's a legitimate question by confused outsiders, trying to understand her tolerance of a dangerous display of disrespect and contempt.
It's not uncommon for a woman to stay with a man who abuses her. The reasons can be as simple as love, as fundamental as money, or as complex as the alchemy of optimism, shame, fear and guilt.
"People desperately want to believe it will never happen again," said Susan K. Weiss, a Los Angeles Superior Court commissioner who has presided over hundreds of requests for domestic violence restraining orders.
After the abuse, the batterer apologizes, buys flowers, cries, promises he won't do it again, Weiss said. He pledges to stop drinking or to start going to church. "The woman thinks 'He didn't mean it. He loves me. He loves me.'
"Some women have a hard time giving up on the relationship. They see the good in him."
Weiss understands the sort of humiliation that Rice's wife has described. "Women are often embarrassed when someone finds out," she said. "Domestic violence victims tend to feel they're at fault; they provoked him or they did something wrong."
Weiss has seen men like Rice change and families stay together. "But the abuser needs to own the problem, not say it's something she did or blame alcohol or drugs.
"She may be the one who pushes the buttons, but he's the person who throws the punch and that's his issue to deal with."
::
Domestic violence experts say hotline calls have spiked since the video went public. It's given women courage to speak up; it shows they're not alone.
I suspect it's also provided a sobering reality check: No matter how many excuses you make for him, this is how it looks to the world.
Janay Rice is the pretty face of an ugly epidemic.
And the question to ask isn't why she stayed but why it took us so long to get worked up about something that happens to a million women each year — including the wives and girlfriends of men we idolize.
I guess we needed to see it to believe it.
"If there's anything good about this," Weiss said, "it's that we can't ignore it. Whatever the NFL does or doesn't do, we're taking something that was behind closed doors and talking it out to figure out what our response should be."
As uncomfortable as it may be, it's time to move past locker-room chatter. It's our conversation now.
sandy.banks@latimes.com
Twitter: @SandyBanksLAT
---
The stories shaping California
Get up to speed with our Essential California newsletter, sent six days a week.
You may occasionally receive promotional content from the Los Angeles Times.