Bell demanded extra fees from some businesses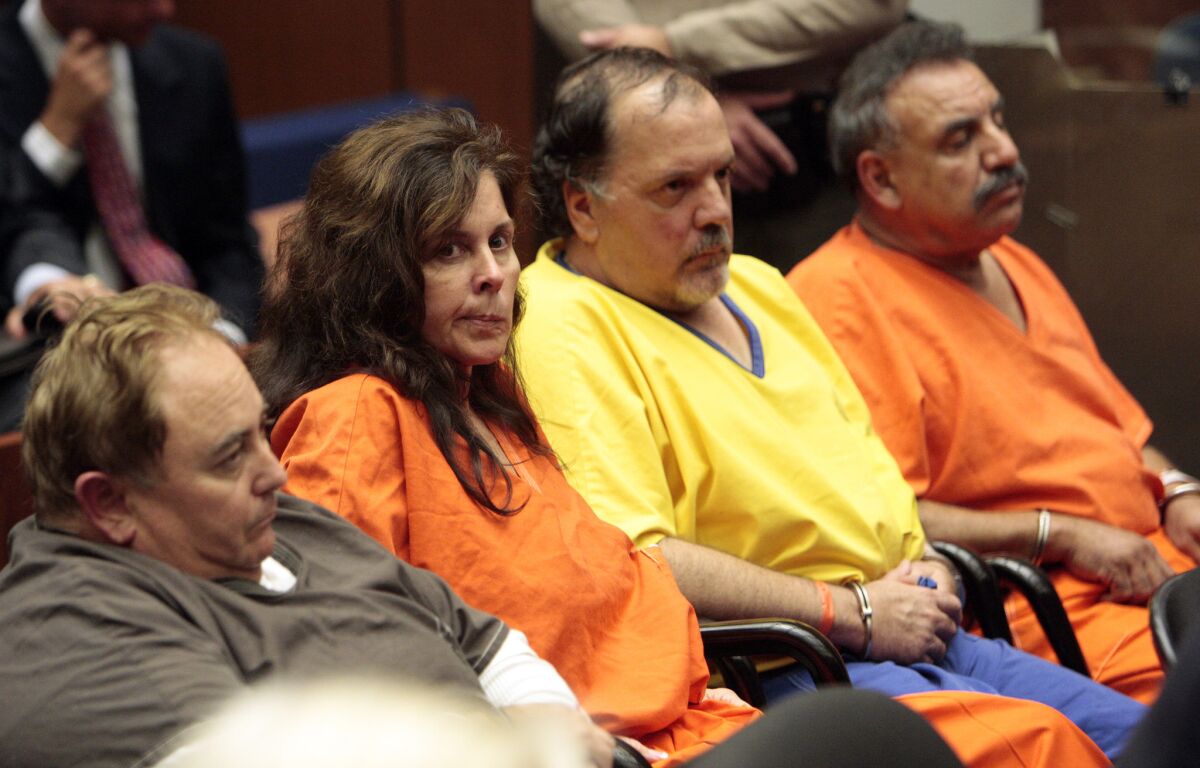 For at least a decade, officials in Bell arbitrarily required some businesses to make payments to the city totaling tens of thousands of dollars annually, in at least one case threatening a business owner with closure if he failed to comply, according to interviews and records reviewed by The Times.
The practice, which experts on municipal law say was unprecedented and may be illegal, underscores the lengths to which Bell's officials went to bring in revenue during the last decade, some of which went to pay the unusually large salaries of city officials. State auditors already have concluded that Bell levied unlawful taxes and fees on its residents, most of whom earn relatively low incomes. The city also imposed one of the highest property tax rates in Los Angeles County.
Bell's former city administrator, Robert Rizzo, and seven other current and former officials were charged by Los Angeles County prosecutors earlier this fall with multiple counts of corruption, mostly related to efforts to conceal their outsized salaries. All have pleaded not guilty. Rizzo was set to earn roughly $1.5 million in compensation this year, The Times has previously reported.
FULL COVERAGE: High salaries stir outrage in Bell
The payment scheme affected at least 15 businesses, mostly small operations that include restaurants, tire shops, auto detailers and a market.
In some cases, merchants were directed to make thousands of dollars in annual payments as part of conditional use permits granted by the city. Others were required to guarantee thousands of dollars in sales tax revenue for the city each year. If their sales failed to measure up to projections, they were told to pay the difference, according to city records and interviews.
There do not appear to be any city guidelines explaining why certain businesses were targeted or how officials calculated how much to charge.
In one instance, a tire shop owner paid at least $144,000 over a four-year period, according to city records. Another tire shop owner was required to pay $13,000 a year. Yet the very next permit approved by the city for an auto repair shop did not require the owner to pay any annual fees, records show. One auto dealer had to guarantee the city $80,000 a year in sales taxes or pay the difference.
The fees were computed by Rizzo in a program overseen by then-city planning director Dennis Tarango, the records indicate. Rizzo's attorney would not comment for this article, and Tarango did not return calls.
In interviews, some owners said they felt intimidated or pressured to agree to the terms if they wanted to do business in the city. Some who fell behind on their payments said the only way to appeal was to show up at City Hall and try to negotiate with Rizzo or his assistants. Others said the fees forced them to leave town.
"I didn't like anyone going into my pocketbook," said Willie Salazar, who sold his tire shop in 2004 after he was told he owed $16,000.
John McClendon, whose Orange County law firm has represented Southern California cities for more than 20 years, said Bell's system for charging business "is more than unusual. It's unique.... It's the first time I've heard of such a thing,"
Dan Selmi, a professor at Loyola Law School and former state deputy attorney general who reviewed some of the permits for The Times, offered a similar judgment. "You don't extract minimum amounts of revenue from a conditional use permit. And doing it selectively is unbelievable. That's doubly bad," he said.
Selmi and other attorneys said conditional use permits typically require developers to pay for improvements such as better parking or additional street lights that a city is required to make in order to accommodate a new project.
In the cases reviewed by The Times, the fees were not used for such improvements.
James Casso, Bell's interim city attorney, said cities can levy charges on businesses or developers if "there is a clear, quantifiable loss of revenue for the city." But city records show that the fees were levied on owners who developed vacant lots. In one case, a fee was levied when a business was changing ownership.
Among those subject to the fee was Oscar Hernandez, the city's current mayor. In 2000, three years before he joined the City Council, Hernandez sought a permit to sell beer and wine at his market, which is next to an elementary school. He was required to generate $2,000 a year in sales tax or make up the difference, according to city records.
His attorney told The Times that the city never billed Hernandez for any shortfall.
The fees levied on Salazar's business, All Day Tire on Florence Avenue, illustrate how the program affected several business owners over a decade.
Salazar came to town in the late 1990s hoping to transform an abandoned gas station into a successful tire store. According to the account he gave in interviews with The Times, which he also has told investigators for the district attorney's office and the FBI, he met with Rizzo at City Hall to talk about opening the business.
Rizzo asked how much profit he might bring in, saying he needed money to pay the city's police and fire departments, according to Salazar. He proposed that Salazar pay $13,000 a year. Salazar said he left without making a commitment.
City records show that in August 1999, a $13,000 annual fee was included in the tire store's conditional use permit. The document was signed by Chris Daglas, the owner of the property on which the tire shop was situated. The fee was cited in a memo from Tarango to Rizzo.
In 2001, Salazar got a bill saying he owed $16,250 for "in lieu of sales tax" fees dating to 2000, according to a copy of the document reviewed by The Times. Salazar said he ignored the bill, and a few months later was summoned to City Hall to meet with Rizzo.
Salazar said he told Rizzo that business was bad. The city administrator seemed sympathetic but still wanted him to pay, Salazar recalled. They negotiated a settlement of two $3,000 payments to be paid to the city of Bell. Salazar kept one check stub for $3,000 paid in May 2002, which is marked, misspelling the city administrator's name, "per conversation with Rizo," according to a copy reviewed by reporters.
When Salazar sold the store a couple of years later, the city did not put a lien on the business for the thousands of dollars he had not paid. Salazar said that convinced him of what he had suspected all along: The program was illegal.
George Sahagun, who bought the business from Salazar in 2004, said in an interview that his first knowledge of the payments demanded by Bell came three years later, when a city code inspector showed up at the tire store and said he had two hours to be at City Hall to settle an outstanding debt or his business would be shut down. City officials told him he owed $39,000 for three years of unpaid fees, city records show.
Sahagun called Daglas, the property owner who had a meeting with city officials in December 2007, records show. Sahagun and Daglas have both described their encounters with city officials to the district attorney's investigators.
At City Hall, Daglas was told he owed $104,000 for fees not paid since 1999, when his conditional use permit was approved. Daglas said in an interview that he was surprised to learn that Ricardo Gonzalez, Bell's former director of Business Development and Relations, was ready to negotiate.
Daglas recalled Gonzalez leaving the room several times to get approvals before they finally settled on a $30,000 payment to clear the debt and additional payments of $6,000 a year going forward. In an interview with The Times, Gonzalez said he was consulting with Rizzo, who approved the final settlement.
The settlement was written up that day and presented to Daglas as an addendum to the conditional use permit that had been approved by the City Council eight years earlier. According to the Bell City Charter, only the council can change such an agreement.
Daglas wrote a check that day for $20,000 and later made two more payments for $5,000 each, records show. In September 2009, he sent a check for $6,000 to cover the new agreement and apologized for being late, saying "times are very tough."
"I had no other choice," Daglas said in an interview. "What could I do?"
paloma.esquivel@latimes.com
robert.lopez@latimes.com
The stories shaping California
Get up to speed with our Essential California newsletter, sent six days a week.
You may occasionally receive promotional content from the Los Angeles Times.