USC's entire 1889 graduating class — four strong — is shown here. These alums, along with others from USC's early history are being recalled for a semi-centennial celebration and 47th annual commencement ceremony.
(USC)
In this shot, published May 30, 1938, USC co-eds march through the Delta Delta Delta sorority's "Pansy Ring" in a celebration to signify their engagements to be married.
(LAT)
A USC coed circa 1915. Notice the higher hemline.
(USC Historical Archive)
At USC, bobby socks, saddle shoes and midcalf-length skirts were pure '50s style.
(USC Historical Archive)
In 1954, actress Joan Voss posed for photography students at Los Angeles Trade-Tech Junior College.
(LAT)
Caltech students Steve Klein and Bechy Hartsfield, in this photo from 1975, look amazingly au courant.
(LAT)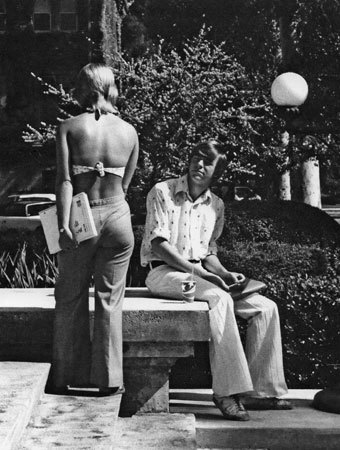 1970s fashion on campus finds students showing more skin and wearing bell bottoms.
()
As the Los Angeles Times celebrates 125 years, USC students favor casual California style.
(Anne Cusack / LAT)