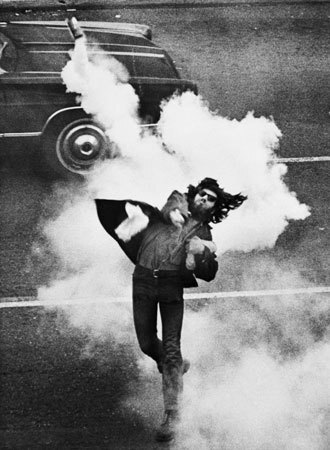 13 Images
Campus activism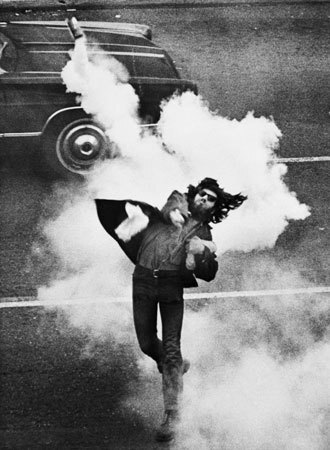 On May 5, 1970, a man hurls tear gas back at police during a UC Berkeley demonstration against the Ohio National Guard's killing of four Kent State University students who protested the Vietnam War on that campus the day before. At UCLA, a similar reaction resulted in smashed windows, dozens arrested and injured, and the school's first state of emergency.
(Bettmann / CORBIS)
A graduating student walks to her seat in Memorial Stadium at UC Berkeley wearing a gas mask in this 1969 photo. Other students also wore the devices and about 350 seniors walked out.
(AP)
A policeman holds demonstrator during a violent outbreak at UC Berkeley in this 1969 photo.
(AP)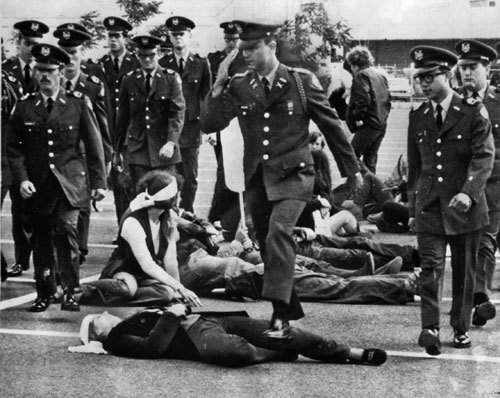 During an annual parade at Santa Clara University in 1970, an ROTC unit commander steps over one of the demonstrators trying to block marchers. Experts see a turning point in Vietnam War opposition with the "police riot" in which officers trapped and beat demonstrators during the 1968 Democratic convention in Chicago.
(AP)
Also in 1970, police make arrests just off the San Francisco State campus after antiwar demonstrators attempted to block military recruiters from operating at the school. In 1968, students on campus mounted a 4½-month strike, demanding a black studies program and an end to the war. During the strike, police clubbed demonstrators and arrested hundreds.
(AP)
Philosophy professor Angela Davis speaks at a rally at UCLA. A Communist and strident black militant, she was fired in 1970, which sparked a furor over academic freedom. She now teaches at UC Santa Cruz.
(LAT)
Police drag away a demonstrator injured during a clash of law enforcement officers and 2,000 UC Berkeley students and non-students who had turned a piece of university property into a "People's Park" in May 1969. Twenty-nine people were injured in the clash that resulted when authorities seized the park.
(Bettmann / Corbis)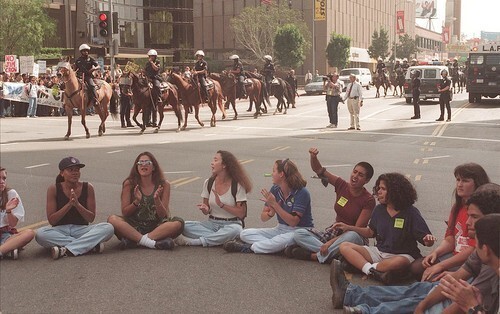 Police move in as student protesters block Wilshire Blvd. in support of affirmative action.
(Al Seib / LAT)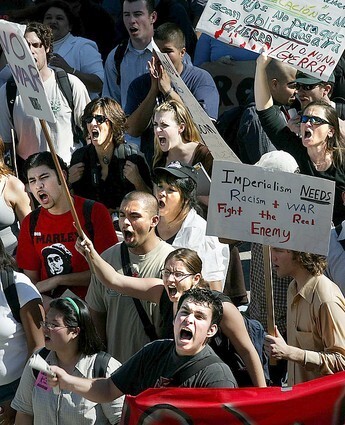 Students picket at Cal State Northridge protesting both President Bush's threat of war against Iraq and a campus ROTC recruitment program that targets Latinos.
(Anne Cusack / LAT)
UC Santa Barbara students sprawl on the ground at an antiwar protest on campus.
(Spencer Weiner / LAT)
Cal State Long Beach students gather in front of the school's administration building as part of a walkout to protest proposed cuts to the Cal State budget.
(Genaro Molina / LAT)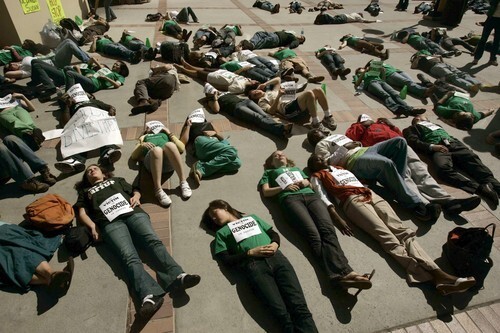 Students at UCLA stage a die-in during a meeting of the UC Board of Regents, which voted to divest from companies with business ties to the Sudanese government.
(Beatrice de Gea / LAT)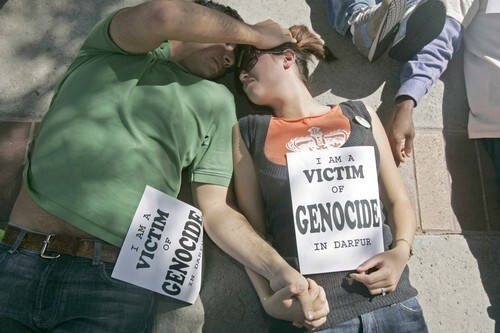 UCLA alumni Ricardo Rodriguez, 22, and fiancee Alexis Flyer, 21, UCLA student, participate to the UCLA student die-in while waiting the UC Board of Regents' decision on a proposal to divest from companies with business ties to the Sudanese government.
(Beatrice de Gea / LAT)