Column: Teaching new Metro riders the subway of doing things
Metro Art docent Alex Amerri, left, observes, 'City of Dreams, River of History,' a mural by Richard Wyatt at Union Station while leading a Metro Rail Art Tour in Los Angeles.
(Genaro Molina / Los Angeles Times)
Visitors view bronze paving inserts during Metro Rail Art Tour at Union Station.
(Genaro Molina / Los Angeles Times)
Art docents Alex Amerri, left, and Emily Golan, right, lead a Metro Rail Art Tour beginning at Union Station in Los Angeles. Union Station is featured on the tour with its rich architectural history and art deco style.
(Genaro Molina / Los Angeles Times)
John Beckmann, second from left, and fellow participants on the Metro Rail Art Tour stand underneath a portion of Jonathan Borofsky's piece, 'I Dreamed I Could Fly,' at the Civic Center Station along the Red Line in Los Angeles.
(Genaro Molina / Los Angeles Times)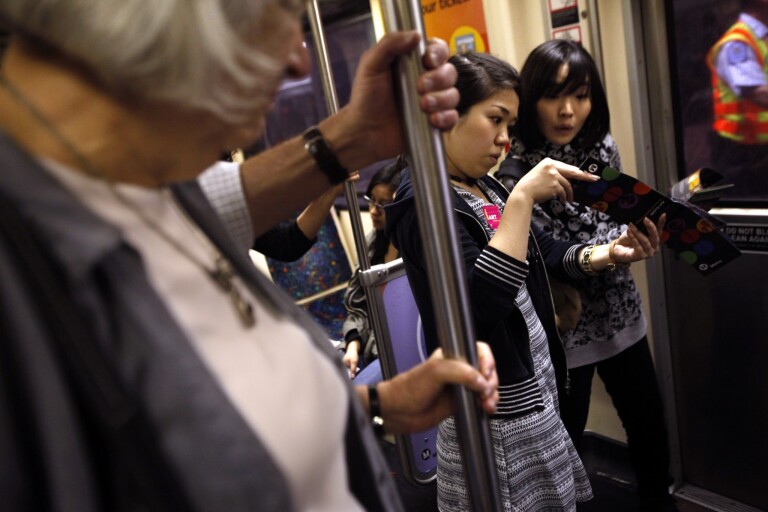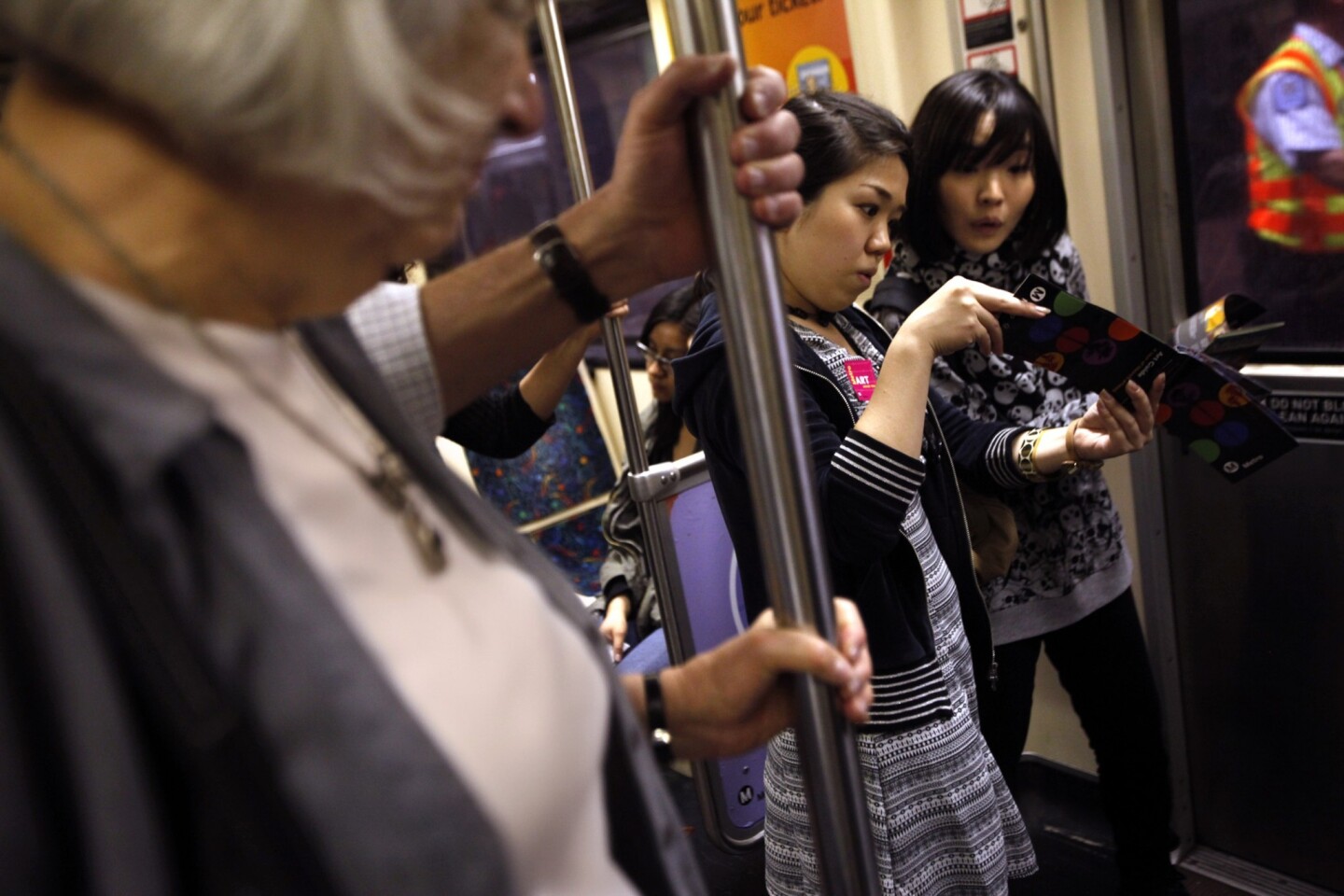 Hitomi Imura and Tomoko Masuda, right, look over an art guide while while riding the Red Line during a tour.
(Genaro Molina / Los Angeles Times )
Susan Burstein, left, and Adrienne Beckmann walk past a photographic installation that is part of the Metro Art Lightbox Program along the Red Line in Los Angeles. The pair were taking part in a Metro Rail Art Tour.
(Genaro Molina / Los Angeles Times)
John Beckmann mimics a mosaic mural of a soccer player as his wife, Adrienne, takes his picture during a Free Metro Rail Art Tour at Union Station along the Red Line. The series of glass mosaic murals entitled, "People Portraits: in Creativity, Performing, Sports & Fashion" by Faith Ringgold captures people engaging and enjoying creative activities at 52 locations along mezzanine walls at Union Station.
(Genaro Molina / Los Angeles Times)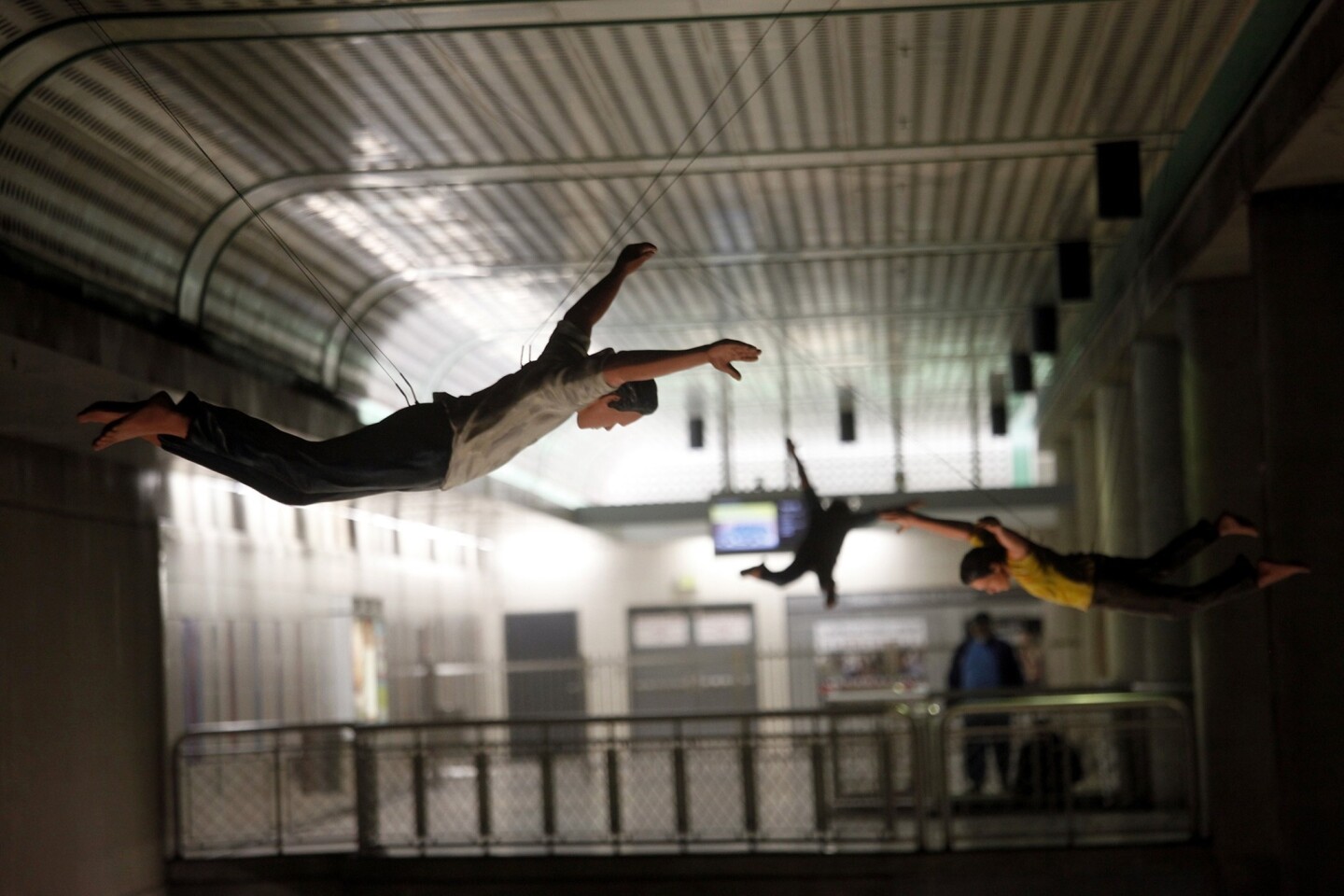 Jonathan Borofsky's piece, "I Dreamed I Could Fly," is on the Free Metro Rail Art Tour at the Civic Center Station along the Red Line.
(Genaro Molina / Los Angeles Times)
Alan Mendez, left, and Pat McHarg look over a piece by Joyce Kozloff entitled, "The Movies: Fantasies and Spectacles" at 7th and Metro Station. The piece uses imagery from hundreds of films and the painted ceramic tiles resemble an unfolding film strip.
(Genaro Molina / Los Angeles Times)
Art docent Emily Golan, right, leads a Metro Rail Art Tour along the Red Line in downtown Los Angeles.
(Genaro Molina / Los Angeles Times)
Participants of the Free Metro Rail Art Tour look upwards at a mural by artist Terry Schoonhoven entitled, "City Above," at the 7th and Metro Station.
(Genaro Molina / Los Angeles Times)
Commuters were rushing by. An update blared on a loudspeaker. An agitated young woman shouted a name again and again.
At 5:30 p.m. on a weekday, in Union Station's main concourse, strangers arranged themselves shoulder to shoulder in a circle.
They had come for a free tour of public art in three downtown subway stations. They had just been asked to raise their hands if they had taken Metro trains before.
Then artist Alex Amerri, one of the tour leaders, had smiled and said, "OK, so we have some people who are inexperienced."
Not to worry, said Amerri, who also is board president of the Los Angeles County Bicycle Coalition.
In other cities with older subways, he said, "people are more used to being in intimate, tight spaces together. What we're going to do is a small exercise to make sure that we're comfortable with the possibility of rubbing elbows."
Side by side, they took turns turning to left or right, stating their first names to the people standing next to them.
It is never too late to learn how to use your city's subway system. This is the real message behind the Los Angeles County Metropolitan Transportation Authority's "Metro Art Moves You" tours, offered the first Thursday, Saturday and Sunday of each month.
They are free. They are fun. They make you notice details you might otherwise walk past. They also provide, for those who need it, generous and judgment-free instruction in TAP cards, turnstiles and train-traveling etiquette.
Not everyone comes for the help. Art is the lure. But the aim is to seduce and thus inspire further public transit use.
Before setting out on this Thursday evening, each person was given a free TAP card loaded with a day pass, good for free travel on the tour and beyond, until the trains stopped running for the night.
"They're reloadable," Metro volunteer docent Emily Golan pointed out. "When you're done tonight, they'll still have the value of $1 and you can — and I hope you will — continue to refill them."
In the group was a couple who live bicoastally, splitting time between Connecticut and Los Angeles, and their friends, another couple visiting them from the East Coast. A second group of four friends had converged from Sherman Oaks, East Hollywood and Highland Park. A Pasadena City College student, on his way home from classes, had wandered by and spontaneously joined in. A few minutes late, two Japanese tourists rushed up, on a sightseeing break from learning English in Toronto.
As they walked together, Amerri mentioned that the floor was made of marble, granite and travertine, and that the different materials had aged at different rates, with some tiles wearing away faster than others.
"You can actually feel it with your feet," he told the group.
Together, they tried to do so as they strolled to the northeast corner of the huge space, where Amerri pointed out the cork walls that keep it relatively quiet, the built-in cigar cutters from train travel of yore, the chirping birds, the ceiling beams that look wooden but are actually iron.
In the main passenger tunnel, as people hurried to get to Metrolink, Amtrak and Gold Line platforms, Golan gathered the group briefly in the crowded portal to the Gold Line to take in Roy Nicholson's paired glass-mosaic murals, showing the sun setting at different times of the year in Santa Monica to the west and the San Bernardino Mountains to the east.
Part of the joy of Metro art was that it could be found in "rather unusual places," she said, as the group studied the mountains mural, at the base of a set of stairs and at ceiling level, above a line of fare machines.
"The art is everywhere," Golan said, "and the art will take us by surprise and shock us."
In Union Station's east portal, where the installations celebrate Los Angeles' early history, the group played follow the leader, forming a cheerful, undulating line that stopped as each person waved jazz hands — palms forward, fingers splayed — at art they particularly liked.
In the course of an hour and a half, they would play more — and learn more.
That the granite benches on the platforms for the Red Line and the Purple Line below Union Station echoed the vintage leather chairs in the main concourse above.
That the life-size figures floating above the platform at Civic Center were all self-portraits of the artist Jonathan Borofsky, who put numbers on their chests because he numbers all the works he produces.
That subway travel is easy, once you know a few basics.
At a row of TAP machines, the docents demonstrated how to load additional money. Golan told people to tap on the right as they went through the turnstiles.
Amerri demonstrated TAP creativity, showing how some people tapped gently, some did the bump with their cards in their back pockets and others executed the "leap of faith" move he favored, flinging themselves forward, hoping they had enough cash on their cards to make the trip.
Everyone laughed. Some who were less familiar with Metro asked questions.
Tomoko Masuda, 32, of Tokyo, and Hitomi Imura, 27, of Osaka, just smiled and nodded knowingly.
The two tourists, who had been traversing L.A. car-free for a week, already were old hands.
Follow City Beat @latimescitybeat on Twitter and at Los Angeles Times City Beat on Facebook.
---
The stories shaping California
Get up to speed with our Essential California newsletter, sent six days a week.
You may occasionally receive promotional content from the Los Angeles Times.