First AME's former pastor is troubled by church upheaval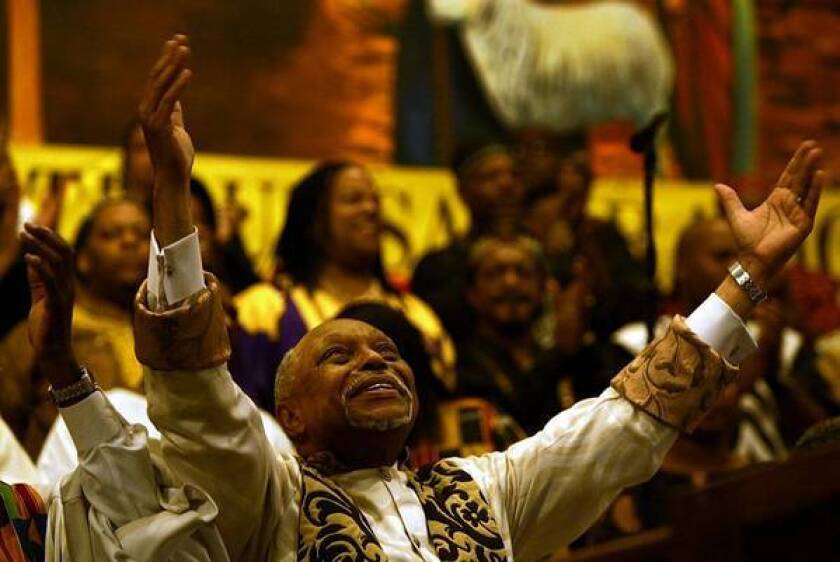 In his final days as pastor of First African Methodist Episcopal Church, the Rev. Cecil L. "Chip" Murray compiled, copied and buried piles of records amassed over the 27 years he led the congregation.
The time capsule, he believed, would preserve his legacy and document the church's role as a force for positive change in South L.A.
But in the nine years since he retired, Murray has watched his hard work crumble under the leadership of his successor, the Rev. John J. Hunter, and his wife.
Allegations of financial mismanagement and sexual improprieties tarnished the church under the new minister. But it wasn't until Hunter was removed from the pulpit last year that the full scope of the church's troubles became clear.
---
FOR THE RECORD:
First AME Church: In the Oct. 20 California section, an article about turmoil at FAME Housing and FAME Assistance corporations quoted tenant Michael Reeder as saying that his apartment lost its Section 8 housing subsidy after a city inspector cited the unit for code violations. Reeder lost his Section 8 eligibility for other reasons. The article also said that the First African Methodist Episcopal Church had debts totaling more than $500,000 accumulated during the tenure of former pastor, the Rev. John J. Hunter. That claim should have been attributed to a lawsuit filed by the church and its current pastor against Hunter, alleging fraud. The lawsuit claims that the current pastor discovered $400,000 in past due payables and $200,000 in judgments against the church. The article also said that mold was found in some apartments operated by the FAME Housing during Hunter's tenure. City housing inspection documents do not mention mold in any units, although the former property manager and a tenant said a company was hired to remove mold from an apartment. A For the Record published Nov. 24 gave an incorrect date for the article.

---
A $13.5-million reserve was depleted and debts totaled more than $500,000. And some of the nine rental properties acquired as part of Murray's efforts to serve thousands of low-income residents now sit in disrepair, some infested with termites and mold.
The biggest blow to the congregation may be that the church no longer legally owns FAME Assistance Corp., the nonprofits established by Murray to help bring jobs, housing and corporate investment into riot-torn South Los Angeles.
Hunter's wife, Denise, quietly severed the relationship between the church and the nonprofits by filing corporate paperwork under her name. Under the church's constitution, oversight should have been transferred to the pastor who replaced Hunter, the Rev. J. Edgar Boyd.
"To see this even now just blows me away," Murray said. "How could you literally deprive ownership and put it in under your care?"
Over the summer, Murray and church officials met with a deputy from the state attorney general's office, which is looking into whether procedures were breached when the Hunters cut the church's ties with the nonprofit organizations, according to the church's attorney, Robert Silverman. State officials declined to confirm an investigation.
The church has filed several lawsuits trying to regain control of the nonprofits, which have seen revenue drop from $4.4 million in 2004 to $2.4 million in 2010, according to tax filings. As the legal battle ensues, the time capsule that Murray buried in a church wall and covered in concrete may end up being key evidence in First AME's lawsuits.
When the church and the Hunters parted ways, church officials allege, the Hunters took most of the church records and hid them. Without any documentation, First AME cannot show how the church and the nonprofits were intermingled.
Hunter, 56, who has since started his own ministry in Studio City, declined to comment for this story. He left First AME amid allegations of sexual harassment.
For almost a year, Murray also declined to speak publicly about the ongoing battle. Instead, he tried to remain in the background, worried that his words, which carry much weight in the African American community, might inflame the situation.
"I made it a point to not interfere because I'm no longer there and I don't want to exacerbate the problem," he said.
Murray, 84, left the pastorate in 2004 when he reached the denomination's mandatory retirement age. In the months after Hunter took the helm, Murray quietly stopped attending service.
He took a post at USC's Center for Religion and Civic Culture, where he continues the work he started at First AME of bringing economic growth to low-income neighborhoods.
Even now, a year after Hunter left, Murray is a rare guest at the hilltop church he built from 250 members to a congregation of 16,000.
Murray said he's been happy with Boyd's stewardship of First AME. But it's been difficult seeing so much upheaval.
By 1992, when the riots ripped through South L.A., First AME already had 40 outreach programs in place to assist the community with housing, child education and low-income loans.
The church also created a housing complex that catered to people with AIDS. It was named Eugene Thomas Manor after a relative of L.A. County Supervisor Mark Ridley-Thomas, who helped move the project forward.
After the riots, the nonprofits flourished, thanks to donations and increased community support, Murray said.
When Murray drives past Eugene Thomas Manor now, he said, all he sees is filth.
Disgruntled tenants living in homes once owned and operated by First AME call his office complaining of weeklong hot water outages and unsafe conditions. He listens but is otherwise powerless.
"It's painful that we might have lost Section 8 privileges, just like it is painful to watch the deterioration" of the apartment buildings," Murray said, referring to federal housing subsidies that reduce the cost of rent for low-income tenants.
In April, a search of city housing department records showed 20 citations for various health and safety violations during the previous year, and at least 10 units had lost their Section 8 subsidies.
At Eugene Thomas Manor, cigarette butts and candy wrappers litter the street. Water stains mar the steps leading up to the 38-unit apartment complex.
Under First AME's management, Murray said, these types of problems were always quickly resolved.
"We wanted to make sure we had the best maintenance and image so the tenants would respect it and keep it up," he said.
In an interview, Denise Hunter defended the nonprofits' work and commitment to the community but said the church's high-profile battle with her husband has damaged their fundraising efforts.
"We were doing innovative work in the community, and tons of people were being served," she said. "And to have someone come in and try to cut our legs out from under us by tarnishing our reputation … has an impact."
Despite a smaller budget, Denise Hunter said the nonprofits continue to serve close to 1 million people a year, mostly by providing taxi vouchers and bus tokens to low-income residents. The nonprofits offer programs aimed at helping people improve their health and finances, she said.
She said the church's lawsuits had delayed repairs to rental properties, which house about 3,000 tenants. She said she was unaware of the citations and said that problems at Eugene Manor had been fixed.
But Michael Reeder, 46, said his rent jumped from $180 to $615 after the unit he was living in lost its Section 8 subsidy when a housing inspector issued citations for his broken balcony door, an expired elevator certificate and a dangling smoke detector.
It's the tenants, he said, who are caught in the middle of the legal battle.
"When Cecil Murray envisioned this project, he didn't envision this," Reeder said.
---
The stories shaping California
Get up to speed with our Essential California newsletter, sent six days a week.
You may occasionally receive promotional content from the Los Angeles Times.