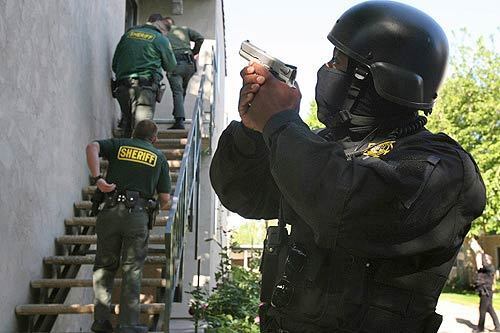 9 Images
Housing Trouble in Antelope Valley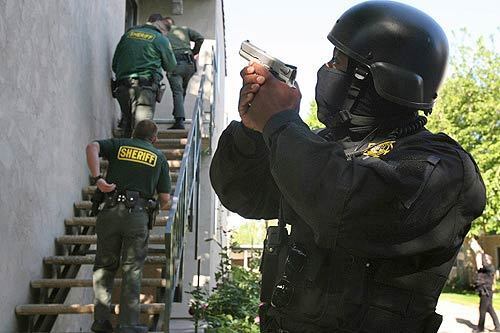 Los Angeles County sheriff's deputies approach an apartment in Lancaster. Officials in the Antelope Valley are conducting one of the most aggressive campaigns in the nation to stamp out unauthorized or illegal behavior in federally subsidized housing.
(Michael Robinson Chavez/LAT)
Housing authority investigators and inspectors often team with law enforcement officials to conduct unannounced searches without warrants in the Antelope Valley. Section 8 recipients and their attorneys say civil rights are being violated.
(Michael Robinson Chavez/LAT)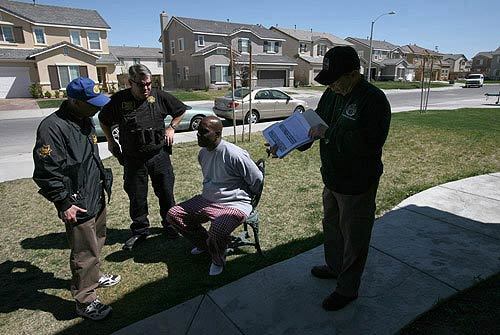 Authorities question a man outside a home in Lancaster as part of a federal housing crackdown initiated by local political leaders. Many homeowners in the Antelope Valley associate rising crime, gang violence and declining property values in the area with an influx of poor and mostly black Section 8 tenants from South Los Angeles.
(Michael Robinson Chavez/LAT)
Nicola Jackson and her children lost their housing subsidy after neighbors flooded a hotline with complaints. Officials alleged that her boyfriend was living with her without authorization, which she denies. Jackson said her neighbors' real problem was that she was black and on Section 8.
(Brian Vander Brug/LAT)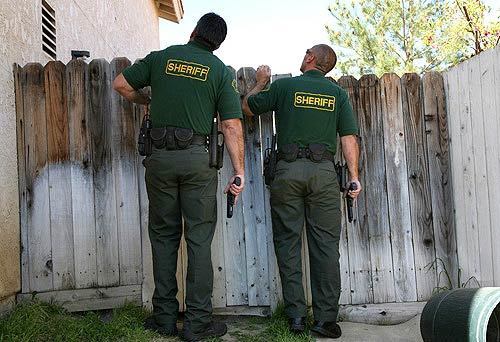 Deputies watch for anyone who might try to flee a Lancaster house where a search was to occur.
(Michael Robinson Chavez/LAT)
Sylvia Franklin and her sons Christian Eldridge, 10, center, and Daniel Spencer, 5, say a prayer before dinner. She says they lost their Section 8 housing subsidy unfairly and are able to live at a home in Lancaster only through the generosity of her landlord.
(Michael Robinson Chavez/LAT)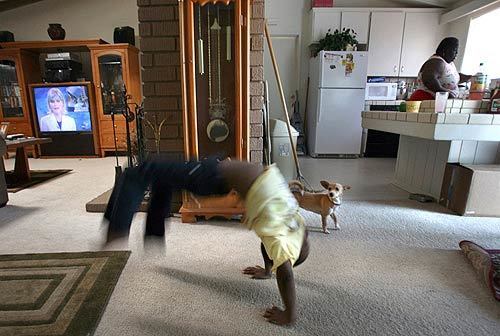 Sylvia Franklin works in the kitchen while her son Daniel does a flip near the family dog, Mini. To Franklin, the message from the community is clear: "They don't want us here."
(Michael Robinson Chavez/LAT)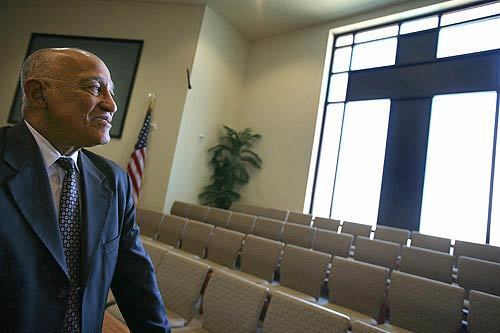 Lancaster Mayor Henry Hearns, a pastor and the first black elected official in the Antelope Valley, says homeowners' anger is not based in racism. Instead, he says, it's about renters' failure to maintain their homes.
(Michael Robinson Chavez/LAT)
"Our community is dying," said R. Rex Parris, a local lawyer and civic leader who organized an anti-crime meeting this spring. "The reality is we're going to have to suffer a certain amount of injustice to fix this."
(Michael Robinson Chavez/LAT)