L.A. County hired dozens rejected by the Sheriff's Department
Those hired by other L.A. county agencies included an officer who cut a man's neck with a knife in an off-duty fight, records show.
Behind the Badge
L.A. County hired dozens rejected by the Sheriff's Department
Those hired by other L.A. county agencies included an officer who cut a man's neck with a knife in an off-duty fight, records show.
December 29, 2013
Dozens of police officers rejected for jobs at the Los Angeles County Sheriff's Department after investigators found evidence of dishonesty or past misconduct were given positions elsewhere in county government, according to interviews and internal hiring records reviewed by The Times.
The hirings came in 2010 after the county's little-known police force, the Office of Public Safety, was dissolved as a cost-saving measure. The Times reported earlier this month that the sheriff took on about 280 of the officers from that agency, many of whom had histories of serious misconduct and integrity-related problems.
More than 50 of those who didn't make the cut at the Sheriff's Department secured jobs at other county agencies, such as social services, children and family services and community and senior services. County officials said they were not required to hire the former officers. Still, they said, they wanted to avoid as many layoffs as possible.
Records show that among those hired was an officer who cut a man's neck with a knife in an off-duty fight outside a bar and others who admitted to sleeping or having sex on duty.
More than half of the former officers hired by other county agencies had been disciplined for significant misconduct such as making false statements, sexual harassment or insubordination. Forty showed evidence of dishonesty, according to hiring records.
BEHIND THE BADGE: Full coverage of the sheriff's hiring practices
County officials who made the hiring decisions had access to only some of the problems discovered by sheriff's background investigators. According to a county spokesman, agency heads were able to review personnel files, which contained details about on- and off-duty misdeeds that led to discipline. But because of confidentiality laws relating to police personnel records, county officials were not privy to information that applicants disclosed to sheriff's investigators during interviews and polygraph examinations.
Under those limitations, county officials had access to personnel records showing that Officer Allen V. Davis was suspended 20 days around 2003 after he pulled a knife on a man outside of a bar and cut his neck. He was charged with assault with a deadly weapon, and later pleaded no contest to disturbing the peace, sheriff's investigators noted.
The county rehired him to work as a supervising clerk at the registrar-recorder/county clerk's office. Davis could not be reached for comment.
County officials also had access to personnel records showing that Officer Darrell Green was suspended 10 days in 1995 for domestic violence, admitting he punched his wife in the mouth. He was convicted of misdemeanor spousal assault and was sentenced to three years of probation. He told sheriff's investigators that the case was eventually expunged.
The records indicate that Green also was suspended for sleeping on duty in 1996 and another time for threatening a fellow officer on duty in 2005. In that second suspension, the other officer accused Green of standing in front of him with his fist clenched and saying, "I know you are a snitch. You know what they do to snitches in prison, don't you?"
Green, who could not be reached for comment, was hired by the Department of Children and Family Services as an eligibility worker.
In general, individuals applying for civilian jobs within the county are not as intensely vetted as those applying to be peace officers because the positions come with far less authority.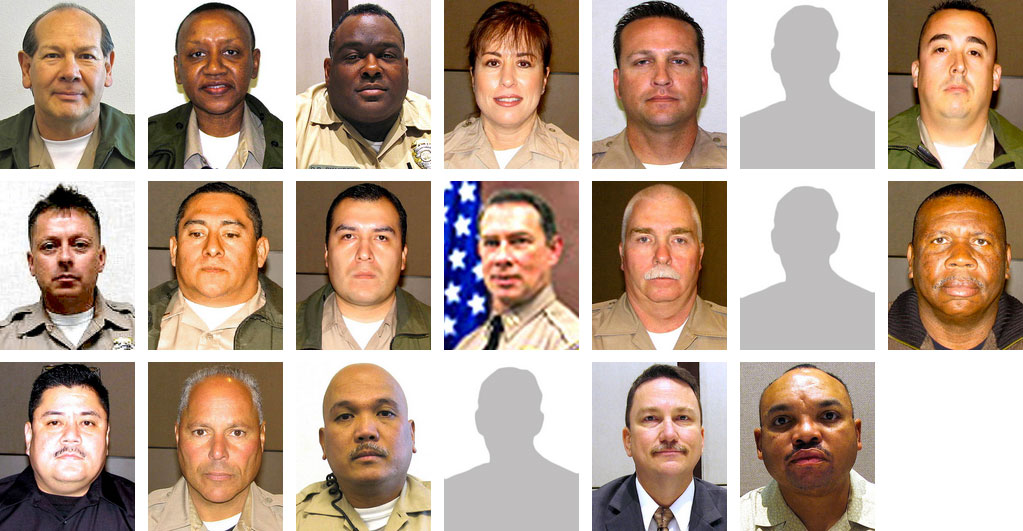 County spokesman David Sommers said various criminal convictions don't automatically bar someone from employment. Past misdeeds can be disregarded if officials determine there are mitigating circumstances or the misdeeds are not related to the position and the applicant poses no threat to the county or to the public, he said. He declined to discuss specific hires.
According to the police confidentiality rules Sommers laid out, county officials probably weren't told about the admissions of Officer Andy Northrup.
During his screening interview, Northrup gave sheriff's background investigators conflicting accounts of when he solicited prostitutes, something he eventually said he did about 100 times while employed as a county police officer as recently as 2004.
The county hired Northrup as a welfare fraud investigator. Reached by The Times, Northrup declined to comment.
Contact the reporters | Follow Ben Poston (@bposton) and Robert Faturechi (@RobertFaturechi) on Twitter

Despite background investigations that revealed wrongdoing, incompetence, or poor performance, the department still hired dozens of problem applicants in 2010, internal records show.
---
For reporting and exclusive analysis from bureau chief John Myers, get our California Politics newsletter.
You may occasionally receive promotional content from the Los Angeles Times.