Vintage pharmacy's shelves groan with patent medicines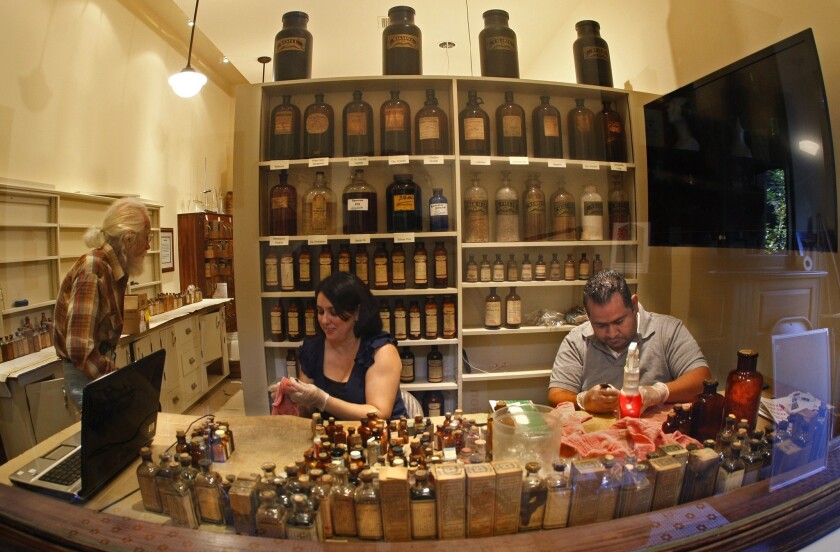 Volunteers Daniele Pineda and her husband Carlo clean decades of dust from early 20th century medicine bottles. Here in the pharmacy of the Colonial Drug museum at Heritage Square in Highland Park, visitors will be able to watch a video about the business once owned and operated by the Simmons family.
(Don Bartletti / Los Angeles Times)
A 1928 photograph of George Simmons, center, inside his Colonial Drug in Highland Park. The layout of the original store is the inspiration for the museum at Heritage Square.
()
Sid Simmons, 90, prepares early 1900s medicine bottles for display in the new Colonial Drug museum at Heritage Square. Simmons is fussy about the condition of the labels, corks and contents but chooses the best from tens of thousands in his collection. Many are from his father's original store in Highland Park.
(Don Bartletti / Los Angeles Times)
A display of late 19th and early 20th century healthcare remedies in the Colonial Drug museum at Heritage Square.
(Don Bartletti / Los Angeles Times)
Daniele Pineda inspects the cork of an early 1900s medicine bottle that reads "Pill and Tablets W.R. Warner & Co., Philad'a".
(Don Bartletti / Los Angeles Times)
Sid Simmons, 90, and his collection of early 1900s medicine bottles in the "pharmacy" of the new Colonial Drug museum at Heritage Square. The contents are original and the most items have never been opened.
(Don Bartletti / Los Angeles Times)
A file cabinet drawer in the pharmacy holds bottles whose labels list ingredients such as morphine, narcotine, and phenobarbital-- and a warning, "MAY BE HABIT FORMING".
(Don Bartletti / Los Angeles Times)
A 1906 photograph of the Bank of Highland Park at the corner of Avenue 57 and Figueroa Street. About 1928 the building was purchased by the Simmons family and it became Colonial Drug.
()
John Kearns, development manager of the Heritage Museum in Los Angeles, and Linda Simmons prepare for the opening of a replica of the original early 1900s-era Colonial Drug store that Linda's husband's grandfather once operated in Highland Park.
(Don Bartletti / Los Angeles Times)
When he died in 1974, George Abraham Simmons left a bulky legacy: boxes and boxes of drugstore pills, salves and potions — enough to fill multiple cargo containers.
What to do with it all? His family was stumped.
Pharmaceuticals and botanicals, rouges, deodorants and still-sealed packs of cigarettes — he'd accumulated around 85,000 items.
Photos: New life for old corner drugstore
To label Simmons a hoarder, though, would be oversimplifying. Take a moment to understand his world.
He was born in a speck of a shtetl in Latvia. As a teen, he worked for a self-trained Vladivostok medicine man, who doled out laudanum, since opium killed pain.
In Shanghai, Simmons learned to be a pharmacist. Then he crossed the ocean to America.
After serving as a medic in World War I, he opened a corner drugstore in Highland Park — and he did not waste anything as he kept Colonial Drug running and his family fed through the lean years of the Depression.
Other mom-and-pops failed, especially when the Thrifty Drug Stores chain, offering products "cut-rate," swept Southern California in the mid-1930s.
When stores shuttered, Simmons saw opportunity and bid on their inventory at auction. But to get the items he could profitably resell right away, he had to buy enormous lots, made up mostly of yesteryear's patent medicines.
He trucked it all home, with the help of his four sons — stacking apple crate atop apple crate in the family basement. When that filled up, he moved on to the garage, and then a second garage built just for storage.
All his sons worked at Colonial Drug, first in Highland Park, then at other locations, including downtown's Grand Central Market.
Fred Simmons, 84, a lawyer, says he used to complain about sweeping the floors and sidewalk outside six days a week. Still, he worshiped his father. And one day more than 20 years ago, as he drove along the 110 Freeway in Highland Park, he saw a way both to divest of the boxes and to pay tribute.
He approached the Heritage Square Museum, which, with its Victorian buildings, aims to take visitors back in time. Would they like to have an old-time drugstore, he asked? The family would pay for it. (It took them two decades to gather the money and sift through the boxes. The nine-month construction was the easy part.)
This Sunday, Colonial Drug opens to the public. It's a new building that looks much like the original, which still stands a mile away on Figueroa Street but now houses a bank.
Inside the first new building ever constructed at the museum is a marble-topped soda fountain. Antique glass-fronted cabinets run floor to ceiling, filled with Simmons' stores of medicines from the late 19th century to the 1950s.
Sid Simmons, 90, followed his father into the pharmacy business. He still owns an Encino drugstore. But he has devoted years — with his wife, son, daughter-in-law, daughter and other relatives — to sorting through and meticulously classifying the contents of his father's boxes.
Early medicines, he says, were often little more than alcohol, which like laudanum made people feel better. There were snake oils too, promising to clear all ills. Many have wonderful labels and names: Hazel's Wonder Tablets, Prunoids laxatives, Robomalt.
Simmons' hair is snow-white and long, pulled back in a ponytail. He sometimes uses a cane. In the shop this week, he constantly picked up vintage bottles, scanning their labels, figuring out where to put them. Volunteers cleaned and dusted each one. The sorting may never be over, he said.
Simmons' two surviving sons say they're not sure what their father would say about the Heritage Square drugstore.
"He was a private man, he'd be uncomfortable," said Sid, a man of few words himself. Said Fred, "He'd feel proud that we did it, but he'd also say, 'These people are fools. This is old junk. Why is it in a museum?'"
Follow Lelyveld's City Beat on Twitter @latimescitybeat or on Facebook at Los Angeles Times City Beat.
---
The perils of parenting through a pandemic
What's going on with school? What do kids need? Get 8 to 3, a newsletter dedicated to the questions that keep California families up at night.
You may occasionally receive promotional content from the Los Angeles Times.