At Mount Hollywood Congregational Church, the spirit behooves them
Parishioners of Mount Hollywood Congregational Church in the Los Feliz neighborhood of Los Angeles celebrate the installation of the Rev. Anne Cohen as their new pastor.
(Jay L. Clendenin / Los Angeles Times)
Julie Goudie, center, in a pink boa, joins fellow parishioners in song at Mount Hollywood Congregational Church.
(Jay L. Clendenin / Los Angeles Times)
Colorful headwear and dress are a common sight at Mount Hollywood Congregational, which was founded in 1905 and was one of L.A.'s first racially integrated churches.
(Jay L. Clendenin / Los Angeles Times)
The Rev. Anne Cohen, left, is hugged by youth group member Elizabeth Waldron during Cohen's installation as pastor of Mount Hollywood Congregational Church.
(Jay L. Clendenin / Los Angeles Times)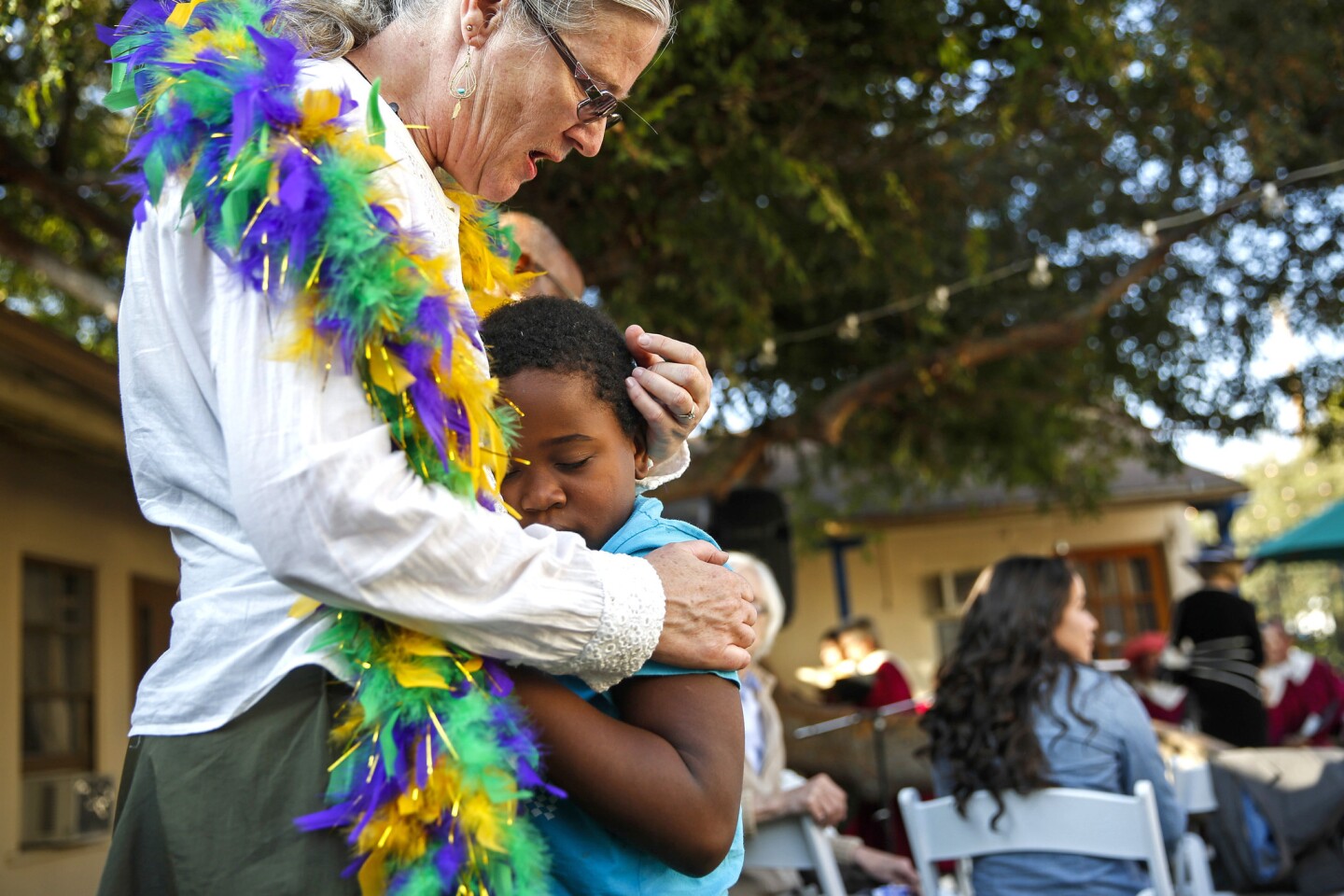 The Rev. Anne Cohen gets a hug from her son Peter, 7, before her installation.
(Jay L. Clendenin / Los Angeles Times)
The Rev. Anne Cohen, right, is joined by her father, the Rev. Al Cohen, and other family and friends at her installation ceremony.
(Jay L. Clendenin / Los Angeles Times)
The Rev. Anne Cohen lets her tired son Peter rest in her lap as she prepares for her installation.
(Jay L. Clendenin / Los Angeles Times)
The tiny congregation in Los Feliz looked long and hard for a new pastor — someone joyful and brave, committed and kind, welcoming to all and unwilling to talk down to any.
Pretty much from its founding in 1905, Mount Hollywood Congregational Church has charted its own course: integrating early, protesting injustice often, trying hard to change the world for the better.
Its 50 or so active members, while diverse in age, ethnicity and background, are very much in sync in their spiritual style.
"As one of our members put it, we're a church of non-churchy people. We don't stand on ceremony. We stand on the feeling that we have for each other," said Amy Schloerb, 30, an actress who chaired the search committee.
Naturally, not any pastor could fit right in. Then the Rev. Anne Cohen appeared.
She was an activist who at a previous church declined to marry any couples while same-sex unions were illegal. She adopted a newborn when she was 51. Her style was not to preach at people but to engage them in lively discussion. She was forthright and feisty and fun.
She seemed to be a match made in heaven, and the vote was unanimous.
Had it not been, the bouncy castle would have clinched it.
Cohen was installed last Sunday in a festive outdoor service. Toward the end, to fulfill a dare, the statuesque 58-year-old, draped in a boa of purple, green and gold feathers, led a procession to the parking lot. She pulled off her boots to expose neon socks — one lime green, the other hot pink.
Then she crawled head-first into the bright blue castle that had been set up in a corner.
In the bouncy house, as children jumped up and down behind them, Cohen and two officials from the regional conference of the United Church of Christ knelt for the final installation prayer and declaration.
Outside, the pastor's new kingdom cheered and clapped, bedecked in boas and big hats. One hat with gold sequins said "Happy New Year." Another was elfin, in green felt, with a dangling jingle bell.
Dressing up for the big day had been encouraged, as had bringing cans of tuna for the local food bank and fistfuls of coins to toss into the fountain as an offering.
Cohen kicked off her installation by calling out to the crowd, "If you feel like sitting down, sit down. If you feel like dancing, dance."
At one point in the ceremony, which she watched with her 7-year-old son, Peter, sprawled across her lap, a group of children performed a musical number that made everyone roar with laughter:
"I think I'm going to throw up, I think I'm going to throw up, I think I'm going to throw up … my hands to the Lord."
It was all in keeping with the congregation's irreverent, intimate style.
Mount Hollywood has a rich history. John Anson Ford was a member. John Raitt, father to Bonnie, was once a soloist in the choir. Ralph Bunche had spoken at the church, as had Carey McWilliams.
The church's pastors all have been pacifists, in pursuit of social justice. In 1941, Mount Hollywood aided a Japanese American congregation — safeguarding the church property and the homes of Hollywood Independent's members when they were sent to internment camps.
But last year, elevating substance over form, Mount Hollywood gave up its own real estate, selling the sanctuary that had been its home since the 1920s, when it had some 600 members.
Maintenance costs were high. The list of needed repairs was long. Just as important, perhaps, the congregation felt ready to worship in a more stripped-down setting.
Now it meets in what used to be a storage room off the grassy courtyard behind Hollywood Lutheran Church.
There, it still has its treasured wooden cross inscribed with the words "He is our peace" that was created out of camphor wood from a tree in the yard of a church wrecked in the bombing of Hiroshima.
In place of its old belfry bell, it has a portable one fashioned from an artillery shell, which hangs beneath a sign that reads: "God is perfect. Love casts out fear."
Many of those who gathered for Cohen's installation said they had not been regular churchgoers before discovering Mount Hollywood. Two couples said they had wandered in one day in search of someone to marry them, and ended up staying on as they started and grew their families. Others said it was the choir music that drew them in, but the coziness that ultimately hooked them.
Cohen doesn't have a history of settling down. Before Mount Hollywood, she served as an interim pastor all over the area — in Northridge, Altadena, Simi Valley, San Marino, Glendale, Redondo Beach.
But Mount Hollywood has wrapped its arms around her.
At the end of her installation, so many people crawled into the castle for a celebratory bounce that it tilted, turrets nearly touching the ground.
Follow City Beat @latimescitybeat on Twitter and at Los Angeles Times City Beat on Facebook.
---
The stories shaping California
Get up to speed with our Essential California newsletter, sent six days a week.
You may occasionally receive promotional content from the Los Angeles Times.