Blind architects have a real feel for the site lines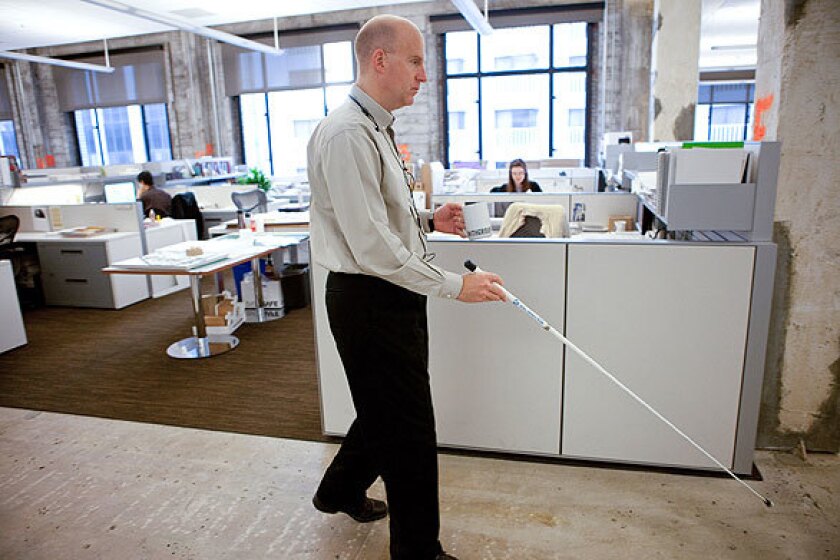 Reporting from San Francisco —
The architects met on a damp October Saturday and set off to visit a modern New York landmark, the American Folk Art Museum.
The building is clad in lustrous bronze panels that shift in color as they catch the sun's slow trek across the sky. Inside, a skylight shoots brilliant beams into a grand interior space.
But the two men hadn't traveled to Midtown Manhattan to look at the structure's famous features.
Instead, they slid their curious fingers along the pocked surface of the alloyed bronze facade. Inside, their hands explored a smooth, round railing of warm cherry wood, a counterpoint to the chilly glass panels of the main staircase. Their canes clicked along the intricate floor, sensing the shift from swaths of concrete to planks of Ruby Lake fir.
"We were exploring how we could sense it with a cane, sense it with our fingers, sense it with our feet," said Northern California architect Christopher Downey. "There is this great palette of textures. . . . All of a sudden, it starts to engage your brain in a different way."
Downey said he and Lisbon's Carlos Mourão Pereira joke that their meeting three months ago was the "first-ever International Blind Architects Conference."
But the questions that engage the men are deeply serious: What makes a building beautiful if you can't see it, and how can you create beautiful structures if you're blind?
For the last 22 months -- since Downey lost his vision after surgery to remove a brain tumor -- the 47-year-old has searched for answers to both queries, along with many others.
In spring 2007, Downey was coaching his son's Little League team when he began to have trouble following the ball. By that December, he could no longer play catch on his quiet, leafy street in suburban Piedmont.
"Even with just a simple, soft toss," Downey said, "I was just guessing at where the ball was."
That year's end was a busy time. Downey was leaving the firm he and a partner had opened four years earlier for a job as managing principal at Michelle Kaufmann Designs in Oakland, which specialized in green, modular houses.
A neighborhood optometrist could find nothing wrong with his eyes and referred him to a specialist. Downey visited ophthalmologists and nerve specialists. He had eye exams, was prescribed eye drops and eventually had an MRI.
Then, in February, Downey was called in for more tests. As he waited for results, he noticed "a lot of somber-looking doctor types" looking at his medical charts.
He was told that a slow-growing brain tumor was pushing on his optic nerves.
"I was given the names of surgeons and advised to see them as soon as possible," Downey said.
Surgery -- all 9 1/2 hours of it -- took place March 17, 2008, a Monday morning. The benign growth was deep inside his brain, close to the pituitary gland.
"The best tumor," he said, "in the worst spot."
The next day, Downey's vision was blurry, as predicted, and he couldn't discern his wife Rosa's brown eyes or her dark, curly hair. But he could make out colors and shapes.
A day later, though, the world appeared cut in half, as if a line had been drawn across his field of vision. Above the line was the same blurry, post-surgical vista. Below, darkness.
Downey was whisked back into intensive care for five days of tests and frantic experimental procedures. When he woke up on March 26, the world had gone black.
"That was a tough day, realizing that [blindness] is the new deal," he said. "I've always been the outdoors type, loved sunlight, would run around and open up all the curtains in the house and let the sun in. . . . So first, oh, my gosh, no more sun. That's just . . ."
His voice trailed off. He paused. "It's hard for me to get through a day like that."
By February 2009, Downey had been blind for nearly a year and had spent more than half of that time trying to find someone like himself, anywhere in the world.
He met blind software engineers, writers and professionals who teach computer skills to others who have lost their sight. He read about Los Angeles-based Eric Brun-Sanglard, the self-proclaimed Blind Designer, whose specialty is home design.
Downey learned to use software that reads text on his computer screen aloud. He got a cellphone that reads him his e-mails and uses GPS to give audible walking instructions.
He began drawing with Wikki Stix, strands of wax-covered yarn that adhere to paper with just a little pressure. His most useful tool became a large-format embossing printer, which turns blueprints into raised line drawings that he can read with his fingertips.
Downey returned to his new job on a limited basis just a month after brain surgery, but he struggled to balance work and rehabilitation. At the same time, the economy was collapsing. He was laid off, and the firm eventually closed.
So it seemed more important than ever for Downey to talk to someone who had mastered what he calls the "heroically visual" field of architecture without the most basic tool of all: eyesight.
Last Feb. 23, he hit the send button on an e-mail that was equal parts proud and plaintive, hopeful and hesitant.
"Dear Mr. Carlos Mourao Pereira," he wrote to this stranger in Portugal, describing him as "amazingly" the only blind architect "that I had been able to locate since I started searching last August."
"Leaving the profession has never crossed my mind," Downey wrote, "but I must admit that it is requiring a lot of effort, training and research to try to figure out how to approach what is inevitably thought of and practiced as a very visual profession."
Pereira quickly wrote back, "It is a surprise to discuss experiences with another blind architect."
Pereira told about losing his sight three years earlier. About how he uses clay, Legos and lots of hand signals to get his point across. About how he had just been commissioned to design a town hall.
"A blind architect is specially sensitive to tactile, acoustic and smelling details of the Architecture," Pereira wrote. ". . . The important thing is not stop working."
Downey told Pereira that "most everybody I talk with assumes that I would now have to be on the fringes of the profession." He'd spent 20 years, he wrote, working on private homes and public aquariums, libraries, wineries, retail projects. And he did not want to leave that behind.
Downey marveled at how Pereira described his own work "as being so much more about the senses" but said he was "perhaps a bit doubly disadvantaged, as I lost all sense of smell in my surgery."
"That brings me down to touch, sound and taste. Personally I think I'll avoid tasting buildings for now," Downey wrote wryly. "There still is plenty to work with."
In late summer, Downey sat at a long conference table at the Western Blind Rehabilitation Center in Palo Alto, two seats from Millicent Williams, who supervises the men and women who teach newly blind veterans how to perform basic tasks again.
The Department of Veterans Affairs facility is scheduled to be replaced in three or four years by the sprawling new Polytrauma & Blind Rehabilitation Center.
Downey slid a heavy white piece of paper down the table toward Williams -- the floor plan, embossed in thick raised lines, of the proposed center's teaching kitchens.
Like her students, Williams is blind. Although her input in designing the facility has been key, she has struggled through endless meetings to understand its intricacies. Sometimes people would try to talk her through the floor plans. Other times, a colleague might take her finger and run it along a standard blueprint.
But as Williams touched the 3D diagram, created in Downey's living room on his embossing printer, she was able to envision the seating areas and countertops, the appliances and the doorways.
"Oh, this is what we've been talking about," she said. "Now this makes sense."
No one at either of the architecture firms designing the facility had worked on buildings for the blind. Understanding how people would experience a structure they could not see had proved elusive.
The architects held focus groups with VA staff and patients. They thought about wearing blindfolds to get a sense of what life was like without vision but nixed the idea.
So when partners at SmithGroup and The Design Partnership met Downey, they were intrigued enough to hire him as a consultant.
"The question we ask ourselves is, how can architecture help people lead a better life?" said John Boerger, a partner in The Design Partnership. "That was a real stumbling block we were having" with the Palo Alto center.
Downey collaborated on a room-numbering system to help blind students navigate the building. The facility will use different textured flooring in a few key areas so students can tell where they are by the tap of a cane.
Blind students who descend a staircase that deposits them in the middle of a vast lobby will be able to find their way because the ceiling will be enhanced, at Downey's suggestion, to create an acoustic corridor to the door.
Over the last 10 months, the building's design has been transformed in subtle ways. So has Downey.
His first thought after losing his vision was about "the life lesson for my son: taking it seriously and dealing. I don't have any control over what happened, but I do have a lot of control over where we go from here."
Beyond that, all he really wanted was to be an architect -- still.
"It hadn't occurred to me to focus on centers or buildings for the blind," he said. "But with this project, all of a sudden it became clear where my real value is."
---
Get breaking news, investigations, analysis and more signature journalism from the Los Angeles Times in your inbox.
You may occasionally receive promotional content from the Los Angeles Times.