Broadway Boxing Gym a positive outlet for South L.A.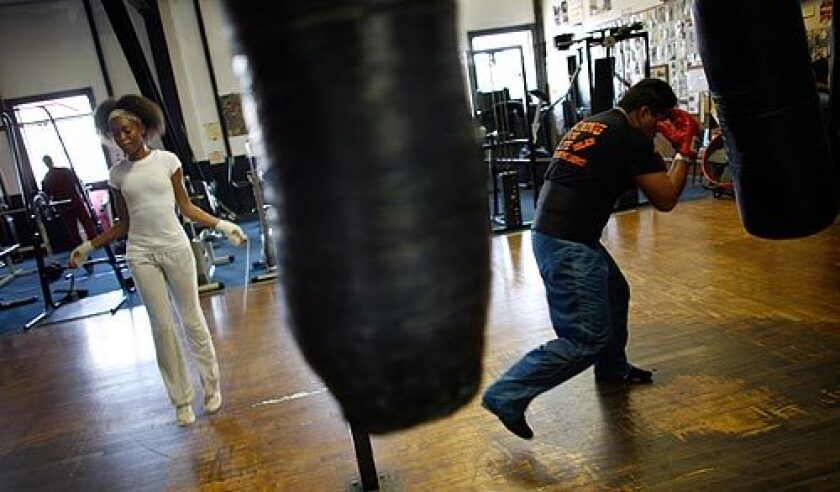 Los Angeles Times Staff Writer
Like an aging prizefighter with an iron jaw, the Broadway Boxing Gym has taken its share of punches over the last three decades.
The gritty, no-frills South Los Angeles gym, once a beacon for world-class fighters, fell into decay in the late 1990s. Its membership declined, and transients and substance abusers often gathered outside the two-story building near Broadway and 108th Street.
In late 2003, with its longtime owner, Bill Slayton, losing a battle to bone cancer, the gym nearly closed. Sauchsee Larkins and her father, Melvin, bought it a few months later. It's been holding its own ever since, providing a sweaty sanctuary from the streets.
On a recent afternoon, as she showed a visitor the gym, Larkins said her goal was to provide a positive environment for young people in a community long scarred by poverty and crime.
"They can blow off steam when they come in here," she said. "They learn social skills and discipline."
The building buzzed with energy as boxers, some accompanied by their trainers, sparred in two rings, pounded on heavy leather bags and jumped rope to improve stamina and coordination. Sunlight streaked through open windows. And the sounds of buses and sirens mixed with thumps and grunts as hip-hop music blared from a radio.
Larkins, 53, shuffled between boxers, patting them on the back like a proud mother. She was never trained in the sport but has picked up the lingo of the ring.
"Show me some uppercuts, baby," she said to a 17-year-old. He was hitting a bag that weighed about 100 pounds and was wrapped in a thick leather ring to absorb the upward blows.
The gym has about 140 members, up from about 50 a decade earlier. They pay up to $40 a month to use the facilities, Larkins said.
The members include families who come to work out, up-and-coming amateur fighters who dream of glory and weathered professionals who hope for one more chance. Many live in South L.A., but some come from as far as Hemet.
Marquice Bruce, 17, who lives near Hoover and 105th streets, credited the gym with helping him stay away from the gangs that run in his neighborhood.
"This place is cool because it gets you away from the gangs and all the violence," Marquice said after punching the speed bag, a small balloon-shaped bag that hangs on a swivel and helps boxers improve eye and hand coordination.
"When you get in here," he said, "you just let go of all the anger you have."
Marquice will be a senior at the Sheriff's Leadership Academy, an alternative high school in Watts. He said he had an amateur record of 10 wins and two losses and that his goal was to make the 2012 Olympic team.
Los Angeles Police Department Deputy Chief Kenneth O. Garner worked out at the gym 20 years ago, when he was a patrol officer. He said it offers a place where young people can learn the value of hard work and channel their energy into something positive.
"The community needs that gym to flourish," said Garner, who was raised in South L.A.
Larkins said she and her father, a longtime South L.A. businessman and real estate agent, had been interested in buying a church down the street when another real estate agent showed them the brick building that housed the gym.
"We purchased it for the kids in the community," said Melvin Larkins, 75.
Sauchsee Larkins said they turned the place around by investing nearly $50,000. They bought new equipment, she said, and built shower facilities and a bathroom for women.
"They came here and put a lot of love into this place," said Derrick "Papa Bear" Harris, 43, a trainer who has used the gym for years. "They're definitely here for the community."
With its old wooden floor and fading plaster walls, the gym is a throwback to an era of cigar-chomping managers and boxers who had few resources but plenty of heart. For a while it helped make Los Angeles one of the world's boxing capitals. Yellowed pictures of greats such as Joe Louis, Sugar Ray Leonard and Ken Norton hang on a wall.
Norton was trained by Slayton, the gym's previous owner, who died of cancer in 2003.
"We've had a lot of good boxers come through here," Larkins said.
The gym was home to heavyweight amateur champion Henry Tillman, who won a gold medal at the 1984 Olympics. Another champ who trained there was Lamon Brewster, who won the World Boxing Organization heavyweight belt in 2004. He dedicated the victory to Slayton.
"You never know who might be the next champ," Larkins said, looking at two boxers battling in the ring.
The gym's boxers, she said, are like her family.
"It's like being a mother. All men need mothers. All children need mothers," she said. "Everyone wants someone who cares."
---
The stories shaping California
Get up to speed with our Essential California newsletter, sent six days a week.
You may occasionally receive promotional content from the Los Angeles Times.