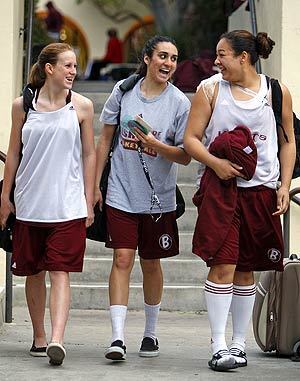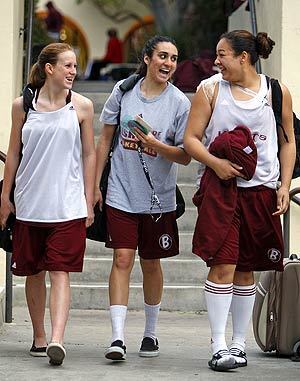 Gizelle Studevent, center, with teammates, Alyssa Morgosh, left, and Yessica Palmer walk to their cars after basketball practice at Bishops School in La Jolla. Studevent, 17, a top-ranked basketball player being recruited by colleges such as Duke and Stanford, transferred from La Jolla Country Day School after facing years of bullying there.
(Mark Boster / Los Angeles Times)
After enduring harassment -- including prank phone calls, racial slurs and menacing letters -- at school, Gizelle finally yielded to her parents' pleas that she transfer. "I would go home and cry every day," Gizelle said of her time at La Jolla Country Day. "It was horrible. The scary thing for me was, what was next? What was going to happen?"
(Mark Boster / Los Angeles Times)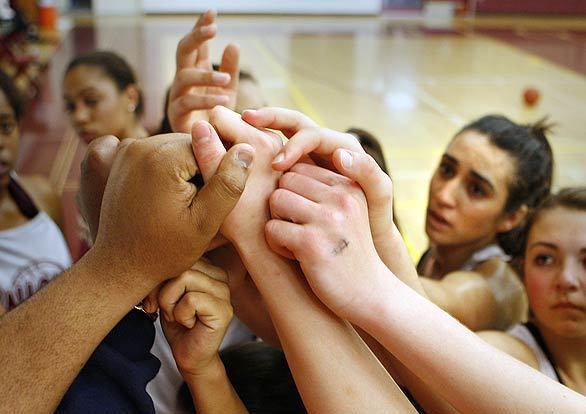 Gizelle, upper right, engages in a team unity exercise with the other players after practice. "Once the bullying stopped, she blossomed as a young lady," said Gizelle's father, Ray Studevent. "I've never seen her laugh so much."
(Mark Boster / Los Angeles Times)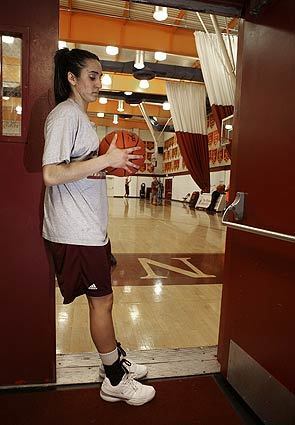 Despite the bullying she faced, Gizelle worked hard to keep up her skills on the basketball court as well as her grades, but she became withdrawn and didn't easily trust people. Victims of bullying are at greater risk than their peers of skipping school, dropping out, getting lower grades and even bringing a weapon to campus. The constant abuse also can lead them to change their daily behavior -- they are more likely to avoid certain parts of campus, such as restrooms or the cafeteria. Some become introverted or depressed.
(Mark Boster / Los Angeles Times)