An oasis from crime: Meet Chesterfield Square's peacekeeper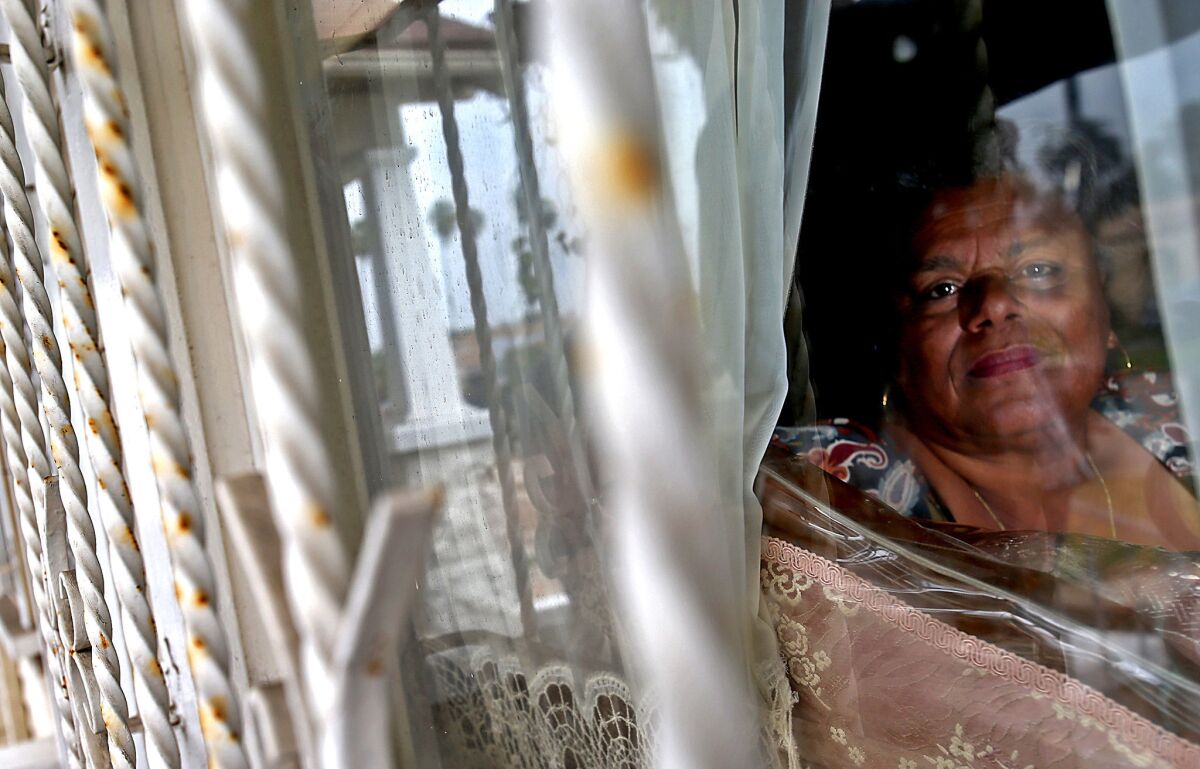 Rita Banks, a 55-year-old grandmother, is the lead sentry on a palm-lined stretch of Manhattan Place in South L.A.
Rita Banks, a 55-year-old grandmother, is the lead sentry on a palm-lined stretch of Manhattan Place in South L.A.
Los Angeles police Officer Andre Dixon lowered the passenger-side window and aimed his flashlight at a darkened living room window guarded by white bars.
Click-click … click-click … click-click. Dixon's light snapped on and off.
The porch light flicked on and a woman in a dress and slippers stepped out from behind the security screen door and peered at the black-and-white cruiser.
"How you doin', Miss Rita?" Officer Owen Mills shouted across her manicured lawn.
"Who you got in there?" she hollered back. "That Dixon?"
"Hey, how you doin'?" Dixon answered.
Rita Banks pulled her dress in snug, shuffled across the driveway and rested her forearms on the cruiser's passenger-side window.
"It's quiet," she replied with a raspy giggle.
On a street with a lot of eyes and ears, Banks is the lead sentry. The 55-year-old grandmother writes down the license plates of cars that pass one too many times and hollers a greeting at anyone who passes her porch. She organizes monthly block meetings and cleanups and is the ear for neighbors who want to talk about graffiti, suspicious activity and wayward children.
Her South L.A. community of Chesterfield Square averages more than 530 violent crimes per 10,000 people, the highest rate in the city, according to a Times analysis of neighborhoods policed by the LAPD and the L.A. County Sheriff's Department over the last two years.
But this stretch of Manhattan Place between 54th and 57th streets, a palm-lined row of aging homes and ungated lawns, has managed to become an oasis from crime.
When Banks has nothing nice to say, her voice trails off, leaving the unpleasantness implied. She punctuates every sentence with a chuckle. From the shop owners down the street to the boys who hang on the corner, Banks is known as "Miss Rita."
Her gregariousness comes naturally — the result of living on a street with deep Southern roots. Her parents were born in the South and her neighbors came from places such as New Orleans and East Texas.
Her family moved into the house in 1962, when she was 4. She's lived there ever since, raising a daughter who has started her own family in Texas. Family photographs hang on the walls, along with a framed photo of Banks' granddaughter that appeared in the Los Angeles Times in 2011.
Banks, who retired as a bus driver after an injury years ago, is quick to say she is part of a larger group of old-timers who keep the block together, as people have been doing here for decades.
In the 1960s and '70s, homeowners put $2 into an account every month so if someone was sick or died, there would be money to help the family. Though that tradition has disappeared, neighbors still donate $4 at Christmas so the palm trees can be wrapped in foil, ribbons and a bow.
Back then, if a child acted a fool on one end of the street, they'd get a whupping from the adults there — then another when they got to the other side, Banks said.
The kids on South Manhattan Place knew better than to act up, so instead of forming a gang, they formed a band. Think Kool and the Gang.
"That band really is what kept us clean and solid, because that was our passion," said Roland Guillaume Jr., 57, who grew up on the street with Banks.
But violence was always in the back of their minds.
"There was some gang activity, bullying, beating people up. Some gunplay a little bit," Guillaume said. "But it never happened to us."
In early February, Guillaume's mother, Carroll, hosted the monthly block meeting. Officer Mills and Banks nibbled on Ritz crackers, macaroni salad and cake and sipped punch on opposite sides of her dinner table.
Mills ran through things to keep an eye on — burglars had recently been breaking into homes through open rear windows and snatching jewelry. Police also wanted to talk to a man named Charles.
"What else he go by?" Banks interrupted, glancing at Mills across the table.
"Just Charles," Mills answered.
Banks nodded. If Charles had any aliases, Mills thought, Banks would probably know how to find him. A month earlier, Banks had helped police find a man suspected of stealing money from the cash register of a gas station not far from her home.
Detectives had little to go on except a grainy video image of the alleged thief. So Mills and other officers printed out the image and began canvassing the neighborhood. As usual, they ran it by Banks.
"Yeah, I see him hanging on Western and I heard them call him ..." Mills recalled Banks saying. She gave detectives the man's nickname, Mills said, and they have since identified him and are building a case against him. Police requested the alias not be published so he's not tipped off to the investigation.
Said Mills: "The beauty with Rita is, she knows the community."
Although crime is down significantly across South Los Angeles, violence remains stubbornly common in pockets of Chesterfield Square and beyond.
Sitting in his wheelchair on a Tuesday morning, Michael DePillars left New Era Barbershop on the other side of Chesterfield Square off Florence Avenue with a fresh haircut, crisp jeans and spotless white tennis shoes and pointed east toward Cimarron Street.
"I seen a kid get shot in the head in broad daylight," he said, referring to a 2010 killing at that intersection. "It's been going on for years."
The beauty with Rita is, she knows the community."

— Officer Owen Mills
DePillars, who works with the Youth Justice League, said he used to be a gang member; he was shot three times in a drive-by not far from there, at Crenshaw and Manchester boulevards, in 2002. He was hit in the back, shoulder and leg and has been in a wheelchair ever since.
DePillars said he would have to leave his community to escape the violence, but folks on Manhattan Place find that insulation is their answer. In one week in February, rapes and robberies were reported near 54th and Western Avenue, just around the corner from their quiet street.
From the beginning of 2013 through March 1, that small stretch of Western Avenue next to Banks' home has seen 19 violent crimes, including robbery and aggravated assault. The same length of South Manhattan Place, meanwhile, had one reported robbery, in May, according to LAPD records.
"If I want to walk, I walk to that corner and back, then that corner and back, but for some reason, I don't go around the block," said Carroll Guillaume, pointing to where her street meets 54th and 57th streets, respectively. "Manhattan Place is quiet, but if you go either way…"
That's why Banks says she's on constant alert — to keep her lifelong friends and neighbors safe.
On a table next to her couch is a thin black calendar book listing the exact dates and times of what she sees and where she sees it. If she reports something, she lists the number she called. If she speaks to an officer, she lists the name and badge number.
Despite her high profile, she says she's never been threatened for her cooperation with the police.
"I grew up in this neighborhood," she said, "and everyone around here knows me and the kind of person I am."
When a car with a loud muffler rumbled past, Banks' ears perked up.
"I gotta get that license plate," she said to herself. "They're treating my street like it's a freeway."
Though Banks' window curtains are drawn, they're white and thin and she can see through them. Her couch, covered in plastic, is at a perfect angle where she can watch TV and the door, and see out of the corner of her eye.
"At nighttime that's how I sit here, I sit here with the lights off. That's why they do me like that with the flashlight," Banks said. "They know I be here in the dark. Ya'll don't see me, but I see you!"
Follow Joseph Serna(@JosephSerna) on Twitter
---
Life is stressful. Our weekly mental wellness newsletter can help.
You may occasionally receive promotional content from the Los Angeles Times.