New trail shows off Catalina Island's varied landscapes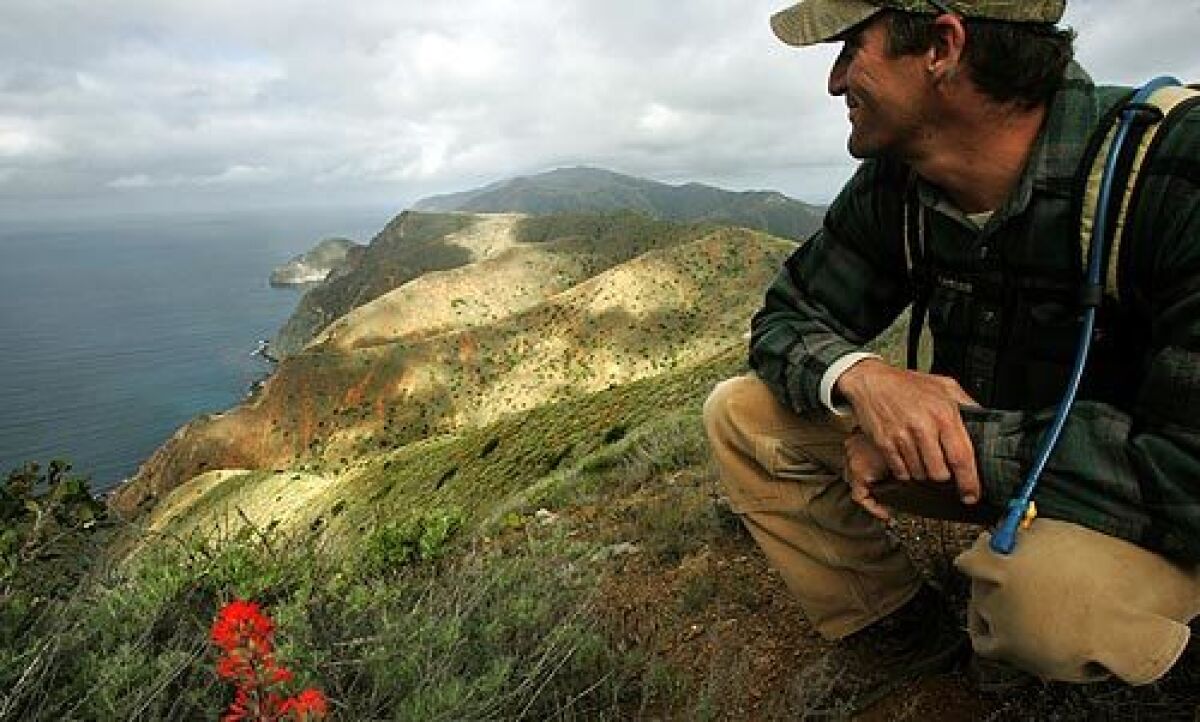 Wildlife biologist Kevin Ryan stood on the edge of a rocky ridge in the heart of untamed Santa Catalina Island on Friday, inhaled deeply and admired a vista rimmed in cobalt blue that has changed little in thousands of years.
Fog drifted off green hills bristling with cholla cactus and spiced with the scent of sage. The loudest sounds were the songs of meadowlarks. About 600 feet below, the ocean crashed on the boulder-strewn base of steep mountains riven by wind and water.
The view lies at the 20-mile mark of the new Trans-Catalina Island Trail, a 37.2-mile hiking route that Ryan, trail coordinator for the Catalina Island Conservancy, designed and helped build with pick-axes and spades.
"In a place like this, it's hard to complain about coming to work every day," Ryan said with a smile.
The trail officially opens today. A decade in the making, it climbs, dips and winds through backcountry largely unknown to the public and essentially unchanged since Tongva Indians roamed the 76-square-mile island.
An hourlong boat ride from Long Beach and San Pedro, the trail should prove irresistible to hikers seeking panoramic scenery and solitude, conservancy officials believe.
The trail was built to show off Catalina's dramatic changes in elevation, which make for a surprising variety of ecosystems and landscapes: muscular peaks, scalloped beaches, lush ravines and grasslands enlivened by an array of spring flowers, including Indian paintbrush, Catalina mariposa and sticky monkey flowers.
Conservancy officials figure that the whole trek, which features several long, steep climbs, will take about two to four days to complete. But the trail also weaves past nearly every campground in the island's interior, while steering clear of Native American sites and sensitive species.
Tramping along a stretch of trail cut over a mountaintop covered with spiny plants, Ryan said: "Watch out for that cholla cactus. It makes prickly pear cactus seem gentle."
Up ahead, the trail evened out on a windy plateau. A bald eagle soared overhead.
Catalina is visited by about 1 million tourists each year, yet most never set foot on the unpaved, 42,000-acre interior, which is protected by the conservancy. Most of Catalina's estimated 5,000 residents live in Avalon.
Essentially, the island's culture is split: part tourism, part conservation of wilderness.
"A big part of the future of visitation to this island will be ecotourism," said Scott Dennis, director of the conservancy's visitor and volunteer services. "When most people think of Catalina, they think of Avalon. This trail shows us what California used to be, and could be in the future."
In the first organized hike along the trail, 27 people hit the path Friday in honor of legendary yachtsman Thad Jones. On May 26, 1956, Jones hiked the entire length of the island in 11 hours and 20 minutes.
If all went according to plan, the current group hoped to complete the journey in less than two days, just in time to participate in the trail's grand opening celebration at noon at the Haypress Recreation Area, about four miles west of Avalon.
By noon Friday, they still had about 20 challenging miles to go.
"At one point, we came to place where the trail went almost straight up, and I began to have doubts about the whole thing," said Dennis Moran, 60, a Newport Beach yacht broker.
"There was an easier route around the hill, which looked tempting," he added. "Ultimately, we were true to the trail."
That kind of talk delighted Bob Rhein, a spokesman for the conservancy.
"The trail is already bringing out the best in people," he said. "It's a terrain like no other."
---
The stories shaping California
Get up to speed with our Essential California newsletter, sent six days a week.
You may occasionally receive promotional content from the Los Angeles Times.