Headed to LAX this weekend? Avoid the 'Century Crunch'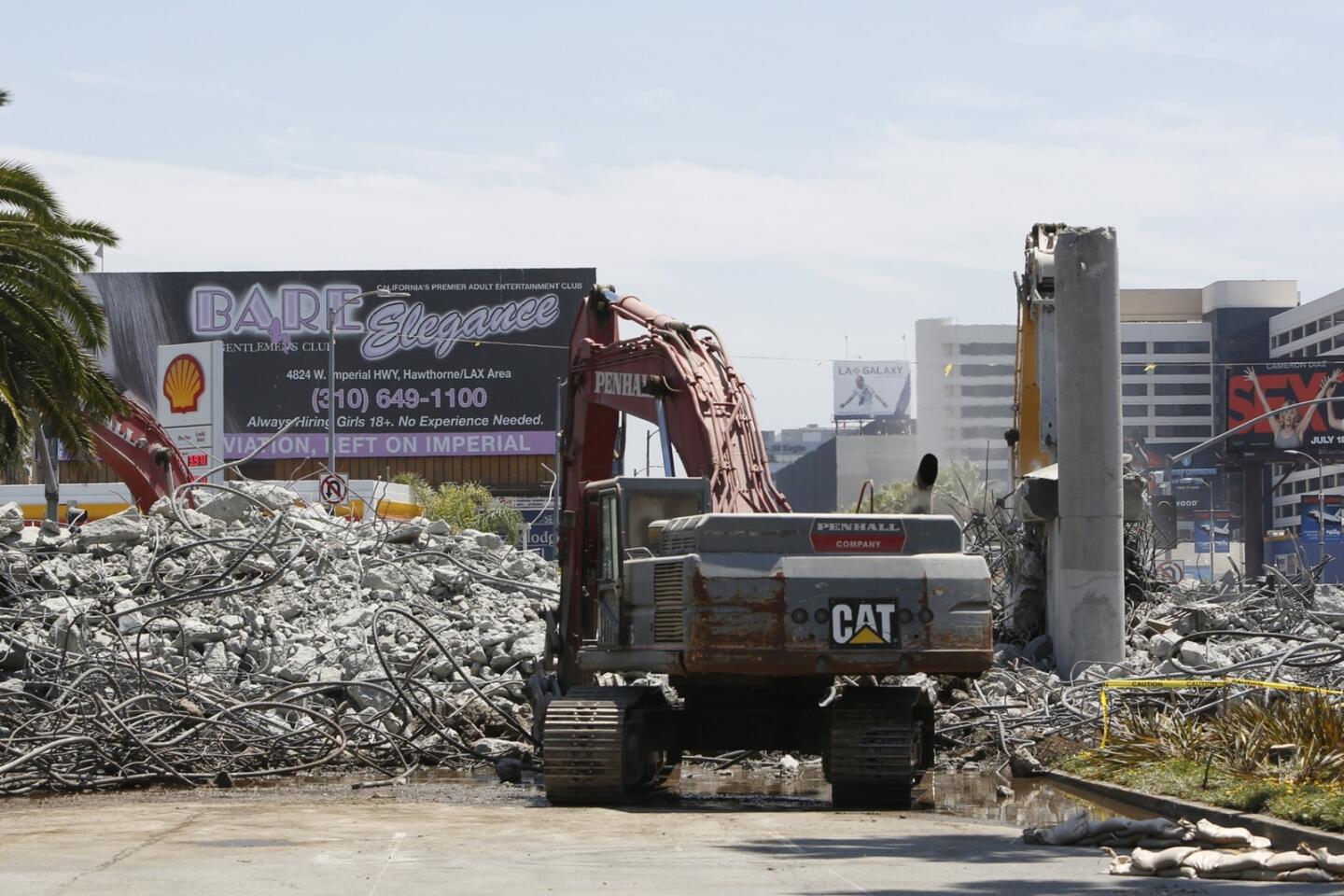 The "Century Crunch," as it has come to be known, has Century Boulevard closed for 57 hours as crews work to demolish an old bridge at Aviation near LAX.
(Anne Cusack / Los Angeles Times)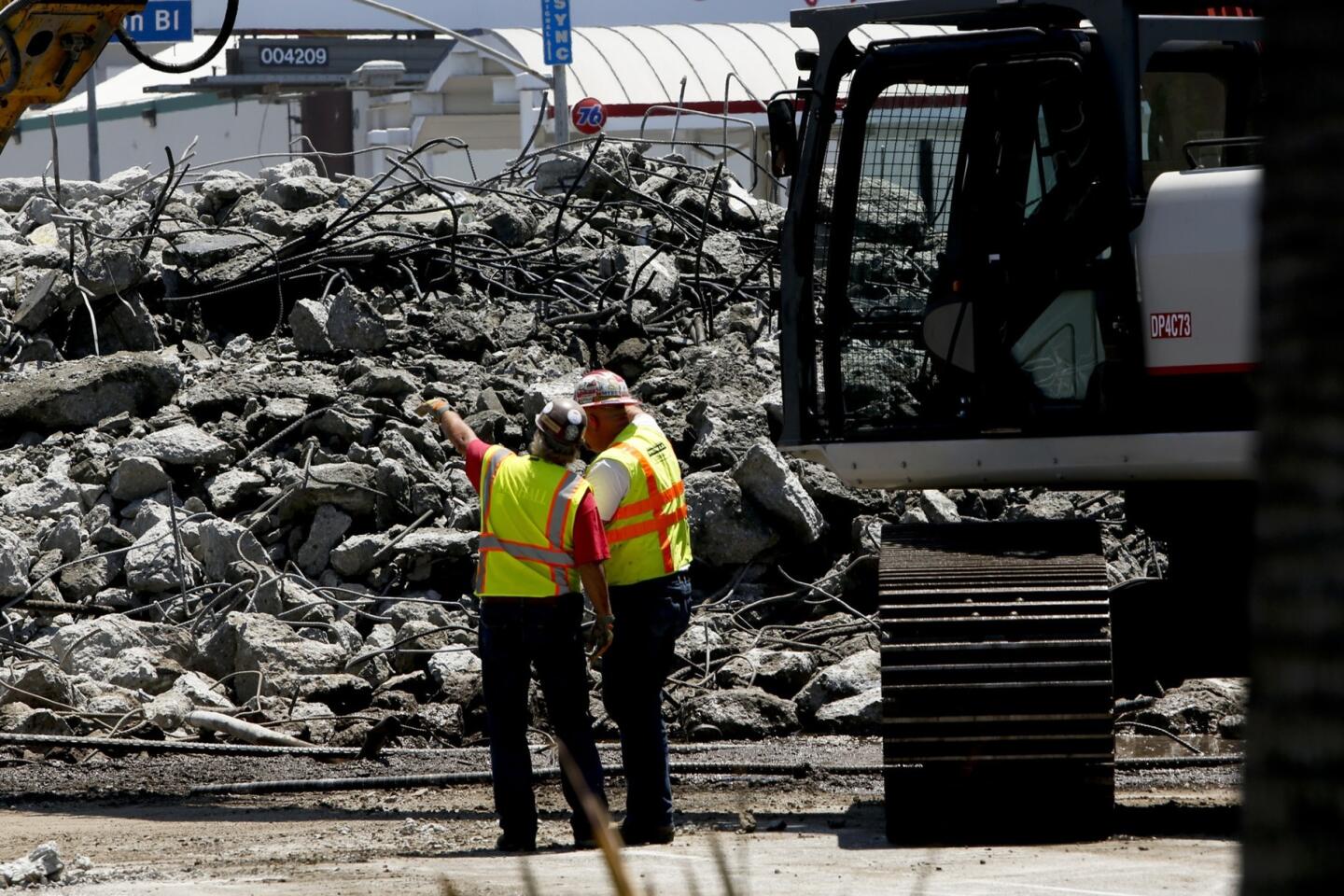 An old bridge on Century Boulevard at Aviation near Los Angeles International Airport is being demolished to make way for a new light-rail station servicing the Crenshaw line.
(Anne Cusack / Los Angeles Times)
Airport traffic officer Cynthia Cole directs cars on Century Boulevard during the "Century Crunch" near LAX.
(Anne Cusack / Los Angeles Times)
Traffic at LAX is lighter than normal during the "Century Crunch," after transportation officials warned drivers of potential jams during the 57-hour closure of Century Boulevard.
(Anne Cusack / Los Angeles Times)
A worker hoses down debris to control dust as crews demolish an old bridge on Century Boulevard at Aviation. In all, 300,000 cubic yards of steel and concrete will be removed.
(Anne Cusack / Los Angeles Times)
Southern California drivers have survived "Jamzilla" and "Carmageddon" but this weekend's "Century Crunch" road closure near one of the main entrances to Los Angeles International Airport might be the worst one yet, officials said Monday.
Starting Friday night, the intersection of Century and Aviation boulevards — a main artery to LAX that 92,000 motorists pass through every day — will be closed for 57 hours to allow crews to demolish an old railroad bridge and begin construction of a new Metro station.
Southbound Aviation Boulevard between Arbor Vitae and 104th streets will also be closed.
The closure is expected to last from 9 p.m. Friday until 6 a.m. Monday. Los Angeles Mayor Eric Garcetti last week released a video urging people to use public transit and avoid driving in the area.
"Because we planned ahead, Carmageddon never happened on the 405. So let's plan ahead again," Garcetti said. "Avoid the area if you do not need to be there and, if you must, allow for extra travel time and use public transit."
After this weekend's work, one lane in each direction will be closed on Century Boulevard for up to 16 months to allow for construction of the station on the 8.5-mile Crenshaw light rail line, set to open in 2019.
The work required to remove the bridge this weekend "is not a lot but it's enough to screw everything up," said Kim Upton, spokeswoman for the Los Angeles County Metropolitan Transportation Authority, during a tour of the site Monday.
The Sepulveda Boulevard entrance to the airport will remain open, but travelers are urged to take public transit to the airport and budget extra time in case of traffic congestion.
Traffic will be rerouted three miles around the intersection, with vehicles heading toward LAX sent north on La Cienega Boulevard, west onto Manchester Boulevard and then south on Airport Boulevard to rejoin Century.
One-third of the nearly 80,000 vehicles that enter the LAX terminal area on a daily basis use Century Boulevard, said LAX spokeswoman Amanda Parsons.
LAX officials said they expect more than 200,000 passengers a day to pass through the airport this weekend for more than 1,700 flights. That is in addition to the 20,000 airport employees scheduled to work each day.
Metro officials recommend that passengers check traffic conditions using the 511 information line or go511.com before departing for LAX.
Four excavators carrying high-compression chisels have already started to pound away at the approach to the bridge. In all, workers will remove 300,000 cubic yards of steel and concrete.
"It is one of the first big pieces of the project," said MTA project director Charles Beauvoir. "It is always good to see progress; we have been on paper for a while."
Sign up for Essential California for news, features and recommendations from the L.A. Times and beyond in your inbox six days a week.
You may occasionally receive promotional content from the Los Angeles Times.