la-foundry01-jitvq5nc
Windows frame the interior of the Knight Foundry in Sutter Creek, Calif. Knight Foundry is America's last water-powered 19th-century ironworks. It has been closed for the last decade, but a group of people -- true believers in the faith and labor of pouring iron -- are working hard to see the foundry live again.
(Robert Durell / LAT)
la-foundry02-jitvp3nc
A large gear wheel sits idle in Knight Foundry. In the foundry's prime, the mammoth blast furnace belched flame and spit out molten metal, its smokestack singing like a pipe organ. Built in 1872, the foundry predated electricity. Water piped from a Mother Lode flume spun old-fashioned turbines, the biggest nearly four feet across.
(Robert Durell / LAT)
la-foundry03-jlsvajnc
Russ Johnson landed a job at Knight Foundry in 1989, toward the end of its run. He said he learned his craft from old-school guys, some in their 90s, who had manned the foundry for half a century. Johnson loved it. "I could cuss and get dirty and produce something that at the end of the day I know is going to last a long, long time," he said.
(Robert Durell / LAT)
la-foundry04-jlsvdbnc
Cobwebs gather on old handsaws in the foundry.
(Robert Durell / LAT)
la-foundry05-jitvl0nc
Smoke from a potbellied stove fills the machine shop in the old foundry. This spring, the city of Sutter Creek stepped in to buy Knight Foundry. To complete the $1.3-million sale by a mid-2008 deadline, the property will need to undergo a costly environmental cleanup.
(Robert Durell / LAT)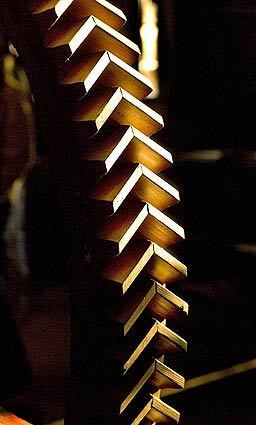 la-foundry06-jitvixnc
Part of a mold used to cast iron pieces of machinery. Small-town foundries once were pervasive on the Sierra's west slope, transforming iron into things big and small: pick axes and ore carts, cable-car parts and fancy streetlight poles.
(Robert Durell / LAT)
la-foundry07-jitvmknc
Iron bootjacks made at the Knight Foundry.
(Robert Durell / LAT)
la-foundry08-jitvjenc
Safety glasses left behind when the foundry closed a decade ago.
(Robert Durell / LAT)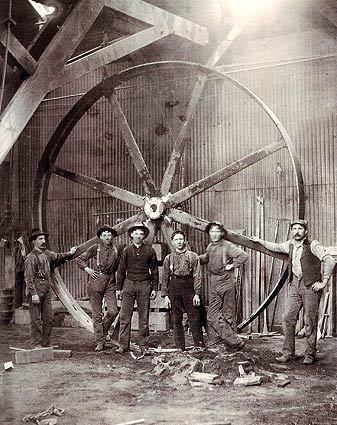 la-foundry09-jlsvdmnc
Knight Foundry workers in the late 1800s.
(Knight Foundry)
la-foundry10-jlsve3nc
Knight Foundry workers manning machinery in the late 1800s.
(Knight Foundry)
la-foundry11-jlsvcnnc
Former Knight Foundry worker Russ Johnson outside the old plant in Sutter Creek. "It needs to be preserved," said Robert Johnson of the Society for Industrial Archeology, which promotes the study and protection of America's industrial heritage. "There's nothing quite like the Knight Foundry."
(Robert Durell / LAT)