A monument to Japanese Americans in the Antelope Valley is restored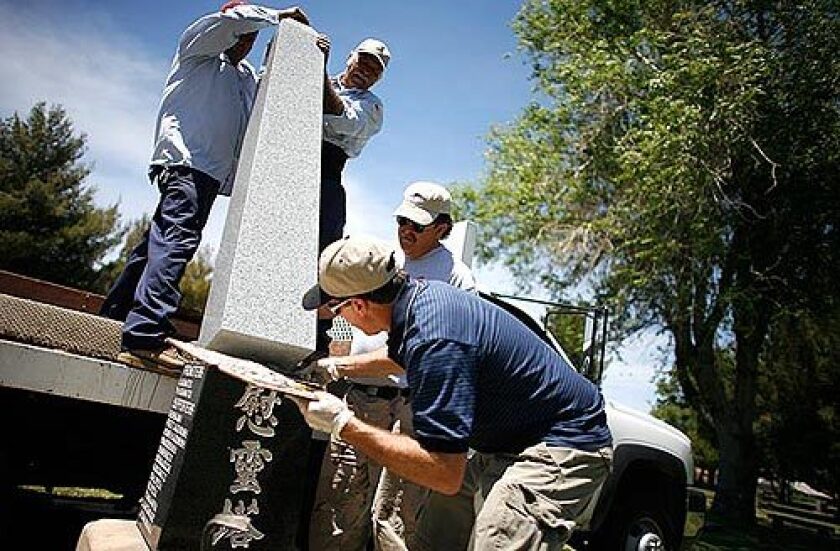 Los Angeles Times Staff Writer
The phone call to Tom Shiokari came last July. The news was unexpected. But after almost 70 years, a wrong was to be set right and a dishonorable chapter in the history of the Antelope Valley's Japanese American community rewritten.
Dayle DeBry, director of marketing and historical research at Lancaster Cemetery, was on the line. A memorial erected in 1938 to honor Japanese citizens who had lived and died in the Antelope Valley was finally going to be restored.
It had been vandalized during World War II. What was left of the monument, including the base and a middle block engraved with the names of 13 Japanese families who installed it, had sunk into the soil and stood less than half its original size -- a sad testament to ignorance.
Now it was to be replaced with a new obelisk, handcrafted in India from pearl white granite.
"I was just taken aback, because I figured it was an issue that was pretty much dead," said Shiokari, 81, whose stepfather Teiji "Fred" Kobayashi contributed money toward the original memorial.
Jimmie Nishimoto's father also helped to pay for the initial memorial, which featured a white granite obelisk almost 8 feet high.
"I didn't think anything would come of it," said Nishimoto, 88, of the efforts to restore the cemetery centerpiece.
Today, at Lancaster Cemetery, something will most definitely come of it. At least 60 first-generation Japanese Americans and their families are expected to be honored and presented with gifts as the memorial is unveiled and rededicated.
"We are trying to right something that was done wrong to Japanese Americans, to their heritage, their community," said DeBry. "I hope that we can express that we are truly sorry for the wrong that was done to them. Restoring the monument will be symbolic of that."
The Nishimotos and Shiokaris were among 13 Japanese immigrant families, most of them alfalfa farmers, who established a thriving community on the west side of the Antelope Valley in the early 1900s.
"They had the best farms and were able to produce what other farms in the area couldn't," said DeBry. One family became the region's main celery producer for Safeway supermarkets, DeBry said; while another advised to the area's leading onion farmers on how to produce the best crop. A story in a 1941 edition of the Ledger-Gazette newspaper described how Antelope Valley businessmen and farmers "applauded" the efforts of Japanese farmers to produce green vegetables "which they thought would improve the valley much faster and better."
Their mostly American-born children attended local schools. And they lived a largely peaceful life until the Japanese air strike on Pearl Harbor in December 1941 pulled America into World War II.
The Japanese families of the Antelope Valley were among around 120,000 people of Japanese heritage who were moved to internment camps in the Western United States.
Shiokari's stepfather was arrested and temporarily jailed in Tujunga. Restrictions on the movement of Japanese residents prevented Shiokari from continuing in school. In May 1942, his family was ordered to move to an internment camp near Poston, Ariz.
Staunchly patriotic, Jimmie Nishimoto had enlisted in the U.S. Army. Still, his father was arrested and imprisoned in North Dakota on suspicion of having political ties to Japan; his mother and her siblings were sent to the Poston camp.
After vandals toppled the Japanese memorial at Lancaster Cemetery and it broke into pieces, community members reported the crime, DeBry said. But no one ever investigated.
In 2002, Shiokari, whose family settled in Los Angeles and opened a restaurant after the war, learned of the memorial's fate. He, Nishimoto, and Yoshio Ekimoto -- the son of another supporter of the original monument -- launched a quest to try to restore it.
They wrote to the Lancaster cemetery and city officials requesting help with planning, logistics and the cost. They also rallied members of the Japanese American community in Los Angeles County.
But their efforts failed to come to fruition -- until Dayle DeBry came along.
Shortly after being hired by the cemetery last June, DeBry came across a folder labeled "Japanese Memorial." It included letters of appeal from Shiokari and Ekimoto.
"I started researching the Japanese community and found wonderful stories about them, and felt they were an integral part of the community, beginning in the 1900s," said DeBry.
But few of the original 13 families returned to the Antelope Valley after the war. The Shiokaris had wanted to go back, but an attack on their ranch prompted the family to sell their land.
Nishimoto's family did return to the Antelope Valley and continued to prosper in farming for 50 years, before moving to Simi Valley. But the Ekimotos are the only family of the original 13 that settled on the valley's west side who are known to still live in Lancaster. Yoshio Ekimoto has suffered a stroke and is unable to speak. His son Wayne Ekimoto, 63, who was born in Poston internment camp, is today a guidance counselor at Lancaster's Desert Winds High School.
DeBry was adamant that something be done to recognize the contribution of these families to the Antelope Valley.
With the help of donations from the Friends of the Lancaster Cemetery Inc., a nonprofit group, Lancaster West Rotary Club, members of the Japanese American community and students from the local Del Sur Middle School, among others donors, nearly $4,000 was raised for the restoration project. The funds will also cover the replacement of several headstones on Japanese graves, including a new headstone for 1-year-old Tomiko Okimoto whose grave lies under the monument.
As educators, "we have always talked about the tolerance, and accepting people for who they are, and just appreciating our differences and celebrating them. This project went right along with that," said Geri Rather, whose seventh-grade history class also compiled a book detailing how World War II affected the Antelope Valley, and the legacy of Japanese Americans.
Miyeko Nishimoto, 82, Jimmie Nishimoto's wife, called the restoration "an honor to the [Japanese American] pioneers, the first generation, our parents."
Her daughter, Becky Nishimoto Roberts, 53, said she felt "blessed and proud that it's happening," and stressed the importance of her own three children knowing about this history.
Jimmie Nishimoto said he was particularly impressed by the involvement of the Del Sur students, and Shiokari agreed that the support shown by the greater Antelope Valley community symbolized a new era of acceptance and tolerance.
Japanese Americans "left the valley under very cloudy skies," Shiokari said. "Now we are happy again."
---
The stories shaping California
Get up to speed with our Essential California newsletter, sent six days a week.
You may occasionally receive promotional content from the Los Angeles Times.