Judith Hoffberg dies at 74; art librarian and curator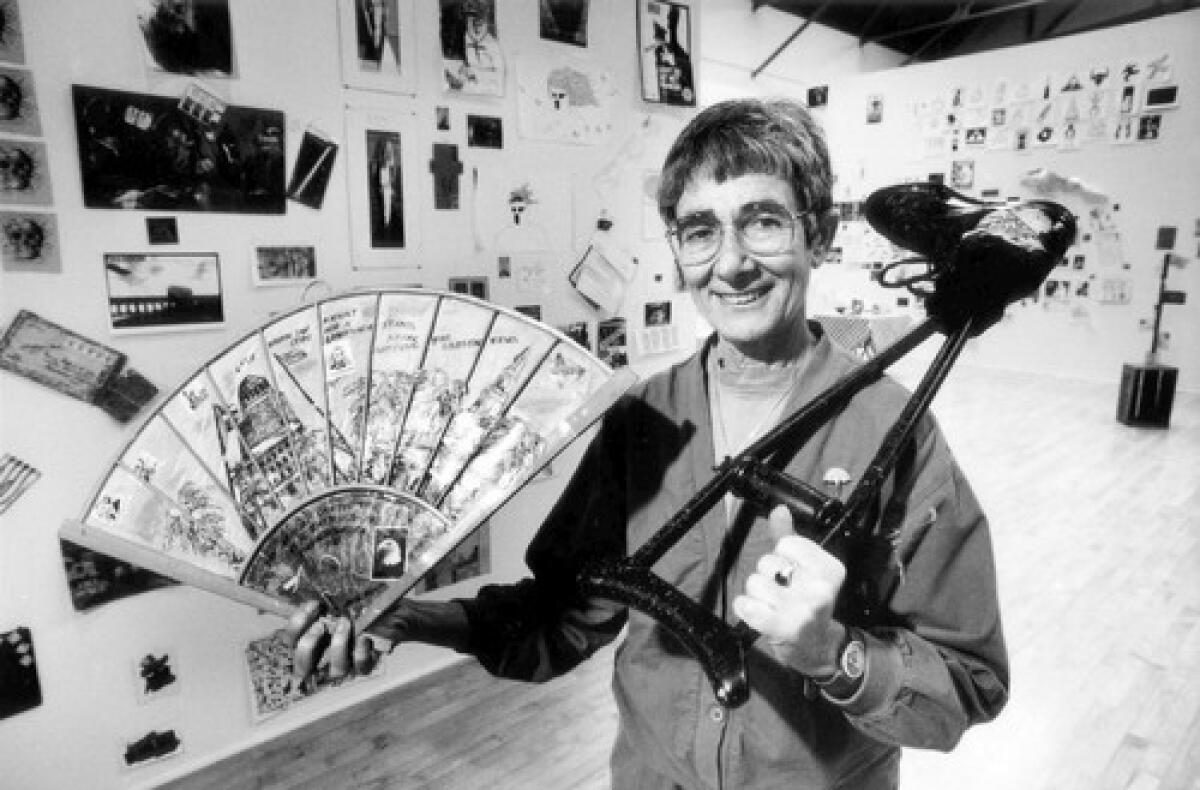 Judith Hoffberg, an art librarian and curator who was a major influence in the emergence of books as an artist's medium yet winked at the genre by establishing a global festival of edible books, has died. She was 74.
Hoffberg, who was diagnosed with acute myeloid leukemia four months ago, died of lymphoma Jan. 16 at her Santa Monica home, said Jon Liu, a nephew.
Since 1978, Hoffberg had edited and published Umbrella, a journal increasingly dedicated to artists' books, which are works of art that are realized in book form. She tended to favor books with a "sculptural quality" that embodied their subject with pages that might form, for example, a necklace or a silk snake.
Jay Belloli, director of gallery programs at the Armory Center for the Arts in Pasadena, said Hoffberg was "incredibly important in the emergence of artists' books in Southern California" and once ran a bookstore that gave them their primary exposure in Los Angeles.
Like many book artists, Elena Mary Siff considered Hoffberg a mentor and said: "She stretched the idea of what a book is. . . . She was always pushing the envelope."
Over about 20 years, Hoffberg curated more than 20 exhibitions, including "Women of the Book," which opened in 1997 and toured the country for years. The show featured works by Jewish women that often explored family roots. One artist portrayed the Holocaust experience of her parents on papier-mache models of their tattooed arms. Another showcased the thin contents of her deceased parents' safe-deposit box.
Belloli called Hoffberg "kind of an unsung heroine of parts of art that a number of people didn't pay attention to but are historically important and in many cases a . . . lot of fun."
She also was an authority on mail art -- loosely defined as anything that can be sent through the mail -- and Fluxus, an art movement that emerged in the mid-20th century known for blending media and disciplines. Both received coverage in Umbrella, printed through 2005 and then published online through last year.
"The whole field of artist books became my life, and I wanted to share it with all of you," Hoffberg wrote in December in her final editorial for Umbrella. "Although marginal at the beginning, it has grown into a movement, a new chapter in art history."
In 1992, she curated a major exhibit on mail art that was so massive it took 11 days to hang at the Armory Center. The 800 objects in "Freedom: The International Mail Art Exhibition" included a still-life painting with postage and address affixed to the canvas, and a literal piece of "junk mail" -- a model of a Chinese sailing vessel that had been sent unwrapped through the mail.
While gathered with artist friends around a Thanksgiving table in 1999, Hoffberg came up with the idea for an international edible-book festival, which debuted the next year. By 2006, it was reportedly held in 26 states and 15 countries, usually around April Fools' Day, partly to emphasize the tongue-in-cheek nature of it all.
Local entries have included a peanut-butter-and-sesame tome that spelled out "Open sesame" and a plea for the hungry called "Feed the World," constructed by Santa Monica students in the form of an accordion-fold book of matzo and icing.
One entry that Hoffberg considered most original was "Lettuce Talk about Biotechnology." Messages were cut into individual lettuce leaves, a development that caused crowds to gather to read them before they were eaten.
Judith Ann Hoffberg was born May 19, 1934, in Hartford, Conn., and by the 1950s had moved to Los Angeles with her family. Her father ran a gas station on National Boulevard.
At UCLA, she received a bachelor's degree in political science in 1956, a master's in Italian language and literature in 1960 and a master's in library science in 1964.
As an art librarian, Hoffberg held posts with Johns Hopkins University Bologna Center in Italy, the Library of Congress, the University of Pennsylvania, UC San Diego, the Brand Library in Glendale and the Smithsonian Institution.
In 1973, she co-founded the Art Libraries Society of North America and served as its first chairwoman.
Her lifelong interest in artists' books was reflected in a personal collection that numbered 6,000. UCLA owns some of her collection, and the remainder will go to UC Santa Barbara.
Friends and art colleagues invariably mentioned Hoffberg's keen intelligence, forthright manner and boundless enthusiasm for artists' books.
The name of her art journal led Hoffberg to amass art that she called "umbrelliana," which included a personal collection of almost 200 3-D umbrella objects.
In addition to her nephew, Jon, Hoffberg is survived by another nephew, Kawika Liu.
A memorial service was being planned.
Sign up for Essential California for news, features and recommendations from the L.A. Times and beyond in your inbox six days a week.
You may occasionally receive promotional content from the Los Angeles Times.