King's words resonate at L.A. church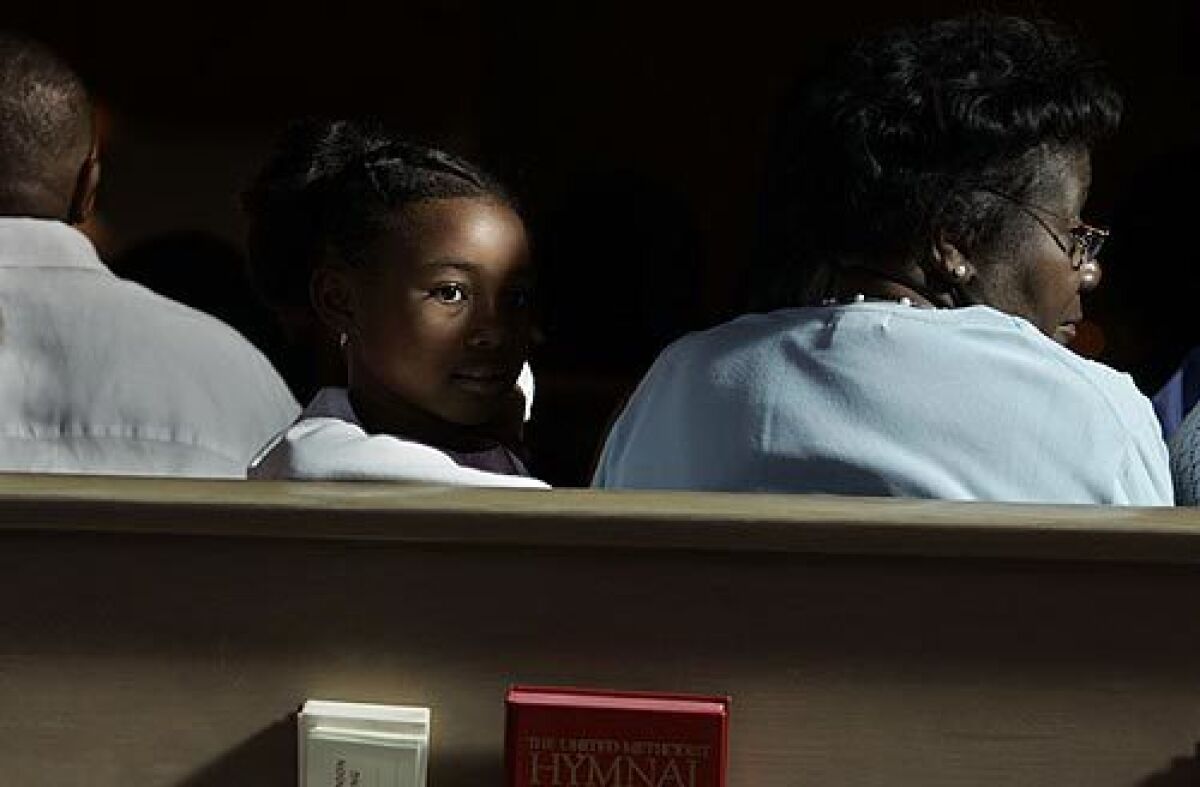 Los Angeles Times Staff Writer
The 40th anniversary of the assassination of the Rev. Martin Luther King Jr. comes as a poignant reminder of the day the civil rights leader stood in the pulpit at Holman United Methodist Church in Los Angeles and preached a Sunday morning sermon about "the meaning of hope."
Less than three weeks before his death on April 4, 1968, King's voice echoed in the packed church on West Adams Boulevard, and some longtime members say they can still recall his penetrating eyes, his calm manner and the silence that enveloped the sanctuary as he spoke.
It was King's last visit to Los Angeles.
"It was a piece of history," said Dorothy DeCayette, who made sure to arrive early that day with her husband and two young daughters.
As Holman prepared to mark the anniversary of King's assassination, the Rev. Henry L. Masters asked if any parishioners remembered the sermon. Not only did church members like DeCayette speak up, some said they had tape-recordings.
At that point in King's life, the 39-year-old orator was crisscrossing the country, giving speech after speech linking the civil rights movement to broader issues: his opposition to the Vietnam War, the end of colonialism and the emergence of a national campaign to bring economic justice to the poor -- goals he predicted might not be achieved in his lifetime.
King's sermon at Holman -- and another later at nearby Second Baptist Church -- was partly designed to raise money for the campaign against poverty.
When longtime parishioners at Holman recall his sermon of hope, they tend not to recall his message as much as the man and his presence among them.
We have made some meaningful strides in the struggle for freedom. But I need not remind you that we have a long, long way to go before the problem is solved. Indeed, it is midnight in race relations in our country.
After DeCayette and her family took their seats, she focused on King. "He was enjoying the choir's singing, but his expression was contemplative," she said. "It was as if he was reflecting on something. He just looked different."
Her girls were fascinated by King and, after he was assassinated, she faced their unanswerable question. "It was like you get the news that a relative had died," she said. "And you ask why."
DeCayette tried to explain King's work. Later, her daughters thanked their parents for taking them to church that day. "As they matured and read," she said, "they understood more of the impact he had."
Clouds of despair are floating in so many of our mental skies. . . .
When Bennie Reams showed up for the King service at Holman, an usher would not let her in. The church was full. But Reams seized an opportunity while the usher wasn't looking.
"He raised his arm and I slipped under and hurried down the aisle and sat next to a friend," she recalled. "He didn't know which way I went."
Reams said she had never seen the church so crowded -- it seats 800 -- and so quiet. Then she saw King.
"Having heard his voice on radio and television, I was looking for a tall man," she said. "He wasn't that big at all."
And then he spoke.
"He was an orator, the type of speaker who makes you think," she said.
Reams, an educational psychologist, grew up in Memphis, Tenn., and was familiar with the neighborhood surrounding the Lorraine Motel where King was felled by a sniper's bullet. That April 4 she called her mother back home to get more news, but she couldn't get through.
"My tears were falling," she said. "I couldn't believe it. I kept saying, 'Just three weeks ago he was here with us.' "
Hope is not desire. . . . You may desire money, but you hope for peace. You may desire sex, but you hope for freedom. You may desire beautiful clothes, but you hope for the ringing of justice. You see, desire has an "I" quality, but hope has a "we" quality.
During this chapter in his life, King was fighting the perception in some quarters that he was "over the hill," said historian Taylor Branch, best known for his trilogy chronicling the life of King.
"The world was consumed with the Vietnam War and black power, and he was trying to stick with nonviolence and apply it to problems of poverty," he said. Although some doubted King, his charisma was undiminished.
As an usher, Willie Davis knew his job was to seat people and to offer his assistance, but he couldn't help but glance at the special guest that Sunday.
"The man looked right at me," said Davis, a retired mechanical engineer. "He spoke for 45 minutes or so. I felt he was speaking to me, talking directly to me. He smiled, he grinned, such a beautiful smile he had."
The next month, his thrill turned to tears.
"I called my wife and asked, 'Did you hear the news?' " he said.
At first Delma Davis didn't understand what had happened that day.
"On the bus home, I could see everyone was crying, upset," she recalled. "I got in my car, heard the news and I had to pull over. I had wanted to march alongside him. He had a glow. I had tears in my eyes. I just loved him."
Years later, Davis and his wife went to the King Center in Atlanta.
"We visited his grave site; we saw his clothing and his shoes," he said. "We walked into his church and we went to church. I felt like I knew this man. I didn't know him personally, but I knew him."
For church member Cliff Cannon, who also heard King's sermon, more lasting -- and troubling -- are the questions that linger to this day.
"I've thought about conspiracies," Cannon said. "I still feel there was more than the public knows about. It's hard to fathom. I'm still saddened by it."
I've seen people who have lost hope. They wander through life, but somehow they never live life . . . they merely exist.
In his sermon, King called the war in Vietnam unjust and evil and wondered why leaders couldn't admit that they had just made an error. King praised then-pastor Laneau L. White, who nurtured Holman into one of the most influential black churches in Los Angeles during the post-World War II era.
King reminded the audience that they still faced "some difficult and turbulent days ahead."
While he was in Los Angeles, King was contacted by the Rev. James Lawson, who urged him to fly to Memphis, where garbage workers were protesting low wages and poor working conditions after two workers were accidentally killed in a trash compactor. That Monday, March 18, King flew to Memphis and delivered a speech to more than 15,000 people.
"He was the Moses of our movement, the major spokesperson and symbol for black people and lots of people around the world," said Lawson, who chaired the strike committee and later was pastor at Holman for 25 years before retiring and teaching nonviolence.
I have seen hate, and all the time I see it, I say to myself hate is too great a burden to bear. I don't want to be like that. . . . But it is only through love that we have hope kept alive. But not only that, hope is based on faith that life has ultimate meaning.
From her seat in the choir, Sibyl Howard-Cade had no difficulty seeing King.
"There was a radiance about him," said Howard-Cade, who still sings in the 75-member choir. "God was telling me that, yes, he is a man of God. He is one of my children. I could feel it."
King turned and complimented the singing.
"We were very honored and we offered our best," she said. "It was not just for him. We were offering our best to God."
Another choir member, Robert Holeman, a medical technician, pulled out his old fold-out Crown Graphic press camera and snapped a few pictures of King in the pulpit.
"It was an excellent shot, perfect, a good impression," he recalled.
Holeman said he could feel the importance of the moment. "You'd never dream that three weeks later he would be dead," he said.
Holeman's photograph of King was reprinted on a postcard a few years ago and distributed to church members. The photograph, and the recently discovered recordings, have brought back the power of King's sermon.
"King could be preaching that sermon today," said Masters, the senior pastor. "It's just as relevant."
At Sunday's services, Masters said, he plans to play a 10-minute portion of the sermon.
Once more King's voice will ring out in Holman United Methodist Church.
The 11 a.m. service, which will include excerpts from King's sermon, will be broadcast on KJLH-FM (102.3).
The stories shaping California
Get up to speed with our Essential California newsletter, sent six days a week.
You may occasionally receive promotional content from the Los Angeles Times.