L.A. Fire Department to resume sharing details on emergency responses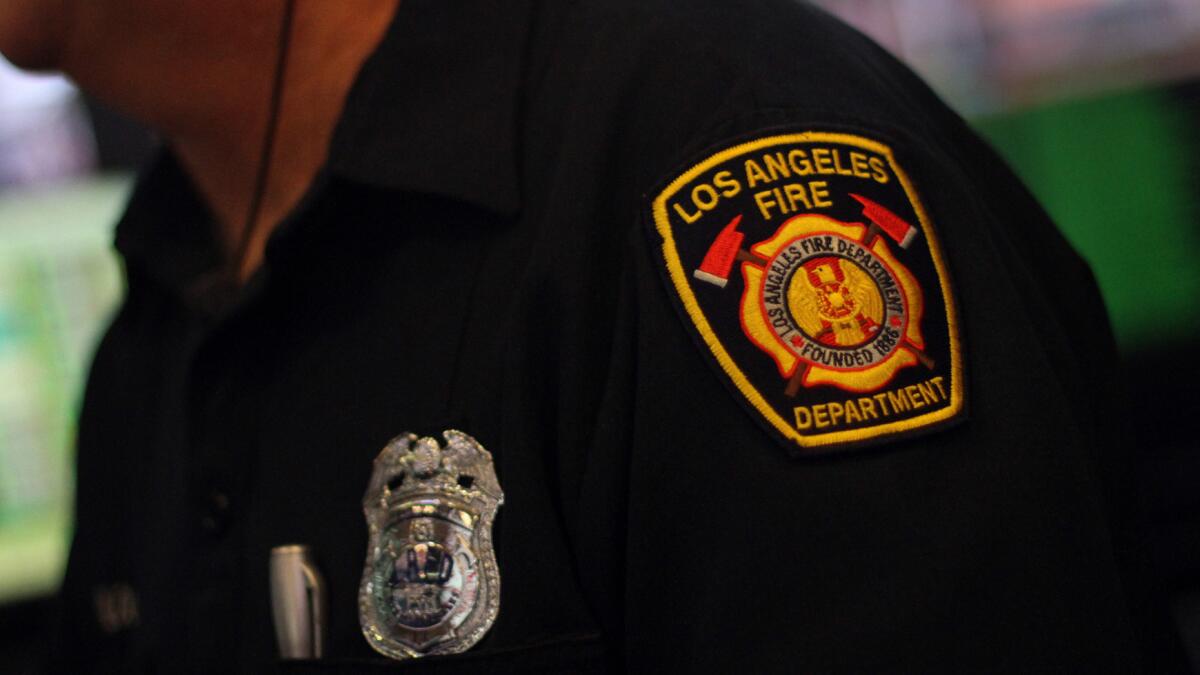 Only hours after halting the Los Angeles Fire Department's public information Twitter feed, city officials reversed course Thursday and announced they would resume publishing details about the department's response to life-and-death emergencies via social media and again release 911 audio recordings and database records that capture its performance.
Earlier in the day, fire officials messaged that they were putting the department's social media accounts on "hiatus" and no longer releasing records that show how rescuers respond to calls for help.
Fire officials did so citing a new interpretation of a 1996 federal healthcare privacy law by assistants to City Atty. Mike Feuer, who said the department should shield the release of all information related to medical rescues, including how long it took rescuers to reach the scene.
That move drew quick criticism from Mayor Eric Garcetti, and the decision was reversed.
"There was maybe a meeting of the minds in the city attorney's office," said Battalion Chief Stephen Ruda, the department's spokesman. "The bottom line is that we are able to give out everything again. The Twitter and blogs are back online."
Garcetti, an avid Twitter user who came into office this year promising greater openness in city government, said both he and interim Fire Chief James Featherstone learned about the department's rollback from the media.
"Frankly, it's ridiculous," a Garcetti spokesman said in a written statement. "We immediately told the department to fix this, and it's being fixed. The Twitter account is going back online, and they're going to be giving out the information they're supposed to be giving out."
A spokesman for Feuer, also an elected official, said the city attorney was unaware of the LAFD's "blackout" until the media brought it to his attention and said that releasing as much information as legally possible is "the right thing to do."
Asst. Chief Ronnie Villanueva, the department's chief of staff, said its blog, Facebook page and Twitter account — which boasts more than 34,000 followers — would soon resume publishing details from a small number of emergency responses selected by an officer each day.
Villanueva said that he was not consulted before the shutdown and there may have been some misunderstanding among fire officials and city lawyers. "I don't know how it got to this point," he said, adding that he was looking into the matter.
Villanueva said the federal healthcare privacy law prevents the department from providing personal medical details. "But it doesn't mean we don't give anything out" regarding medical emergencies, he said.
Peter Scheer, head of the First Amendment Coalition and an advocate for greater public access to government records, agreed.
"There's no reason they can't provide the records in the vast majority of cases and redact the names of people who might be receiving medical care or identifying information about them," Scheer said. "To deny this access across the board, even to redact records based on the federal law, is not a reasonable interpretation of that law."
Many of the department's fire and law enforcement peers, including the Los Angeles County Fire Department, routinely release 911 recordings and report how long it takes rescuers to arrive at the scene of an emergency.
Thursday's turnabout marked the second time in two years that someone at the LAFD moved to restrict access to public records, only to be overruled by the city's elected leaders.
Last year, after fire officials admitted misstating statistics on response times to 911 calls, The Times requested a copy of the database that logs when and where firefighters were deployed in millions of responses.
After that request, fire officials temporarily rolled back access to the records in the same manner — only to reverse course after scathing criticism from then-Mayor Antonio Villaraigosa.
A subsequent analysis of the data by The Times discovered delays in processing 911 calls and summoning the nearest medical rescuers from other jurisdictions, as well as wide gaps in response times in different parts of the city. Findings were later confirmed by city auditors and an independent task force charged with fixing the department's data.
Sign up for Essential California for news, features and recommendations from the L.A. Times and beyond in your inbox six days a week.
You may occasionally receive promotional content from the Los Angeles Times.