Serenade in the key of glee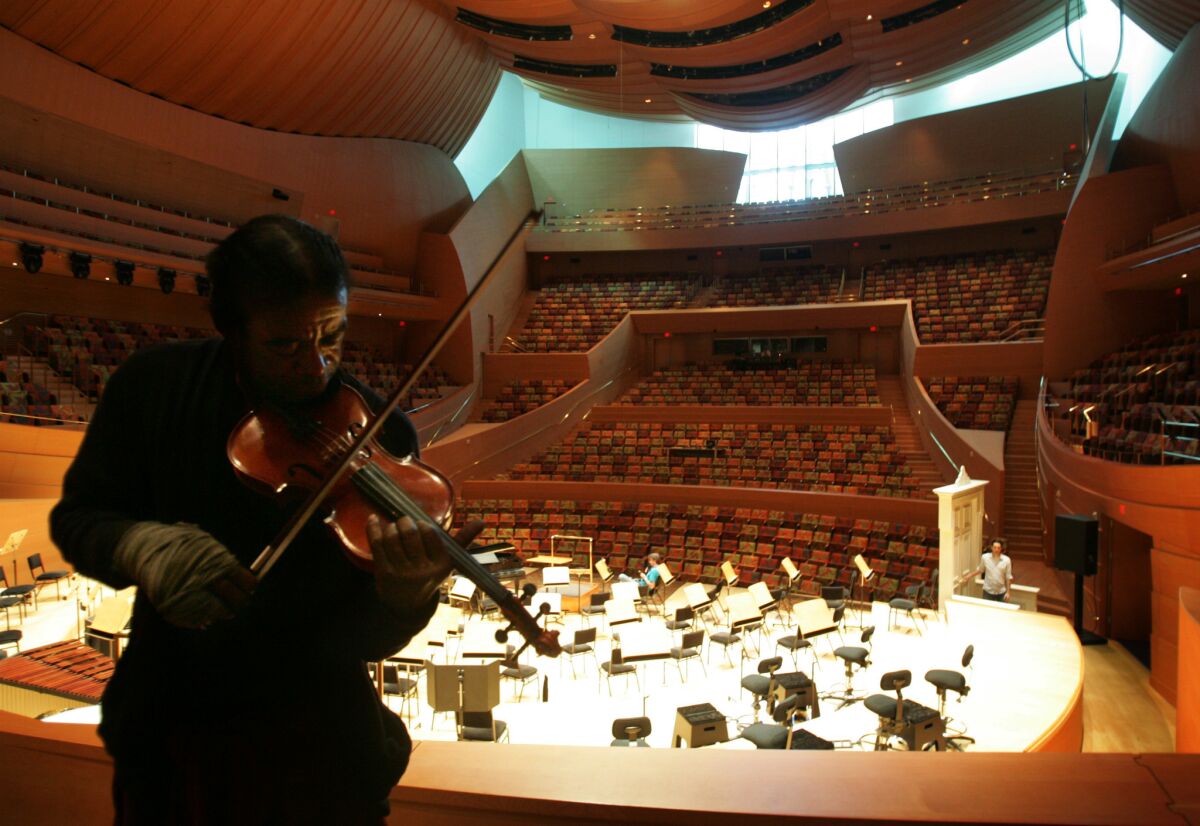 He was so eager to make the trip, he called several times to make sure it hadn't been canceled.
"Mr. Lopez, is the pickup still at 9 a.m?"
"Yes, Mr. Ayers. I'll see you in the morning."
When I pulled up, he was standing on the sidewalk playing a skid row reveille on his trumpet. He had a small overnight bag and five more instruments -- cello, violin, French horn, clarinet and flute, meaning he had made the difficult decision to leave several other instruments home.
We stowed the gear in the station wagon and caught Interstate 5 for the long haul north. My friend Nathaniel Anthony Ayers, who had never been to San Francisco, was scheduled to be honored by the National Alliance on Mental Illness. Flying was out of the question because he has no photo ID.
I've never looked forward to that monotonous stretch of I-5, but for better or worse, Mr. Ayers was likely to liven things up. Sometimes he can get a tad claustrophobic or edgy, and being trapped in a car for six hours might take its toll.
In other words, I had no idea what to expect. But nothing soothes Mr. Ayers' soul like music, so I tuned the radio to classical KUSC-FM as we left Los Angeles. Mr. Ayers sat in wonder, squinting as if searching for a way to describe Chopin's Piano Concerto No. 1, Opus 11.
"That's the sound of a child's heart," he said. He listened a little longer and added, "That's what God looks like."
Up and over the Tejon Pass we cruised, Mr. Ayers marveling at the majesty of open spaces. As we descended the Grapevine and hit the floor of the great valley, he was reminded of Texas, Colorado and his home state of Ohio. The turnoff for the little farm town of Arvin streaked by, and he said he wouldn't mind living in the area. "It's nice and clean here," he said. "You get back to skid row and it's filled with debris."
We passed fields of corn and big rigs carrying mounds of tomatoes, and the open road ahead disappeared into the horizon. Mr. Ayers, as I had long known, is the world's worst back-seat driver. He's a white-knuckler, bolting forward frequently to brace himself against the dash.
"Mr. Lopez, we're going to be killed," he said as a lumbering truck pulled in front of us.
I plugged in a CD to calm his nerves. Tchaikovsky's "Serenade for Strings." Mr. Ayers, who studied at Juilliard before his dreams came unraveled, once told me he practiced that piece while standing in the window of his New York City apartment, watching the falling snow. As he listened now, he recalled his first romance in Cleveland.
"Donna," he said with a sigh. "My heart was messed up for a long time. Somebody else got her."
We stopped for gas and food near Buttonwillow. When I came out of the restroom, Mr. Ayers was playing French horn in the parking lot, wearing a military jacket and a red Kangol cap with "Obama" on it. This drew a few curious glances from ampm mini-mart customers.
I piled back in, a smile on my face, and Mr. Ayers blew his horn for the next 50 miles from the cramped quarters of the passenger seat, the window down and the warm valley air pouring through the car. With soft, mellifluous bursts from Mr. Ayers, the Central Valley had a classical soundtrack now, and the long dusty drive wasn't so monotonous.
When he finally rested his lungs, I put on Jacqueline du Pre, Mr. Ayers' favorite cellist.
"That is really, really soulful playing," he said of the striking blond musician who died at 42. "Do you see what she's saying? It's a recitation of Shakespeare."
As Du Pre worked her way through the Bach unaccompanied cello suites, Mr. Ayers gazed upon the rolling terrain and remarked, "The grass is the color of her hair."
Just after 3 p.m, San Francisco Bay came into view, the landscape as surreal as ever, and Mr. Ayers was dazzled by the sight of Alcatraz and the Golden Gate Bridge. We crossed the bay and were met in the lobby of the Hilton Towers by his sister, Jennifer, who has built a foundation in Mr. Ayers' name. But there was little time for Mr. Ayers to catch up with her.
It was as if a rock star had arrived, and Mr. Ayers was mobbed by admirers who were attending NAMI's annual convention.
NAMI is a national organization dedicated to improving the lives of those affected by mental illness. Though Mr. Ayers has many challenges ahead, the story of his long journey -- from psychiatric hospitals to the streets to supportive housing at Lamp Community -- has given hope to many. They wanted to thank him, hug him, pose for pictures and get his autograph, and Mr. Ayers was all too happy to oblige.
That evening, he performed on cello and violin for a crowd of several hundred. I've never seen Mr. Ayers happier than he was when a roar broke out as he was given an award for his courage and spirit, and for sharing a story that has helped decrease the stigma.
When the celebration was done, Mr. Ayers linked up with a young pianist named Will, who has a story similar to his own.
They adjourned to the lobby of the Hilton Towers and jammed into the wee hours. The lights of San Francisco twinkled through the windows behind them as the musicians found a way past the labels, limitations and isolation they've known, rescued once again by the music.
On the ride back home, Mr. Ayers switched to trumpet and blew hard enough to be heard by the cows at Harris Ranch. He thought aloud about moving to San Francisco but then said he'd miss Los Angeles, and besides, there were so many homeless people in the Tenderloin district.
"It's depressing," he said, as if the illusion of a magical place, without pain or suffering, had been shattered.
We were about to climb the Grapevine when Mr. Ayers began dreaming about recording a CD.
We decided that if it happens, he should do nine cuts and play a different instrument on each one, like a baseball player who fields a different position every inning of a game.
The CD would be called "Putting on Ayers," we decided, and before we knew it, we were home.
---
The stories shaping California
Get up to speed with our Essential California newsletter, sent six days a week.
You may occasionally receive promotional content from the Los Angeles Times.