L.A. mayor, reporter end their affair, sources say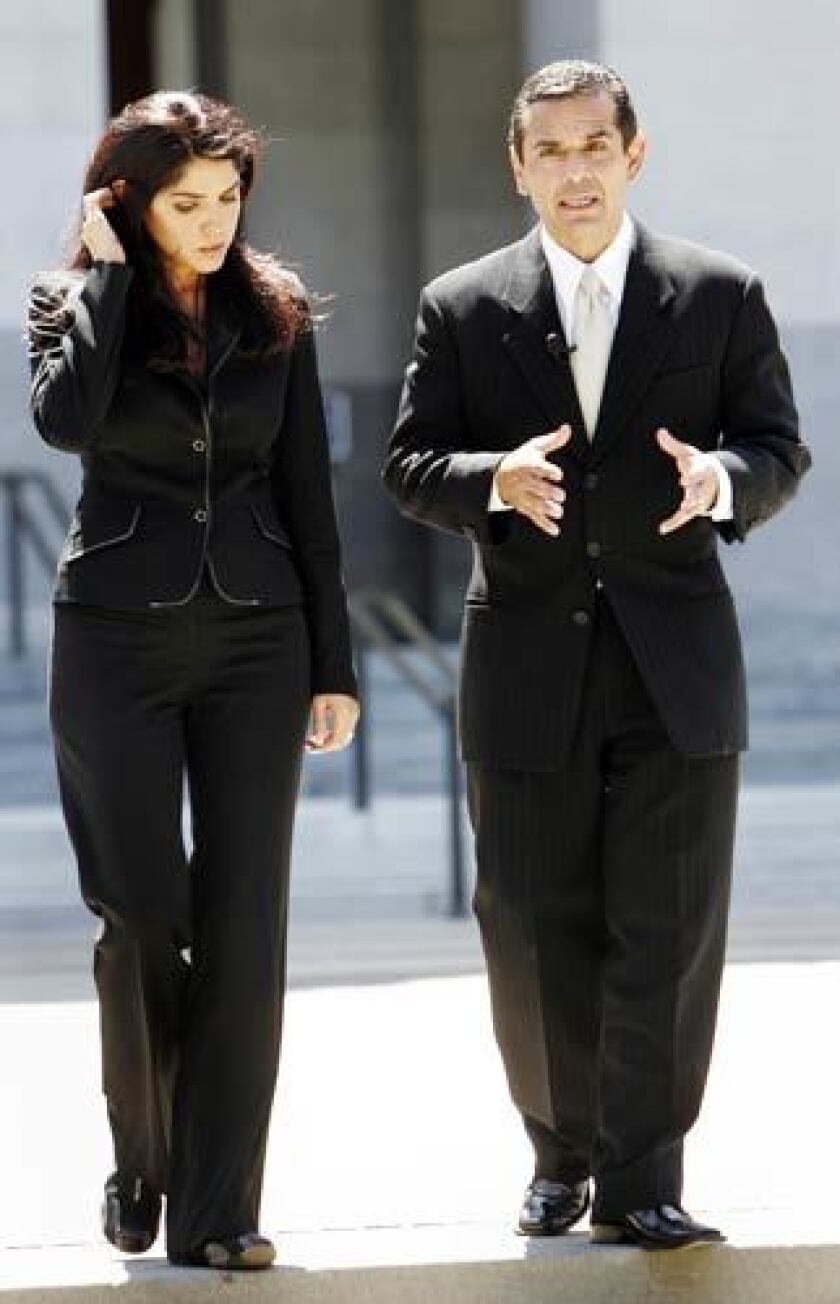 During the course of a television interview on June 19, 2006, Villaraigosa walks with Salinas outside the state Capitol.
(Robert Durell / LAT)
Mirthala Salinas, a Telemundo newswoman, interviews L.A. Mayor Antonio Villaraigosa at the state Capitol on June 21, 2006. Villaraigosa acknowledged he had "a relationship" with Salinas.
(Robert Durell / LAT)
Telemundo 52 reporter Mirthala Salinas, top left in red, at a news conference by Villaraigosa outside Gov. Schwarzenegger's office in Sacramento on June 20, 2006, when the mayor was stumping for a bill that would give him more control over the L.A. Unified School District.
(Robert Durell / LAT)
Villaraigosa and Salinas wait out a pause in filming on the north steps of the state Capitol. Salinas was a news anchor on Telemundo 52.
(Robert Durell / LAT)
A Telemundo 52 cameraman photographs Villaraigosa and Salinas outside the state Capitol.
(Robert Durell / LAT)
Villaraigosa with his wife, Corina, during a prayer service at the Cathedral of Our Lady of the Angels just before he was sworn in as mayor on July 1, 2005.
(Al Seib / LAT)
Mayor Antonio Villaraigosa arrives for a news conference about his relationship with Telemundo newscaster Mirthala Salinas. He was at the Dorothy Chandler Pavilion to attend the swearing-in ceremony for the Los Angeles school board.
(Annie Wells / LAT)
Mayor Antonio Villaraigosa tells reporters, "I have a relationship with Ms. (Mirthala) Salinas, and I take full responsibility for my actions." Salinas was an evening anchor for Telemundo, Channel 52.
(Annie Wells / LAT)
Mayor Antonio Villaraigosa's admission that he has a relationship with TV anchor Mirthala Salinas came less than a month after he announced his separation from his wife of two decades, Corina Villaraigosa. She filed for divorce the next day.
(Annie Wells / LAT)
Los Angeles Times Staff Writer
Mayor Antonio Villaraigosa and television news reporter Mirthala Salinas have ended their romantic relationship, two sources familiar with the situation said Friday.
Months after revelations about the affair damaged the mayor's political standing and devastated Salinas' broadcasting career, the two sources said the relationship disintegrated weeks ago.
"They broke up earlier in the fall. They've both moved on. And Antonio is focused on his relationships with his kids," said one person who said he learned about the breakup in October.
The other source -- who described himself as a longtime friend of Villaraigosa's -- said the relationship ended two or possibly three months ago.
"I think it was a tough summer. I think it was hard on his family. And I think he's trying hard to get past everything that was that summer," the friend said.
Both sources spoke on the condition of anonymity, saying they were not authorized to discuss the matter.
Salinas did not respond to requests for comment. Lisa Cohen, who briefly served as a spokeswoman for the anchor last summer, said earlier this week that she no longer represents the former Telemundo employee.
Deputy Mayor Sean Clegg said Friday that the mayor has already "fully addressed" the issues surrounding the end of his marriage.
Villaraigosa and his wife, Corina Villaraigosa, separated in June, weeks before he confirmed that he was romantically involved with Salinas. From the moment it became public, the affair between the mayor and the rising media star had a largely harmful effect on both parties.
Villaraigosa, whose handling of education reform, immigration and public safety were subjects of Salinas' reporting, was dogged by questions about whether his extramarital relationship had distracted him from his policy duties -- and whether he had provided any inside information to the reporter.
Salinas was one of a handful of employees at Telemundo who were disciplined because of the affair.
A rising star in Spanish-language television news, Salinas read on the air the news of Villaraigosa's marital breakup on June 8 without disclosing that she had been romantically involved with the mayor for several months.
Salinas received a two-month suspension for her handling of the situation.
At the end of that suspension, she was reassigned from her post as temporary anchor to a Telemundo bureau in Riverside County.
Instead of returning to her job, she quit.
Asked in September why Salinas didn't show up for work, Villaraigosa said at the time: "I don't have any knowledge about that. I just couldn't tell you anything. I wouldn't have any information."
Revelations about the affair damaged the mayor's credibility in the eyes of some voters, particularly women, said Jaime Regalado, who heads the Edmund G. "Pat" Brown Institute of Public Affairs at Cal State Los Angeles.
With several of his news conferences dominated by questions about the affair, the mayor kept a relatively low profile for two months, staying out of the spotlight as the state Legislature raided $336 million in transportation funds from the Metropolitan Transportation Authority, Regalado said.
"I think he was hurt by it politically. I don't think there's any question about that," he said.
The affair even raised questions about the mayor's name. "Villaraigosa" is a merger of his name, Antonio Villar, and his wife's maiden name, Corina Raigosa. Although the mayor's wife filed divorce papers in June, Villaraigosa said he would not change his name back.
Villaraigosa has sought to regain his political footing since Labor Day, introducing into his speeches the notion that he has made mistakes but will continue to work hard for the city. That theme was echoed, to some degree, in an e-mail sent Friday by his top spokesman.
"The mayor has repeatedly expressed his profound regret and apologized," wrote Clegg, the deputy mayor.
"He is focused on doing the job people hired him to do: leading the city forward on the tough issues of public safety, traffic and school reform."
Despite all the publicity the relationship garnered, Villaraigosa and Salinas were rarely seen in public once the affair was known. Most prominently, they were caught on video in August shopping for shoes together at a mall -- images that were broadcast on the celebrity gossip website TMZ.com.
In the video, the mayor greeted the shopper who taped him using his camera phone. Salinas moved out of the way to avoid being seen.
Times staff writer Steve Hymon contributed to this report.
---
The perils of parenting through a pandemic
What's going on with school? What do kids need? Get 8 to 3, a newsletter dedicated to the questions that keep California families up at night.
You may occasionally receive promotional content from the Los Angeles Times.