Army Sgt. Raul Moncada, 29, Madera; killed by roadside bomb near Baghdad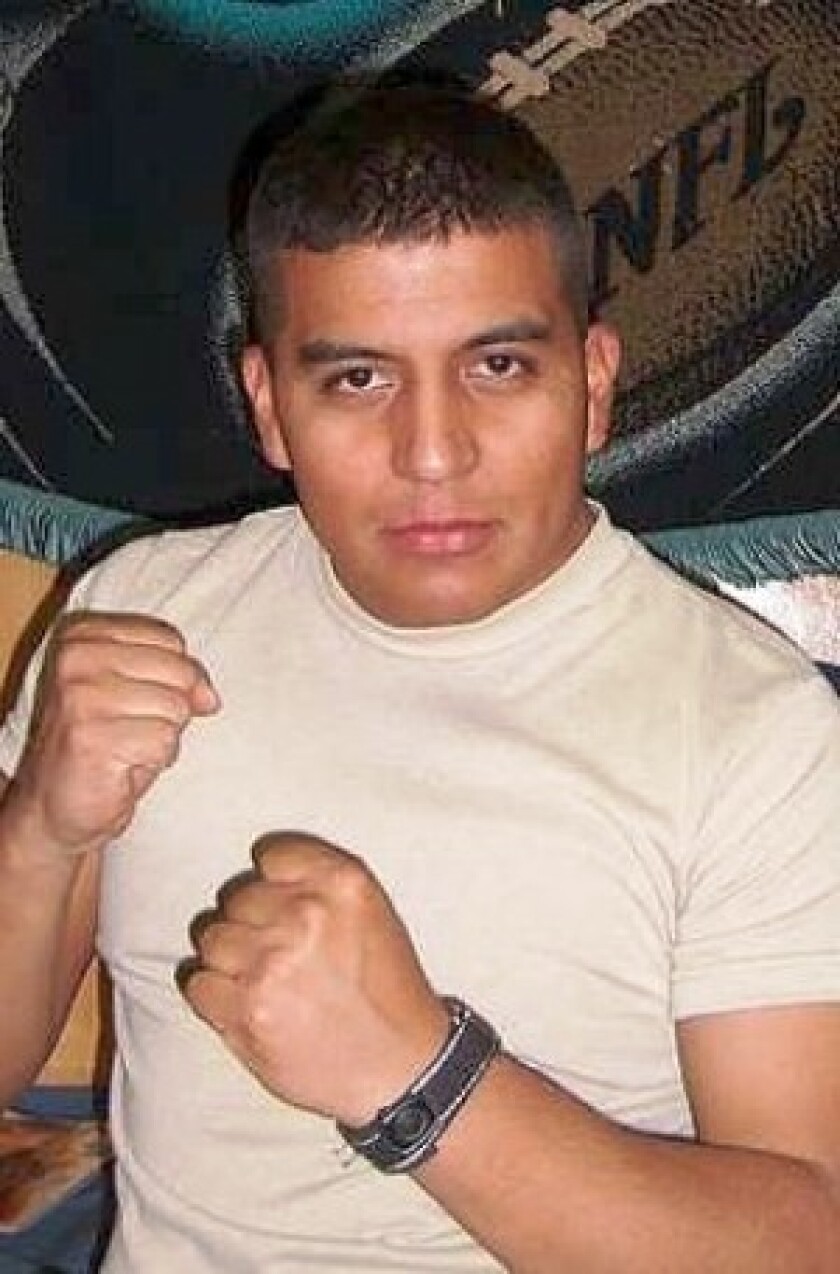 Reminders of his death fill the house: yellow ribbons, wilting flowers, sympathy cards and an American flag, neatly creased into 13 triangular folds.
Still, Obdulia Moncada waits for her son to call. For him to show up at the front door any minute with his dimpled smile.
She expects this most every Monday afternoon, the day and time that Army officials appeared on her doorstep to tell her that her third oldest, 29-year-old Raul Moncada, was dead.
A sergeant, Moncada was killed April 13 when a roadside bomb exploded near his vehicle near Baghdad. He was assigned to the 563rd Military Police Company, 91st Military Police Battalion, 10th Sustainment Brigade, 10th Mountain Division (Light Infantry) at Ft. Drum, N.Y.
A graduate of in California's Central Valley, Madera High School he was on his second tour of duty in Iraq.
After a 10-year military career, he had planned to return in July to Madera, where he hoped to buy a home and settle down with his girlfriend, Tina, who is due to give birth that month to a daughter to be named Mia, his family said. Another daughter, Priscila, 6, from a previous relationship, lives with her mother in the Bay Area.
"I feel that he is not dead," Obdulia Moncada said, choking back tears as she spoke by phone from her Madera home. "That he is here and I can say, 'Look my love, look at all the beautiful flowers they brought us. Look how much they love you.' "
Raul Moncada's death brought together Madera, a small, agricultural town north of Fresno where Moncada's family moved in the late 1990s.
For weeks, well-wishers, most of them strangers, have flooded the Moncadas' home with food, cards, money and hugs. Condolences arrived from New York, where his girlfriend lives and he was stationed, and from such places as Florida, Massachusetts and Ohio.
The bashful boy with big brown eyes, who was so quiet that his mother would sometimes forget to feed him, grew up to enroll in the Marines at age 17, less than a week after graduating from high school. His mother said she opposed the idea but relented after seeing his determination.
Moncada served in the Marines for six years, then took a one-year break, later returning to enroll in the Army's military police program. His job was to train the Iraqi police.
Though far away, he continued to support his family in every way, said his sister, Miriam Moncada, 25.
"You could talk to him about anything," she said. "Money, advice. It didn't matter. He was always generous."
Growing up in a family of four brothers and three sisters, Raul Moncada was known as the peacekeeper. He also was a bit of a neat freak who would help his sisters clean the family's four-bedroom home and sometimes bought toys only to decide to keep them sealed to avoid damage. He was a fan of the Seattle Mariners and had a vast collection of Teenage Mutant Ninja Turtles, family members said.
No one is certain what drove Moncada to join the military, but once he did, his presence was felt by many.
Sgt. Emmanuel Becerra, 26, was just starting out in 2001 as a rookie Marine reservist when he met Moncada. Instantly, the corporal stood out from the rest, he said. Moncada stayed after class, patiently teaching beginners how to operate the radios, and often offering them rides and trying to help with personal problems.
"He taught me how to be a better Marine," Becerra said. "There are some leaders who you just can't approach, but he was nothing like that."
While rummaging through her things recently, Moncada's mother found an old Christmas card from her son. Inside, a simple message: Mom, I hope you're proud of me.
"That's one thing I never told him," she said. " 'I'm proud.' It saddens me when I think about it, because I want to say, 'Raulito, my son, you have no idea how proud I am of you.' "
---
The stories shaping California
Get up to speed with our Essential California newsletter, sent six days a week.
You may occasionally receive promotional content from the Los Angeles Times.