New Pomona mayor faces a city in turmoil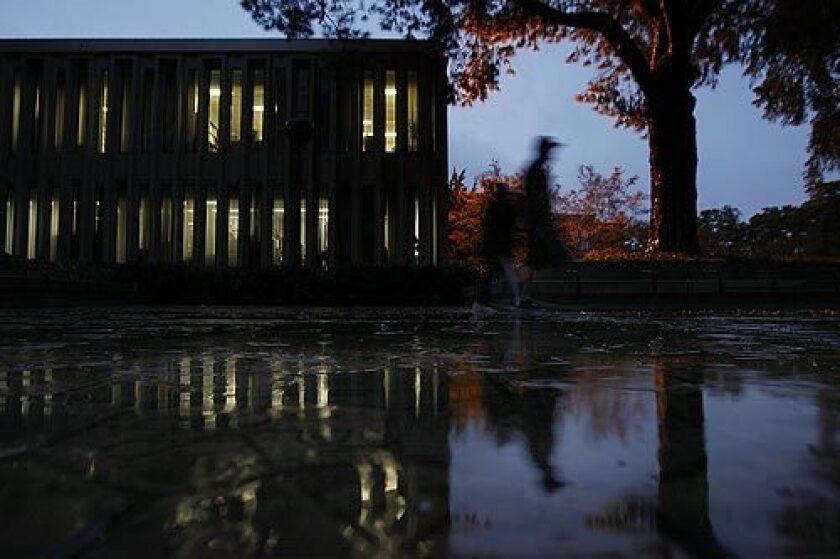 Elliott Rothman, Pomona's new mayor, stepped into City Hall on Monday and shook off the dreary night. He had a round face and a comb-over, and his expression was no less dour after he took off his overcoat, revealing a tie decorated with an image of Frosty the Snowman.
Pomona, a city of 170,000 or so, was fresh from a messy election. Rothman had finished first among eight candidates. But with so many in the race, he had won with a third of the vote, hardly a resounding victory.
At 7:04 p.m., he pounded a gavel to open his first City Council meeting.
His honeymoon lasted 14 minutes.
At 7:18, the first speaker tore into Rothman and three of his allies on the council, accusing them of orchestrating the removal of Police Chief Joe Romero, a 33-year veteran. A few minutes later came the first suggestion of revolt.
"You have taken out the heart of this community," scolded Virginia Madrigal, 62, a retired educator. "Don't get yourself too warm in your seat."
Next came Milo Rodich, 73, who stepped to the microphone and rattled off his phone number. Call him to join a "massive recall," he said. "Let's give them a hell of a battle!" he shouted, and stormed out to applause, as Rothman looked on in silence.
It's been a tempestuous year here, even by the standards of a town where politics long ago degenerated into a contact sport.
It was a year of economic decay and ethnic tension. A year when hundreds marched on City Hall and a member of the City Council compared the actions of her own police department to those of the Gestapo. A year when things got so twisted that civic boosters and business leaders held a vigil to encourage the city -- not a wealthy place -- to return government grant money earmarked for drunk-driving patrols.
It has become evident that a little thing like an election is not going to chart a new course. A significant number of people seem to have determined that something stinks in Pomona, and they don't plan to back down.
A Pennsylvania native, Rodich was recruited 30 years ago to become executive director of the local United Way. "I thought I'd died and gone to heaven," he said. The city was half the size it is today but was bustling, the commercial heart of the San Gabriel Valley. The schools were good, the streets clean.
Time, however, has not been kind.
The city was poorly planned, Rodich said, and was built out with houses by the time the boom got underway in the nearby Inland Empire. Large retailers, so crucial in providing sales tax to cities, leapfrogged Pomona and landed in nearby Ontario, Chino Hills and beyond. Much of the commerce Pomona did have -- Buffums department store, the Orange Belt Emporium -- faded away.
All was not lost; the city was home to Cal Poly Pomona and the Los Angeles County Fairgrounds, as well as charming blocks of bungalows and historic mansions. Still, Rodich said, "there was very little to offer a young family."
Over the years, crime soared and more than a dozen gangs took root. Per capita income and retail sales figures have often been half the state average.
Into this mix came Romero, sworn in as police chief in 2006. Romero was raised here and seemed to be a born cop; he was an Explorer at 14 and the first Latino captain in the department before he became chief.
His first week, he went undercover and participated in drug stings -- a way to send a message to the troops that he was still a crime fighter. He was active in the community, attending neighborhood watch events and reaching out to Pomona's restless youth through camp-outs and video podcasts.
There are still regular, startling episodes of violence; two years ago, a child was killed in a drive-by shooting at his family's house, the night before his fourth birthday.
Still, there have been notable arrests and gang sweeps under Romero's watch. Other changes were afoot, too, including a push for downtown revitalization. Romero, along with a new school superintendent, new city manager and new City Council members, was seen as a fresh start in Pomona.
Romero, however, had also helped oversee the most aggressive and controversial of the department's tactics: the widespread use of traffic checkpoints.
Some roadblocks had grown so large they had effectively shut down pockets of town. Residents complained of rude, heavy-handed officers. Nearby businesses said they were losing money.
Critics pointed out that few of the operations were carried out in moneyed neighborhoods. Most, they said, were conducted in poor Latino areas. And though the department said it was hunting for drunk drivers, few were caught.
The department was, however, nabbing people driving without licenses, including legal and illegal immigrants. They impounded scores of cars.
One man, a laborer, tearfully told city officials that he'd been ruined by impound fees and that his children had been forced to choose between school field trips and eating three meals a day.
Perhaps, critics suggested, the department should concentrate its limited resources on violent crime -- on Pomona's numerous unsolved murders, for instance.
"We're not telling them not to do their jobs," said Arturo Jimenez, 42, a college administrator and leader of Pomona Habla/Pomona Speaks, a coalition of civic groups. "We're telling them to do their jobs in a way that people feel they are being protected, not in a way that makes people live in fear."
On May 3, a Saturday, the department launched an operation timed to coincide with Cinco de Mayo that has become known as "the granddaddy of all checkpoints." Traffic was stopped in every direction at the downtown intersection of Mission Boulevard and San Antonio Avenue.
"It looked unreal, like a scene from a movie," said City Councilwoman Cristina Carrizosa, who decried what she called the department's "Gestapo" tactics. "There were motorcycles, helicopters, patrol cars." She counted 17 tow trucks waiting to impound cars, and said people whose vehicles already had been seized were seen carrying babies in car seats away from the scene.
After that, Jimenez said, distrust between police and working-class Latinos became "palpable." Hundreds marched on City Hall. At one community forum, off-duty officers were essentially chased out as protesters shouted "Justicia! Justicia!"
Then, shortly before the November election, the department's traffic-enforcement efforts snared a big fish: City Councilman Elliott Rothman, then running for mayor. Rothman was arrested after he failed a sobriety test during a routine traffic stop.
The soon-to-be mayor and the chief had been bickering. Five days before the arrest, the chief protested when Rothman included him on campaign literature without permission. Romero said he was not endorsing any mayoral candidate -- but added pointedly that he was "particularly" not endorsing Rothman.
It turned out Rothman was not legally drunk, and the charges were dropped. (Rothman said he did not have time to speak with a reporter at Monday's meeting; he could not be reached after that.)
On Dec. 9, Romero found out he was done as police chief.
City Manager Linda Lowry, who delivered the news to the chief, declined to comment. The mayor and City Atty. Arnold M. Alvarez-Glasman insisted during Monday's meeting that Romero had retired voluntarily, prompting catcalls from the audience.
"We know why he retired!" Madrigal shouted. "You knocked him down. You threw him out. You did everything you could to tear him down."
The chief has made it clear that he had intended to stay on until 2011 and retire during the department's 100th anniversary celebration.
The way Rodich sees it, the chief was pushed out by a conspiracy: a marriage of convenience between a new mayor with a grudge and a coalition of City Council members who were intent on punishing Romero for the checkpoints.
"They weren't able to control the chief," Rodich said. "So they cut a deal."
In effect, he argued, those who say police should not be allowed to enforce the law -- those who wish to prohibit police from using checkpoints -- have won.
"For them to be championing illegal activities is un-American," he said. "People are going to rebel."
Gold is a Times staff writer.
latimes.com /outthere Tensions over ex-police chief Additional photographs from Pomona, as well as a discussion board accompanying this article, can be found online. At latimes.com/outthere, readers can also find the archives of Out There, Scott Gold's series of weekly postcards from across Southern California, as well as photo galleries, video documentaries and more. In coming weeks, look for new installments from Koreatown, Long Beach and Elysian Park.
---
The stories shaping California
Get up to speed with our Essential California newsletter, sent six days a week.
You may occasionally receive promotional content from the Los Angeles Times.