Tenant-owner discord where the 'Latin Lover' is mythologized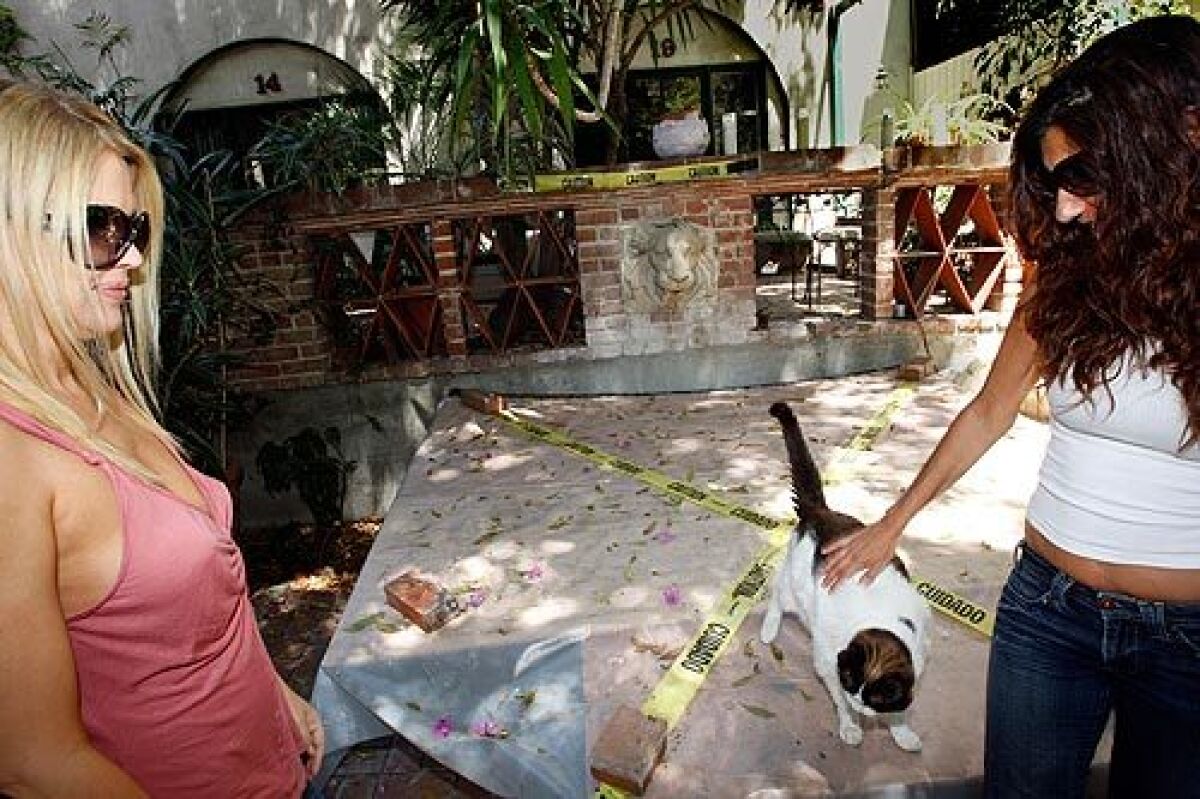 There's always been a bit of mythology behind the gates of the place they call Villa Valentino.
The 18 cozy apartments tucked between the Hollywood Bowl and Hollywood Boulevard are said to have been where silent screen star Rudolph Valentino sneaked away for romantic trysts -- never mind that the legendary "Latin Lover" was already dead by the time the dwellings were finished 80 years ago.
The graceful courtyard building is also where residents were told to pack up and flee because the place might blow up from leaking gas -- a claim the city says is untrue.
Those living at 2000 N. Highland Ave. assert that the supposed "emergency evacuation" was a ploy by the building's new owners to get them out so that the designated city historic-cultural monument can be converted into a boutique hotel.
Their refusal to leave has led to a seven-month standoff between tenants and the owners, who purchased the building for just under $5 million in November.
Designed by outdoor-living advocates Francis Pierpont Davis and his brother Walter Davis, the Italianate apartments are grouped around courtyards overflowing with jacaranda, citrus and palm trees, and jasmine and bougainvillea vines. Each apartment has a different look.
"The building is a special jewel, a virtual cinematographicstage set without equal or precedent," wrote Stephanos Polyzoides, coauthor of the 1996 book "Courtyard Housing in Los Angeles."
Regina Johnson, a writer and producer who has lived there a dozen years, agreed. "It's the middle of the city, but it feels like being in the country. Once you step inside, it's like in another world. It has such personality. It is romantic."
But that romance started fading one Friday evening in December when new owner Rebecca Richards hastily summoned tenants to a meeting and announced that the property was plagued by leaky gas lines, electrical shorts and carbon monoxide buildup. Tenants' lives were at risk, she said.
Residents, who taped the meeting, were told that the gas company and city officials would visit the following Monday to red-tag the whole place. Richards said she had found alternative housing for tenants and arranged for moving vans to arrive Sunday.
Because city offices were closed for the weekend, tenants were unable to confirm with officials that Villa Valentino had in fact been deemed uninhabitable, said Janet Eisner, a commercial and music video agent who has lived there four years.
Joann Maytas, a 16-year resident, said one tenant called the gas company "and was told the company had no reason to shut down the gas" other than that it had been told tenants were moving out.
By moving time Sunday, Villa Valentino residents had decided to stay put. They placed signs in their windows that warned movers not to set foot in their apartments and threatened legal action against anyone who did.
"It was clear we were being tricked into 'voluntarily' evicting ourselves," Johnson said.
Residents said that after they refused to leave, Richards ordered them to remove patio furniture and barbecues from the courtyards' common areas. Tenants said Richards also cut off the gardening service, shut down the courtyards' four signature fountains, placed the laundry room off-limits and prohibited the use of fireplaces.
Loss of the fountains, which have since been covered with wood or plastic, was particularly disheartening to Maytas, a professional pond and fountain designer. "They went a long way toward dealing with the heat and the street noise from Highland," she said.
Richards did not respond to inquiries from The Times except to state that "Villa Valentino Hollywood" owns the property, not her. However, property records list both Richards and Villa Valentino Hollywood as owners.
A representative of Villa Valentino Hollywood, Scott Houston, described it as a "partnership including approximately 40 modest investors." He said various long-term options for the building are being explored.
Residents, however, said they have been told by an employee of the owners that the plan is to turn Villa Valentino into a hotel. A realty firm's website suggests that it will be a "remodeled masterpiece" and "boutique condo hotel."
City officials said they are now carefully monitoring repairs to Villa Valentino after inspecting the building in January.
A Los Angeles Housing Department spokesman said inspectors found "substantial deferred maintenance."
The housing official said the city has not been advised of any proposal to turn the complex into a hotel. But such an action would require a 60-day notice to tenants, plus payment of relocation fees of up to $17,800 per family.
Major renovations cannot begin, he said, until the city reviews a tenant habitability plan that Villa Valentino owners submitted in June.
The stories shaping California
Get up to speed with our Essential California newsletter, sent six days a week.
You may occasionally receive promotional content from the Los Angeles Times.