Pardo intended to kill others, police say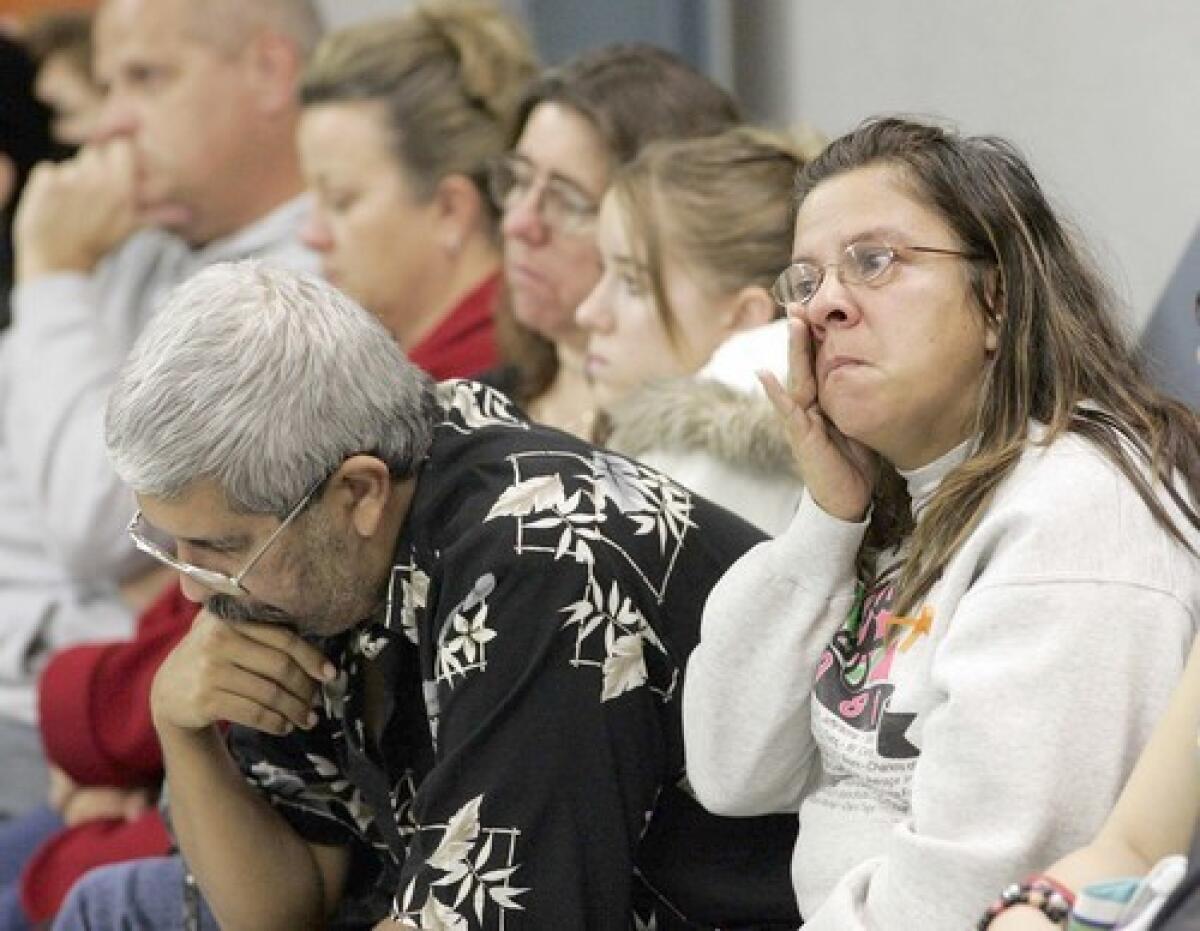 Covina police said Monday they believe that Bruce Pardo, who killed nine people at a Christmas Eve party, also intended to kill his mother and his estranged wife's attorney.
Lt. Pat Buchanan said Pardo had had a falling out with his mother and felt she was siding with his ex-wife, Sylvia, in their bitter divorce.
Buchanan said Pardo had found out his mother was invited to Sylvia's family's Christmas Eve party in Covina and had intended to kill her along with others gathered there.
His mother, however, did not attend the party due to illness.
Detectives also believe that Pardo had planned to kill his wife's divorce attorney and his family. Police found a car rented to Pardo parked outside the attorney's home in Glendale, Buchanan said. It was not known how Pardo had planned to use the car.
The divorce lawyer had no comment.
On Monday evening, about 500 residents of Covina attended a community meeting at Royal Oak Intermediate School to discuss the slayings and, in the words of Police Chief Kim Raney, "begin the healing process."
Many of those in attendance had been neighbors of Joseph and Alicia Ortega, hosts of the family celebration that ended with Pardo entering dressed in a Santa suit and firing semi-automatic weapons at family members and setting the house ablaze. Pardo escaped but later committed suicide. Although the coroner's office has not officially identified the victims, the Ortegas are believed to be among the dead, as is their daughter -- Pardo's ex-wife -- and other family members.
Covina police said Monday that Pardo appeared to have planned the attacks since at least June, when he began buying handguns.
At the standing-room-only community meeting, Covina Mayor Kevin Stapleton said, "I assure you, the acts of this man are not going to define Covina."
Stapleton also urged curiosity seekers to be considerate of the residents and of the surviving Ortega family members and allow them time to grieve in peace.
"Keep in mind there are people who live here . . . we need to bring some sense of normalcy back," Stapleton said at the meeting, which began and ended with a prayer.
Raney told the audience that his department has assigned 12 investigators to the case and is getting help from county and federal law enforcement agencies.
A representative from Maple Center Counseling offered tips on how to deal with the grief and stress of the tragedy and how to talk to young children about what had happened. He also passed out leaflets on grief.
Sisters Elizabeth and Monica Romero, who live near the home where the shootings occurred, came to the meeting hoping they could do something to help.
"Nothing like this has ever happened before," Monica Romero said. "It's a really quiet neighborhood. We were in shock."
Officials said a fund has been set up to aid the family.
At least 13 young people were orphaned in the shootings, and two others lost one parent, according to a family attorney.
Donations can be sent to the Ortega Family Fund, C/O Law Offices of Scott J. Nord, 500 N. Brand Blvd., Suite 550, Glendale, CA, 91203.
The family requests that any non-monetary donations be made to a charity of choice in the name of the family.
Sign up for Essential California for news, features and recommendations from the L.A. Times and beyond in your inbox six days a week.
You may occasionally receive promotional content from the Los Angeles Times.