Prop. 8 opponents rally across California to protest gay-marriage ban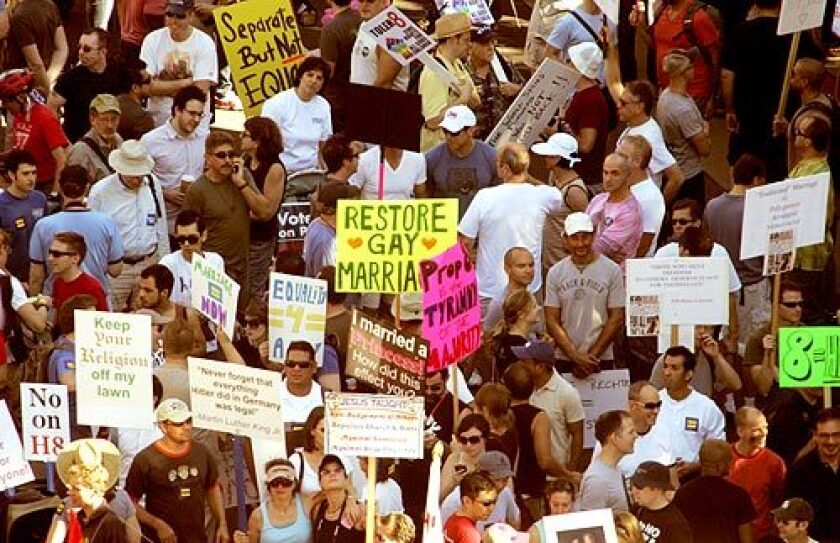 Reporting from San Francisco and Los Angeles —
Expressing anger, disappointment and humor, thousands of gay-rights advocates marched across the state and nation Saturday in largely peaceful protests against California's passage of an initiative banning same-sex marriage.
In Los Angeles, protesters clustered shoulder to shoulder near City Hall before setting off on a downtown march, chanting and carrying rainbow flags and signs bearing messages such as "No More Mr. Nice Gay" and "No on Hate."
"It's invigorating and exciting to see us unite as a people," Christine Pease, 39, said as she handed out stickers with a yellow equal sign to demonstrators outside City Hall. "I hope that it shows there are a lot more people affected by the choices we make on a ballot."
The Los Angeles Police Department estimated that 10,000 to 12,000 people attended the event, well below the 40,000 the department had expected.
Still, demonstrators called the event a success, noting that participants had been galvanized by a loosely organized grass-roots campaign that sprang up after the Nov. 4 election.
"Considering it started on Facebook and became as organized as it was, it's pretty amazing," said Dave Coleman, 43.
A representative of the Proposition 8 campaign said the protests would have little effect. "They can protest all they like, and it doesn't change the fact that Prop. 8 has passed and the election is now over," said Frank Schubert, manager for the Yes on Proposition 8 campaign.
In San Francisco, a crowd estimated by police at 7,500 converged on the city's civic center, some wearing T-shirts emblazoned with "Milk," a reference to the county's first openly gay supervisor, Harvey Milk, who was assassinated 30 years ago.
Although a march had not been planned, about noon a large portion of the crowd set off along Market Street and split into two, one headed for the Castro District and another for the Embarcadero. Police made several arrests for holding up traffic, but the event was otherwise peaceful.
Demonstrators also gathered in Boston, New York and other cities across the nation, the Associated Press reported.
Across California, the rallies took on a carnival-like atmosphere. About 200 protesters gathered at Costa Mesa's South Coast Plaza. In Sacramento, police estimated that 1,500 marched peacefully on the Capitol.
Amid the throngs, thousands of little scenes played out. A sampling:
Delayed wedding
Saturday's date held a special significance for Los Angeles marchers Carol Kirkman and Margaret Gonzalez. It was supposed to be their wedding day.
Kirkman and Gonzalez, both 48 from Lawndale, began planning their wedding two months ago and didn't worry about Proposition 8. "We didn't even think twice that this would pass," Kirkman said.
The plans called for an intimate ceremony -- about 10 guests -- and the couple decided to wear matching suits, Kirkman in black, Gonzalez in white. Instead, they joined the thousands marching through downtown wearing sneakers, khaki shorts and T-shirts.
Bringing children
The rallies brought out a diverse crowd that included straight as well as gay families.
Pam Chan and her husband brought their two children -- Kalea, 6, and Koa, 2 -- to the demonstration in San Francisco.
"We want our kids to learn they can grow up in a place where everyone is equal," said Chan, 34. "Marriage is for everyone."
Invoking religion
Among about half a dozen Proposition 8 supporters at Los Angeles City Hall was Dan Burton, 50, a retired air traffic controller, who held a sign that read, "Gays hate God. Romans 1:18-32," a reference to biblical passages denouncing wickedness and debauchery.
"There's two sides to every story," Burton said. "Most people in this country don't want gay marriage, because it's biologically, culturally and religiously perverse."
Proposition 8 opponent Carl Hunter, 64, carried a sign reading, "Christians for gay marriage."
A contract analyst at an insurance company, Hunter said of the proposition: "It's misguided. God doesn't hate what he or she has created."
Hunter recently married the Rev. Dan Hooper, pastor at Hollywood Lutheran Church.
Signs of protest
Many of the anti-Proposition 8 signs mixed humor with anger, often targeting Mormons who supported the measure.
"If heaven discriminates, I don't want to go."
"The same Bible was used to justify slavery."
"Hmm. . . . What's so traditional about polygamy?"
"Where's My Gay Tax Break?"
"Joseph Smith had 33 wives. Gays only want one."
"I was born gay. You were taught religion."
"My brother is getting married . . . again. Why can't I get married once?"
"Straight but not narrow."
"Only my wife should care if I marry a man."
When told of the signs, Schubert said, "It's unfortunate that the 'No on 8' campaign has devolved into personal attacks and statements of religious bigotry. If they think this is going to help their cause long term, they might want to consider a new strategy."
Gays and blacks
A running theme during the Los Angeles demonstration was the role of African Americans in the passage of the anti-gay-marriage measure. An exit poll showed that black voters favored the proposition by a ratio of more than 2 to 1.
Again and again, speakers asked the crowd not to blame the black community. "We did not lose the fight because of African Americans," said Lorri L. Jean, 51, chief executive of the L.A. Gay & Lesbian Center.
Referring to black civil rights leaders, she said, "They have taught us, supported us and stood with us." The crowd cheered.
An unusual bride
Many demonstrators in San Francisco took their dogs to the rally, but few stood out more than Aidan, a Finnish spitz whose head was covered in a long white veil.
Her owners, Emily Drennen and her wife, Lindasusan Ulrich, said Aidan was their symbolic bridesmaid.
During the course of a turbulent decade for gay marriage, the couple have been married three times. "To each other," Ulrich quickly clarified.
They wed in 2003, before gay marriage was legal. A year later, when San Francisco began marrying gay couples, they married again, only to see the courts annul their union.
Last month, Ulrich, 39, and Drennen, 35, went through another ceremony in the wake of the state Supreme Court's landmark ruling that legalized gay marriage. "And we want to stay married," said Drennen, who along with her wife was dressed in a bridal gown.
A crowd embraces
The Rev. Penny Nixon, senior minister at the Congregational Church of San Mateo, led the rally in a massive group hug in San Francisco.
"You are loved, and no one can take that away," she told the crowd. Demonstrators cheered and began hugging one another, repeating her words.
Garrison and Knoll are Times staff writers.
Times staff writers Alicia Lozano and Jack Leonard contributed to this report.
---
The stories shaping California
Get up to speed with our Essential California newsletter, sent six days a week.
You may occasionally receive promotional content from the Los Angeles Times.