State Sen. Wright says he believed he was following election law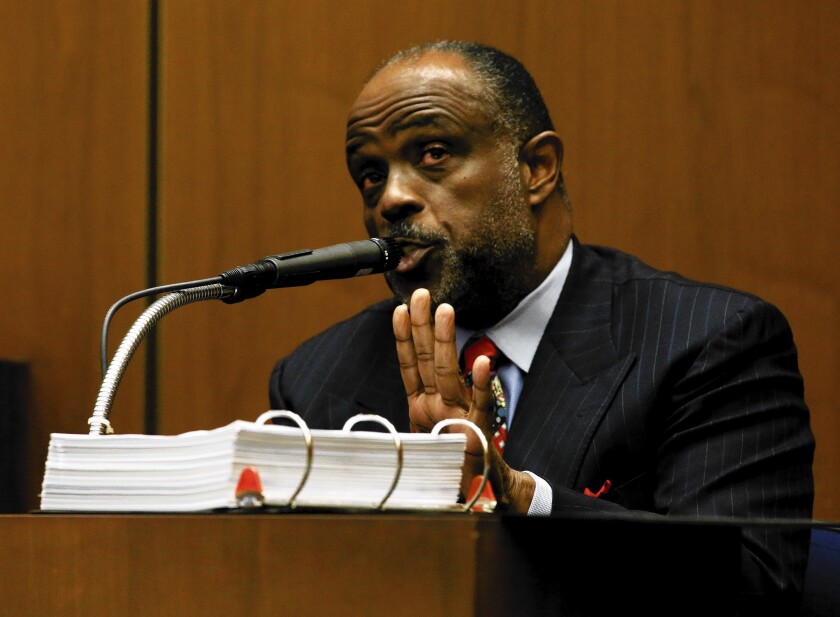 State Sen. Roderick D. Wright told jurors Tuesday that he thought he was doing what the law required and did not intend to deceive voters when he switched his official address to run for office.
Questioning became heated at times during his testimony, which stretched over three court sessions. The Inglewood Democrat, who has pleaded not guilty to eight felony counts of perjury and voter fraud, talked about what made him believe he was acting lawfully, while prosecutors tried to show he had schemed to run for an office he was not entitled to seek.
California law requires candidates for the Legislature to live in the districts they want to represent; voters are required to live in the districts from which they cast ballots.
At the heart of the trial, now in its second week before Los Angeles County Superior Court Judge Kathleen Kennedy, is what was Wright's legal residence, or "domicile," and whether he intended to deceive voters when he switched his voter registration and moved some items to an Inglewood house he was renting to a family member in 2007 when he began his run for the state Senate. He won the seat in 2008 and has held it ever since.
Deputy Dist. Attys. Bjorn Dodd and Michele Gilmer allege Wright's true home was in Baldwin Hills, outside what was then the 25th Senate District.
They have shown photos of the two residences: a modest house behind a five-unit Inglewood apartment complex Wright bought in 1977, and a single-family home with a city view in upscale Baldwin Hills. Neighbors in Baldwin Hills testified they saw Wright there regularly. Wright's Inglewood tenant, whom he said he considered a friend and stepmother, testified she had never seen him spend the night or prepare a meal in the home.
When Wright, 61, first took the stand last week, his defense attorney, Winston Kevin McKesson, had him tell jurors about his long career in politics, starting as a Pepperdine University student when he worked on voter registration drives and turnout efforts, and culminating with his election to the state Senate.
Wright later testified that he had been asleep in the Baldwin Hills home when authorities arrived with search warrants in September 2009. He said he used the home to conduct business not related to his duties as a state legislator and said he never considered it his domicile — a fixed place of residence where someone expects to live more or less permanently and intends to return to after an absence.
During cross-examination, Dodd grilled Wright about what made him believe he was on solid ground in concluding he could claim the Inglewood property as his legal address. Wright had cited a section of the California Elections Code that says the "domicile of a member of the Legislature .... shall be conclusively presumed to be at the residence address indicated on that person's currently filed affidavit of registration."
But that does not apply to candidates. Dodd asked Wright if he had read other sections of the code, including one that says a "person does not gain a domicile in any precinct into which he or she comes for temporary purposes merely, without the intention of making that precinct his or her home."
Wright said he had not read other sections of the code but cited a Tuolumne County court case he had brought up in earlier testimony. In that case, an appeals court ruled that Anne L. Fenton, elected to a local board, could claim a home she had once lived in as her "domicile" even though she had moved away from the jurisdiction. Dodd said the facts of that case were different from Wright's situation; McKesson said they were substantially the same.
"I can only tell you what my understanding was," a seemingly exasperated Wright said at one point in Dodd's cross-examination.
Dodd also asked Wright why he had signed loan documents on the Baldwin Hills house acknowledging that it would be "owner occupied." Wright said he had not read the documents and rarely did so when he bought properties because the only aspects of a loan important to him were "interest rate and monthly payment."
Prosecutors also got Wright's voter registration history on the record. They noted he had changed his registration several times but had not registered at the Inglewood property; Wright said he had lived periodically in one of the units since buying the complex until the spring of 2007, when he was preparing to run for Senate.
At the end of Wright's testimony, McKesson, his defense attorney, asked Wright if he believed he had done everything necessary to satisfy the requirements to run for office from the Inglewood address. Wright said he thought he had done that and more.
If convicted on all eight counts, Wright could be sentenced to eight years and four months in state prison and would be barred for life from holding elected office, the district attorney's office said.
Testimony is to continue Wednesday. The case will probably go to the jury late Thursday or Friday, the judge said.
---
For reporting and exclusive analysis from bureau chief John Myers, get our California Politics newsletter.
You may occasionally receive promotional content from the Los Angeles Times.