Intervention and reinvention in South Park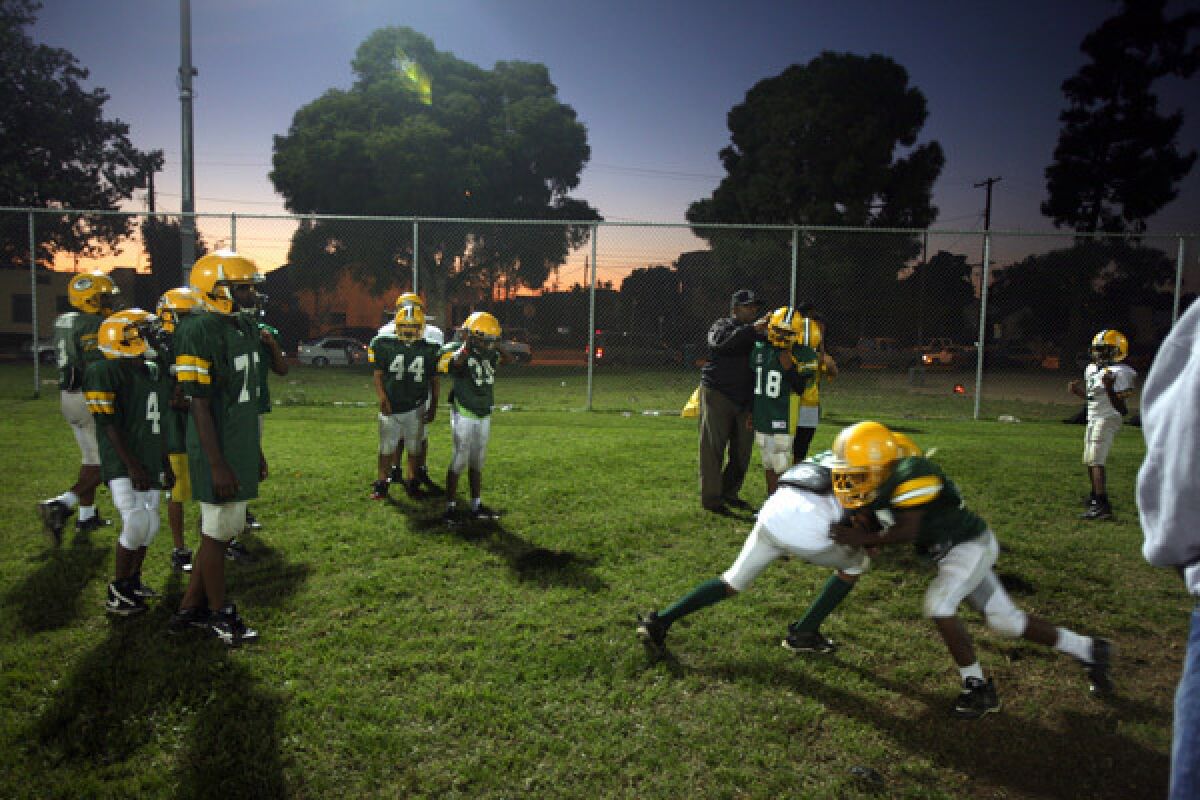 Not so long ago, South Park looked like Club Med for gang members.
The neighbors had given up on the little park -- ceding it, almost entirely, to the 5-Trey Avalon Gangster Crips. Gangsters smoked pot in the gym and bounced their gambling dice against the concrete steps outside the rec center. There was no grass, and, in the mornings, junkies littered the dirt with syringes and tiny, colorful balloons that had been emptied of heroin. There were no youth sports teams. There was one child -- one -- enrolled in the preschool program.
"It was," said Brian Cox, the park's senior recreation director, "not a park."
Four years ago, a police crackdown and a decline in violent crime created an opening. Workers planted grass and hung nets from the rusted basketball rims. The park, tentatively, began to rebuild. But to accomplish any sort of rebirth, city officials were forced to admit that they needed help of a different sort.
They needed the gang.
They needed Blue.
His real name was Parie Dedeaux, but he'd always been known as Blue. No one ever had explained it to him. He'd grown up nearby, and he'd been a heavy hitter in the Avalons for two decades, since before he could drive a car. He commanded an inordinate amount of respect on the streets, officials said.
"Before we could get the kids to come back, we had to get those guys to allow the kids to come back," Cox said. "We could pretend otherwise. Or we could start to work with them. What are you going to do? They ain't leaving."
So Blue, instrumental in claiming the park for the gang, would now play a pivotal role in giving it back -- an unlikely partnership that would lead to a remarkable resurrection.
Deserted as youths
Blue recently sat in the empty bleachers at South Park and offered a passionate and articulate defense of the gang life, which can be an unsettling thing to hear.
He grew up just a few blocks away, near Avalon Boulevard, back when the area was known as South-Central -- before City Hall figured out that the name had become shorthand for urban decay and changed it to South Los Angeles.
He is 38 now, with a barrel chest and Popeye forearms that belie the gray hairs in his goatee. In the gang world, he and his contemporaries are of a specific age. They were the first to become men during the truly terrible years in South L.A. 20 years ago, when crack cocaine came through like a tempest and gangs were averaging a killing a day.
Everyone, he said, seemed to desert them at once. Many of their parents were lost to drugs; his own mother was murdered and his father was addicted and absent, like most of the fathers he knew at the time. The police, he said, became cruel and combative. The schools offered little hope. The factory jobs on Alameda and Slauson -- the jobs that had lured his grandparents from Louisiana, like thousands of other African American families -- were gone. Blue and his friends had hustled a little cash by offering to pump gas for customers at the local stations; soon, even that was taken away, as crackheads kicked the boys out and took over.
"We didn't have a man at home. I never had a single man walk through the door and say, 'I paid the light bill today.' None of us did," Blue said.
"So now your mom is getting high. The lights get turned off. The house is getting stinky. We all looked at each other and said: 'Well, I guess it's just us now. We ain't got no malls, no colleges, no jobs. But everybody wants to be a part of something. All we could do is claim . . . this."
He stretched his arms wide; he meant the park.
A steep decline
It became a headquarters of sorts for the Avalons, and some of them soon began selling the same drugs that had sullied their lives a few years before. The park began a precipitous and notorious decline.
"They owned the park," said Los Angeles Police Officer Cathy Emestica, a 14-year veteran who has devoted much of her career to South Park and its regulars. "You couldn't come in or out unless they let you."
Four years ago, shortly before Cox took over, an Avalon took a shot at a cop. The bullet missed, but for the LAPD, it was the last straw.
The department took the unusual step of erecting five surveillance cameras at the park. Emestica began monitoring the everyday crowd: addicts fresh from the methadone clinic; dealers; gangsters who stared up into her cameras, alternately waving or flipping her the bird. The pace was relentless; in the first year and a half, the LAPD made 1,140 arrests.
Cox, sensing a shifting tide, had begun cracking down. No more pot in the gym. No more dice outside his office. The park started filling up on weekends. It was time to talk to Blue. They sat in the bleachers one day, just the two of them, staring into the caramel-colored dirt in the empty infield on the other side of the fence.
"I'm going to be real with you: I don't condone what you do," Cox told him, carefully. "But we've got to come to common ground."
It was a tense conversation, but one that Blue was ready for.
He looked around. The park had been his proving ground, the place where he'd darted between the shaggy palm trees that formed a once-proud promenade leading to the swimming pool. Where he'd earned his first taste of respect behind the rec center, in a little shady spot where the boys went to resolve their disputes. Through all the pain that came with growing up in the neighborhood, the park had been one of the few constants in his life. It had, in a very real sense, sustained him. And now, he realized, he could repay the favor.
"We're tired," Blue told Cox. "We got to find a new way."
So Blue went legit.
A 'double life'
Truth be told, it wasn't that much of a stretch.
For years, until he got laid off in a downsizing, Blue had been leading what he called a "double life" -- working a respectable job in hardware sales, something he chose to shield from the Avalons as if it were a badge of shame. He cashed in his 401(k) and bought exercise equipment, including a heavy punching bag, which the park allowed him to install in a small courtyard near the office, mostly for the Avalons' use.
The park also gave him a key to a dank storage room; Blue bought a hot plate and a microwave and began preparing breakfast for the park's homeless residents.
He also launched a tradition called "Spread Friday." Each week he and his friends make a goulash of sorts, using only ingredients that are also available for purchase inside local jails: ramen topped with smoked oysters and canned beef, honey, jalapeños and crushed Doritos, tossed inside a garbage bag and doled out to all takers, who are surprisingly many -- and eager. The meal, said Blue -- who in his 20s served 22 months in prison for robbery -- is a reminder that life will always be better on the outside.
Once Blue had signed off on the notion of the Avalons cooperating with the city -- or at least allowing the community unfettered access to the park -- the floodgates opened.
Using grants and money routed from City Councilwoman Jan Perry's office, the park built a playground, replaced the gym floor and refurbished a band shell. The park launched a series of music performances. During the first concert, featuring blues and jazz, "everyone held their breath," Cox said. Nothing happened. So at the next show, Cox asked Blue and his comrades -- "the big, bad Avalon Crips," Cox said with a grin -- to provide security. It worked without a hitch.
Today, there are talent shows, tutoring programs, toy giveaways at the holidays. An aerobics class has exploded in popularity; more than 200 women are registered, making it one of the city's largest park programs for adults. The class is so large that the instructor had to develop hand signals to telegraph dance moves. There are more than 700 children enrolled in classes and sports programs. And there are 18 kids in the preschool.
"Do we still have our problems? Yeah, of course we do," Cox said. "This ain't Westwood or Brentwood, and it ain't never going to be. But we made it work."
By last year, it was time for the final chapter.
Blue learned that a football program called the Demos was losing its permit to practice at another nearby park. He wanted to bring the program to South Park. Here, that was a radical idea. Many of the players' fathers were from rival gangs: Pirus, Outlaws, Blood Stone Villains.
"You guys have shot at each other," Cox told Blue.
"I'll make it safe, homie," Blue told him. "I'll do it."
'Showtime!'
It is a Saturday morning in November, early enough that the fog hasn't yet burned off. The Demos will play six games today -- six age brackets -- against the mighty Compton Vikings. Blue has been up since 6 a.m. washing uniforms, and as he climbs out of his 1975 Buick Skylark, which is the color of asparagus, he is already champing at the bit.
"Showtime!" he screams.
The city rolled the dice on Blue, and so far he has delivered. At first, parents who brought kids in from other neighborhoods sat in their cars with the engines running during practice. Eventually, they ventured out.
There are now 300 kids in the program -- among them Blue's 11-year-old son, P.J., a running back, and his 7-year-old daughter, Paris, a cheerleader.
On this morning, the first person Blue encounters is Vernard Payne, whose white "P" on his cap says what no one needs to say out loud: that he is affiliated with the Pueblo Bishops gang. Blue and Payne are Crip and Blood; here, they embrace.
"Once you root for my son . . . " Blue explains.
" . . . It's over," Payne says.
"It's like rehab for gangsters," Blue says.
Blue walks in as though he's the mayor, beaming, teasing, high-fiving. "It's on!" he shouts.
"The mouth is in the house," someone mutters.
The league is not for the faint of heart. The players' helmets are gouged and duct-taped, their socks and sleeves full of holes and bloodstains.
"Wake the . . . up!" a coach shouts after Compton makes a big gain on a busted play -- he's talking to a 7-year-old. Another boy seems to wilt under his oversize helmet and misses a tackle. "Tear his ass up!" a coach screams at him, the veins on his neck taut beneath a tattoo of a roll of money.
The early games do not go well for the Demos; Compton seems able to move the ball at will. Blue tries bribery; he offers to buy players hot dogs if they recover a fumble. When that doesn't work, he bumps his offer up to $5.
Blue erupts when P.J. storms 30 yards on a kickoff return. But when the Demos throw an interception on the next play, Blue hurls his bag of sunflower seeds to the ground.
"We're out here to win!" he yells. "You're playing like little punks!"
Soon, though, perspective regained, Blue finds himself in the center of a scrum of players, firing them up for the next game. He has many roles in the league, chiefly that he is its head booster.
"Whose house?" he bellows.
"Our house!" the boys shout.
"Where we from?"
"East side!"
"Where?"
"East side!"
It's the last bit that always gets to him, he said later.
In the parlance of South L.A., "east side" has long referred to gangs east of Main Street. All of a sudden, the words mean more.
They mean that the east side now gathers in peace, if only once or twice a week, and if only to watch kids play football.
"I'm not just part of a gang. I'm part of a community," Blue said. "It's the first time I ever felt that. I'm part of . . . this."
He threw open his arms again, and fell silent, which doesn't happen often.
"We're in the middle of the ghetto," he whispered. "You hear that?"
Then he smiled, knowing full well that the only thing you could hear -- at least for now -- was the sound of a lawn mower on the new grass, and the birds in the trees.
The stories shaping California
Get up to speed with our Essential California newsletter, sent six days a week.
You may occasionally receive promotional content from the Los Angeles Times.