Ask and deport, family urges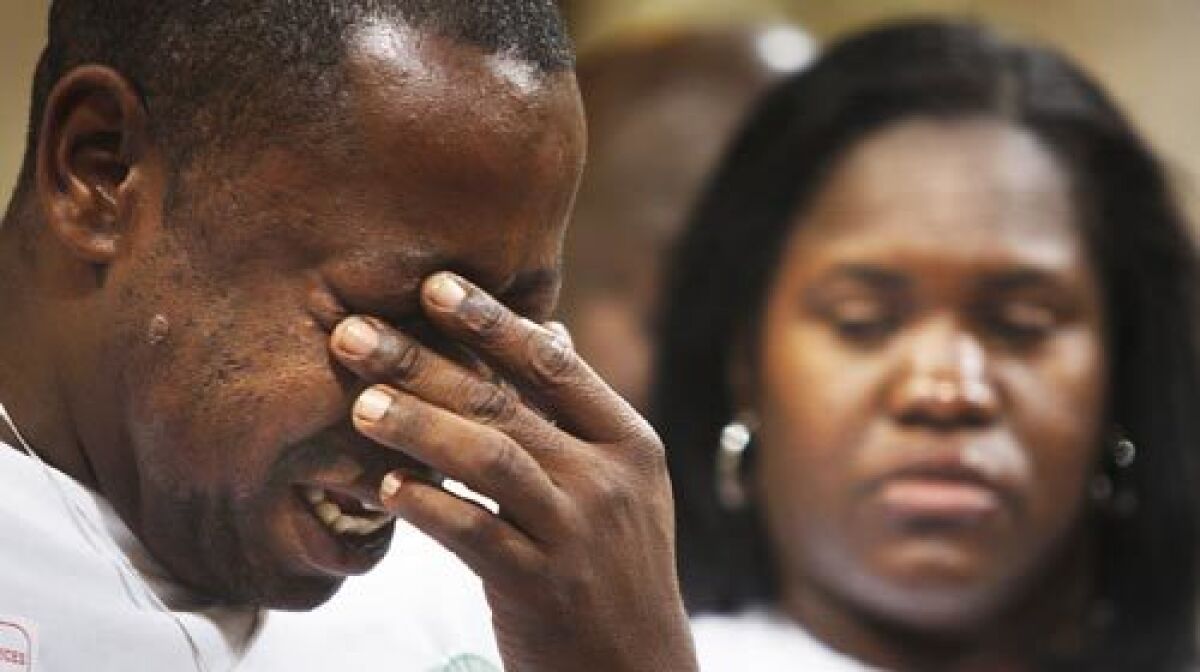 Los Angeles Times Staff Writers
The attack on the Los Angeles Police Department's Special Order 40 -- which limits when officers can ask about the citizenship status of suspects -- has come largely but not exclusively from anti-illegal-immigration forces.
But now the order has a new and potentially potent foe: the family of Jamiel Shaw Jr., the Los Angeles High football star who was killed last month. Police have charged a gang member who was in the country illegally with Shaw's slaying.
Jamiel Shaw Sr. and his wife, Anita, a U.S. Army sergeant who has been serving in Iraq, appeared before the City Council on Tuesday arguing for changes to the 30-year-old Los Angeles Police Department policy as it pertains to gang members suspected of being illegal immigrants.
Shaw Sr. proposed that LAPD policy be changed so officers would routinely check the immigration status of known gang members who are crime suspects -- which he said would make it easier to immediately deport them.
"If you're a gang member who is suspected of committing a crime, why can't they check a database at the police station to see if you're here illegally? Why can't they check a database at the jail?" Shaw asked.
Shaw's son was killed March 2 while walking home -- allegedly by Pedro Espinoza, who had been released from County Jail just hours earlier. Police say Shaw was picked at random -- perhaps as part of a gang loyalty test.
Shaw, who spoke with tears running down his face, said repeatedly that he did not want to target Latinos.
The family's appearance drew rousing cheers in the council chambers.
Many police, political leaders and immigration rights groups oppose changing Special Order 40, arguing that it would make illegal immigrants wary of cooperating with law enforcement.
"We need information from the community to protect and police this city," said LAPD Assistant Chief Jim McDonnell. "The unintended consequence of local police enforcing immigration laws is that many [potential witnesses] in the most crime-ridden areas, where information is the hardest to come by, will be even more hesitant to come forward."
Instituted in 1979 by then-Chief Daryl F. Gates, Special Order 40 states that "officers shall not initiate police action with the objective of discovering the alien status of a person."
The order was meant to encourage immigrants -- be they eyewitnesses or victims -- to come forward.
But Special Order 40 has also been highly controversial and often misinterpreted. Many people, including some LAPD officers, believed the order completely prohibited asking about a person's immigration status, which became an issue several years ago when police began seeing an influx of Central American gang members who had previously been deported. Two anti-illegal-immigration groups have sued the LAPD to have the rule killed.
Although police officers cannot stop people for the sole purpose of asking about immigration status, they may ask about it as part of an arrest or booking process.
LAPD Deputy Chief Charlie Beck said the department has been aggressive in identifying gang members who are repeatedly arrested and deported, then reenter the United States to commit new crimes.
Police said Shaw's alleged killer was an 18th Street gang member. Espinoza spent nearly four months in Los Angeles County Jail for exhibiting a firearm and resisting arrest before his release March 1.
Virginia Kice, a spokeswoman for Immigration and Customs Enforcement, said Espinoza was born in Mexico and came to the U.S. with his family at age 4.
Authorities attempt to identify illegal immigrants for possible detention when they are processed through the jail. But Sheriff's Department spokesman Steve Whitmore said that at the time of his previous arrest, Espinoza told Culver City police and sheriff's officials that he was born in Los Angeles.
Kice said her agency has no record of contact with Espinoza before his arrest in the Shaw case. Since then, ICE officials have researched his background and listed him as a potential candidate for deportation.
Kice said that determining the immigration status of suspects is difficult because there is no comprehensive database. Nonetheless, police and immigration officials have identified 20,000 illegal immigrants in Southern California jails between December 2006 and January 2008.
The campaign by the Shaw family put some council members in a delicate position.
Councilman Ed Reyes said he had great sympathy for the family but believes any changes to Special Order 40 would "have unintended consequences."
"We are best when we are one community," Reyes said. "What if a witness in this case was undocumented? What's going to motivate them to step up if they are looking over their shoulder at the police?" he said.
In addition to the Shaws, several anti-illegal-immigration activists spoke out against the order.
Councilwoman Jan Perry expressed concern at the overall tenor of public comments Tuesday, although she said there could be "something within the idea they have that they can expand on."
The Shaws wore T-shirts with "jamielslaw.com" printed on them. That site links to the campaign of Walter Moore, a community activist running for L.A. mayor who has criticized Special Order 40.
Last year, two groups sued the city over the order. One cited an obscure state code that appears to require local police to report the names of any illegal immigrant arrested on suspicion of drug sales or possession to immigration authorities. The other alleges that the policy violates state and federal laws that require local cooperation with immigration agents.
Sterling "Ernie" Norris, an attorney for Judicial Watch, one of the plaintiffs, said the Shaws' proposal to identify illegal immigrant gang members at the point of their arrest doesn't go far enough.
"Police aren't taking the next step, which is when they pull somebody over to immediately check into whether they are illegal through a thorough background check and through their investigation at the scene," Norris said in an interview. "Special Order 40 essentially told them to shut up and not to talk about illegal immigrants."
Several immigration rights advocates said they hope city officials will continue to back the order despite the emotional appeal of the Shaw family.
"In this country the law is that if your are a legal permanent resident or an undocumented immigrant, you face the additional possibility of deportation for having committed that crime," said Angelica Salas, executive director of the Coalition for Humane Immigration Rights of Los Angeles. "Both the LAPD and L.A. County sheriff already use immigration law to combat crime by questioning and identifying gang members and their immigration status."
andrew.blankstein
@latimes.com
---
The stories shaping California
Get up to speed with our Essential California newsletter, sent six days a week.
You may occasionally receive promotional content from the Los Angeles Times.