LAX shooting comes amid mounting aversion to the TSA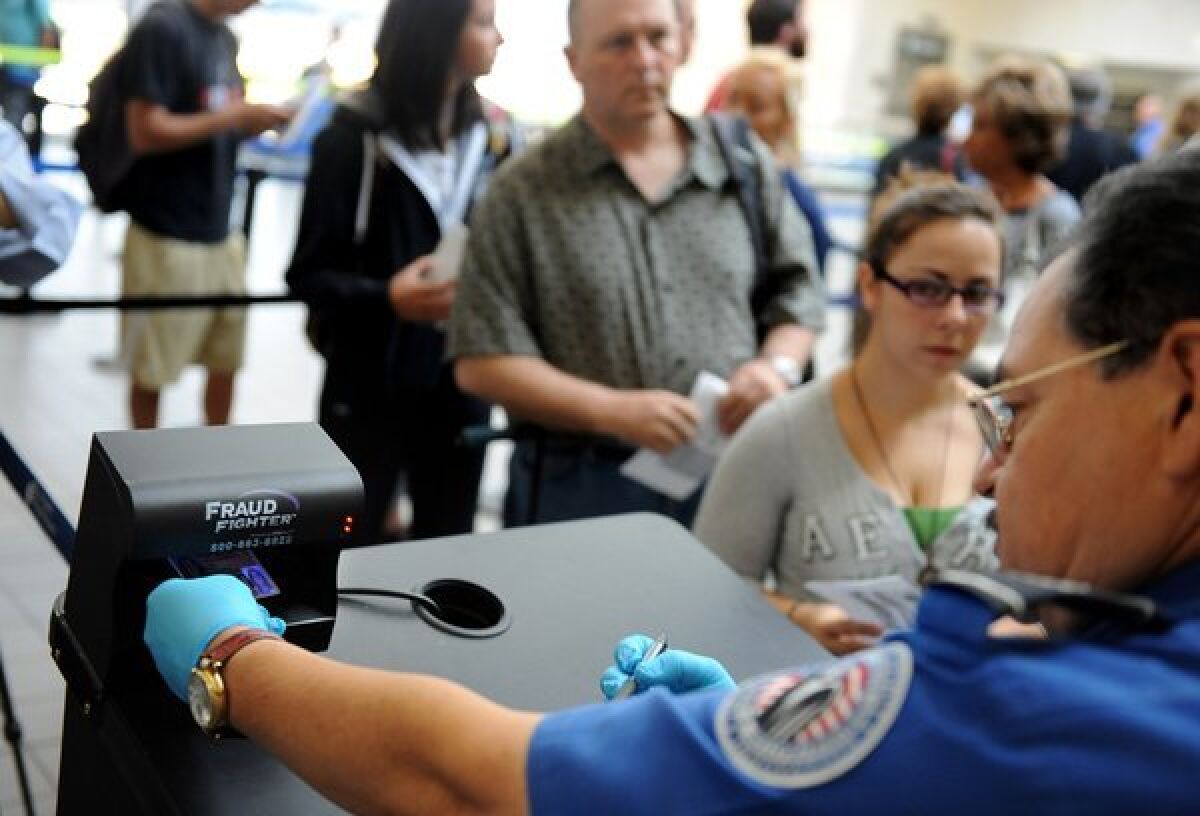 WASHINGTON — The killing of a TSA screener in Los Angeles is symptomatic of a growing antipathy toward government workers and TSA personnel in particular, experts said Saturday.
Specialists on hate crimes and union officials decried what they said was a general atmosphere of mockery and derision toward TSA agents that they said is amplified by late-night talk show hosts, politicians and news media.
"When people or institutions are vilified on national television and in the public square, you often see people latch on to them as enemies to be destroyed," Mark Potok, a senior fellow at the Southern Poverty Law Center, said in an interview.
Potok has tracked radical groups for more than two decades. He said alleged shooter Paul Anthony Ciancia appeared to have subscribed to anti-government theories about a conspiracy to take away American freedoms and create a single global government.
The violent outburst Friday has put airport screeners around the country on edge, just weeks before terminals will see a rush of passengers during the stressful holiday season.
As Ciancia allegedly blasted his way through the checkpoint, the 23-year-old was looking for transportation security officers to shoot, officials said, and cursing the Transportation Security Administration.
A note found with Ciancia contained a rant against the government and the words "kill TSA," said a federal law enforcement official briefed on the investigation.
"I would love to see people stop making villains out of government workers — they are good people" said J. David Cox, the president of the American Federation of Government Employees, the union that represents 45,000 TSA employees. TSA officers are verbally abused by passengers every day, Cox said.
"They may go through your luggage, they may question your name on your ticket, but all that is for your protection. It is not to harass you," he said.
Cox said he will call on Congress to provide better security for TSA agents. TSA officers are not armed and not authorized to make arrests. Cox wants to see airports required to station armed security guards at each checkpoint and to make it a federal crime to assault a TSA officer. The fact that TSA officers don't have arrest authority is "something to be revisited," Cox said.
Amie Stepanovich, director of the domestic surveillance project at the Electronic Privacy Information Center in Washington, said in an interview that there is a "growing sense of frustration" among the public that the TSA procedures are designed to make the public feel safer, without actually improving security.
"There is an increasing perception that the steps [TSA officers] are taking to make the public feel safer don't match up to making the public actually be safer," Stepanovich said.
The TSA "is seen as another administrative step. We used to be able to walk through metal detectors and get on an airplane, now we have to go through long search lines before we can leave," Stepanovich said. Her organization has sued the TSA in the D.C. District Court of Appeals to compel the agency to release more information on airport body scanners, such as test results, fact sheets and estimates regarding radiation risks.
Sen. Rand Paul (R-Ky.) has called for airport screening to be handed over to private companies and says the current screening procedures are too broad and invasive.
At a fundraising dinner in June for an organization that advocates for increased privacy protections, Paul told attendees that the next time they are asked by the TSA to raise their arms above their heads in a body scanner, they should ask themselves: "Is this the pose of a free man?"
In a video called "Top 4 Things Adam Hates about the TSA" posted online in September, comedian and radio personality Adam Carolla talked about his frustration with airport searches.
"I hate that part of society where everyone is just a criminal, basically what we do at the airport — they are telling you what a big fan they are while they are patting you down," he said.
TSA Administrator John S. Pistole traveled to Los Angeles on Saturday to meet with the family of Gerardo I. Hernandez, 39, who was shot and killed Friday. Pistole, who was the No. 2 ranking official at the FBI from 2004 to 2010 before running the TSA, also met the two TSA officers who are recovering from gunshot wounds, TSA officials said.
Hernandez is the first TSA officer killed in the line of duty since the agency was created 69 days after the Sept. 11, 2001, jetliner attacks.
"No words can explain the horror that we experienced today when a shooter took the life of a member of our family and injured two TSA officers at Los Angeles International Airport," Pistole said in a letter to TSA employees sent on Friday.
"This act of violence reminds us of the risks the brave men and women of TSA face every day as they work to protect the traveling public," acting Secretary of Homeland Security Rand Beers said in a statement.
---
The stories shaping California
Get up to speed with our Essential California newsletter, sent six days a week.
You may occasionally receive promotional content from the Los Angeles Times.