Subdivision in Watts attracts attention
Jeff Lee, president of Lee Homes, talks with Noreen McClendon of Concerned Citizens of South Central Los Angeles at the development site in the Watts. The developer and community group believe the new homes are vital to rejuvenating one of Los Angeles' most impoverished neighborhoods.
(Francine Orr / Los Angeles Times)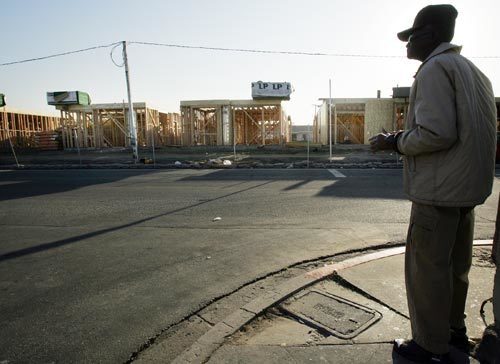 Elmar Morris, 63, of Watts surveys the development going up in his neighborhood. "It's nice," he said. "They are cleaning the area up and building houses. I remember when there was nothing here."
(Francine Orr / Los Angeles Times)
A man guides his wheelchair down Santa Ana Boulevard North, across the street from the new development.
(Francine Orr / Los Angeles Times)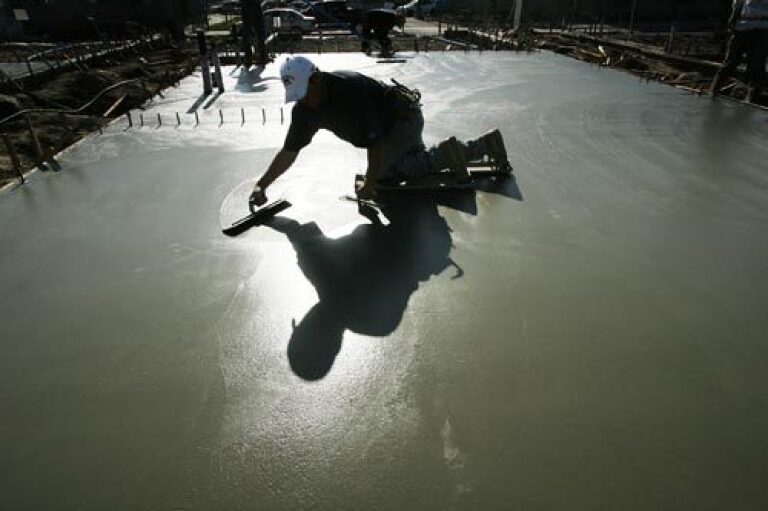 Luis Marin smooths the foundation on one of the 44 homes being built in Watts.
(Francine Orr / Los Angeles Times)
Los Angeles Times Staff Writer
It's an improbable place to find a home-building boom in the midst of Los Angeles' sluggish housing market.
Yet only three blocks from the Imperial Courts public housing project, along a stretch of land once used as a neighborhood dump, 44 homes are rising in Watts within sight of its famous towers.
Across the street from bungalows with bars on their windows and trash in their yards, a developer and a grass-roots organization are selling the American dream: two stories, four bedrooms, 2 1/2 baths, with master suites and marble counter tops -- priced "from the mid-$400,000's."
It is believed to be the largest development of new homes in Watts in at least three decades, one aimed at teachers, firefighters, nurses and other first-time middle-income buyers, some of whom might qualify for interest-free loans from the city that could shave $75,000 off of their cost.
As with other construction in Los Angeles, the builders face challenges -- notably, declining home values and tighter credit requirements from lenders hit by the current mortgage crisis.
Some prospective buyers who have stopped by the site say the homes are too small or too close together for the price.
But even as wooden frames rise along Santa Ana Boulevard, the developers say that 300 potential buyers have expressed interest in the housing subdivision, whose name -- Mozaic -- conjures peaceful scenes of suburbia.
"Housing projects, gangs, bad neighborhoods, that's our business model," said Jeff Lee, president of Lee Homes, which is building the subdivision in a joint venture with Concerned Citizens of South Central Los Angeles, a nonprofit established in 1985. Construction financing has primarily come from Alliance Bank in Culver City.
"We believe that new homes change neighborhoods," Lee said.
The Mozaic homes are slated to go on sale in about a month and could be ready for occupants this summer along two blocks in the middle of one of Los Angeles' troubled communities.
Watts has struggled for decades to overcome grinding poverty, crime and a dangerous reputation, a problem underscored by three housing projects that have given birth to violent gangs.
Annual median household incomes in the community ranged from $12,000 to $25,000 as of the 2000 census -- well below the city's median of nearly $37,000.
But proponents believe that conditions may be ripe for a project like Mozaic.
Area crime has dropped significantly, including gang-related homicides, which fell 51% in 2007 compared with the year before.
Officials with Concerned Citizens believe that the homes -- with two-car garages, custom cabinets, walk-in closets and other amenities -- will offer an affordable alternative for people eager to set down roots close to their jobs and extended families.
New homes in Mozaic's price range are scarce in Los Angeles, they say.
"Price is critical. If they are priced correctly, I think we'll be able to sell," said Noreen McClendon, executive director of the Concerned Citizens group. "People are still looking to buy homes."
Seventeen of the 44 houses will be reserved for moderate-income buyers who will be eligible for no-interest loans offered by the city Housing Department, which has committed $1 million.
The loans would reduce down payments and not come due until the homes are resold or refinanced.
The city loan program could keep the cost of some Mozaic homes below $400,000, well under November's $550,000 median price of homes in the city.
A leading academic who has studied the residential market in Watts predicts that Mozaic will be successful -- partly because it will address the dearth of new homes in the area -- and attract buyers with the city loans and prices that compare favorably to other parts of Los Angeles.
"I would suspect that this project would be very favorably greeted in the marketplace," said Stuart Gabriel, director of UCLA's Richard S. Ziman Center for Real Estate. "This development is part of a trend of revitalization of the Watts community."
Yet even with such a promising forecast, the new homes are facing a tough sell with some prospective buyers.
Andre Smith, 30, assistant director of the social service group Parents of Watts, said he was interested in a Mozaic home until he looked closely at the site and floor plans.
The three- and four-bedroom homes of up to 1,849 square feet are packed close together, offering too little space for a family, he said.
"I'd rather buy an older house and fix it up before I'd buy a small [new] house," Smith said.
"There is no yard," he said. "Maybe a patch of grass. It's definitely not worth it."
Longtime Watts resident Elizabeth Chavez said that the homes were too expensive, even with help from the city.
Chavez, the breadwinner for her family, earns $19 an hour as a customer support specialist for a health food company in Vernon.
She shares a one-bedroom stucco house with her husband and three children across the street from the new development.
She said she would prefer to buy in a safer neighborhood.
"I 'settled' all my life," said Chavez, who attended nearby Jordan High School. "I don't want my kids to 'settle.' "
Lee, the developer, said he remained confident that people will buy the homes, repeating a pattern in Boyle Heights, Bell Gardens, Huntington Park and Commerce -- other low-income areas where the company has built subdivisions.
"We hope people will see that new homes can be built in this area at affordable prices," Lee said.
Earlier this week, city leaders went to Watts to christen Mozaic. Los Angeles Mayor Antonio Villaraigosa and City Councilwoman Janice Hahn, who represents the area, presided over a groundbreaking, even though construction was already well underway.
They posed for pictures with hammers and boasted about the benefits of home ownership.
"Building these homes is just another sign that things are changing and that people do want to live in this community," Hahn told the gathering. "We are building a beautiful place in Watts."
---
The stories shaping California
Get up to speed with our Essential California newsletter, sent six days a week.
You may occasionally receive promotional content from the Los Angeles Times.